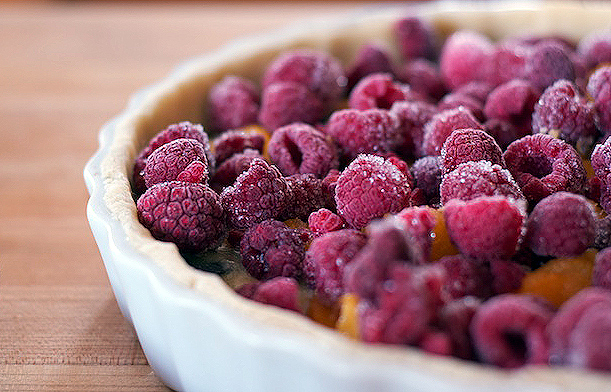 While the daffodils have finally poked their heads through the earth, my freezer remains packed with containers of frozen fruit squirrelled away from last year's harvest. They're so precious to me, I save them for special occasions.
Very
special occasions. As along as the sooty, deathless snowdrifts maintain a Narnia-like hold on the Earth, nothing seems special enough. (Unless you are celebrating your 85th birthday. And then, I will bake you a 
raspberry pie
upon request.) Of course, the weather eventually breaks and my fear of endless winter melts into a different form of  panic. How can use my frozen treasure before a) it goes bad or b) I need the freezer space for this year's bounty? So, with company coming -- very special company, I may add-- I put a dent in the inventory and got creative. The ginger-peach carrots were okay, but no worth writing about. I won't waste your time with the recipe. And I apologize to the peaches. They deserved better. The dessert? I redeemed myself with Raspberry Peach Pie.