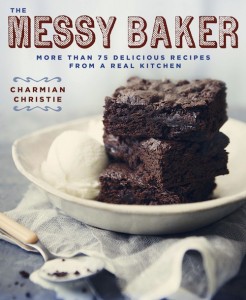 The Messy Baker: More than 75 Recipes from a Real Kitchen is spilling its way across the web. Want to know what others are saying? Below, I'm gathering reviews, articles and media appearances.
The Messy Baker is the #5 cookbook in Canada for 2014.
Eat Your Books named The Messy Baker the #5 in Canada! How'd they arrive at that number? From these lists from across the country:
CBC – Christmas Cookbook Ideas 
Calgary Herald – Best Cookbooks of 2014
Canadian Living – 11 Best Cookbooks for Food-Loving Friends
Edible Vancouver – Christmas Gift Guide
Toronto Star – Best Cookbooks of the Year
Food Bloggers Canada – Holiday Cookbook Gift Guide
Kitchen Frolic – My 11 Favourite Cookbooks and Food Books of 2014
Mairlyn Smith – Five New & Fabulous Canadian Cookbooks
RecipeGeek – 8 Holiday Cookbooks for Every Foodie on your List
Bundt Lust (Sarah Hodge) – Top Cookbooks of 2014
Mad Rantings of Andrew's Mom (Jenny Hartin) – Best Cookbooks of 2014 Christmas Round 
Praise for The Messy Baker
Most books about baking are serious. Baking, after all, requires precision. This often encourages the author to adopt a how-to, step-by-step text-booky feeling, with barely a hint about the pleasure the baker and the baked-for are bound to enjoy. Charmian Christie takes a fresh approach, not that she skimps on the essentials — clear instructions, well tested recipes and tips to turn you into a better baker. But her stories about baking are fun to read, and deciding on what to bake by chapter titles – crumbly, dippable, smudgy, flaky and drippy, for example — is yet another reason to dip into The Messy Baker and soften some butter.
~ Elizabeth Baird, long-time food editor for Canadian Living, Member of the Order of Canada.
Her refreshing approach is apparent from the beginning, with chapters broken down into categories including "Crumbly," "Sloppy," "Gritty," and "Drippy." … Family memories, along with helpful serving suggestions, prevail in the worthy headnotes, and tip boxes give added information and substitution ideas. Christie's approach to baking is fun and insightful.
~ Publisher's Weekly, August 2014
The Messy Baker has caught the eye of…
Oprah.com picked Extra-Crispy Blueberry and Peach Crisp for If You Make Only One Dessert This Summer.
Publisher's Weekly
Saveur – August Best Food & Drink Releases
The Kitchn
The Boston Globe
Six O'Clock Solutions
CBC North by Northwest with Sheryl MacKay (podcast)
Eat Your Books – Here Come the Blog Books
Postmedia, O'Canada – Six O'Clock Solution
MetroNews.ca
Recipe Geek
Canada.com – Best Food and Drink This Week
Food Republic – Rosemary Black Olive Grissini
Rodale News – Zucchini Fritters
Leite's Culinaria
Steven and Chris
Canada AM
Monica Bhide
Shelf Awareness – a starred review, no less
Cookbooks 365 – and a recipe
Rolling Spoon – Double-Stuffed Uber Oreos
Good Food Stories – Salted Burnt Caramel Sticky Buns
EatNorth
Calgary Herald –
Parents Canada – Basil & Aged Cheddar Scones
The Ways We Work provides a glimpse into my office and my day
BreakThruRadio – Podcast
Embracing the Messy Side of Baking by Laura Brehaut Canada.com
Toronto Star's Jennifer Bain covers Naked Cakes
Mum Reinvented
Miss Em Recommends
I Wish I Lived in a Library
I Know What You Should Read
American Cupcake Life
Bitches N Prose
SkiWee's Books
Wanderaven
Book Sp(l)ot Review
Special Group Post for Messy Baker Monday
The Yum Yum Factor
The Brunette Baker
Planet Byn
Kitchen Frolic
My Daily Randomness
Olive & Ruby – Q&A
The Tasty Gardener
eat. live. travel. write.
Living Lou
Libby Roach
Strawberries for Supper
Sweet Twist of Blogging
Seasons & Suppers
A Canadian Foodie
My Cookbook Addiction
---
Want to catch The Messy Baker in action? Check out my Events page.