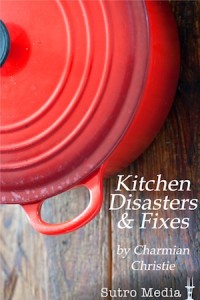 ---
Featured on Lifehacker.com.
Relish Magazine named Kitchen Disasters & Fixes one of the Top Ten Apps for New Cooks.
---
Lots of cooking apps include amazing recipes, slick oven-timers and how-to videos demonstrating correct techniques. They're all created to help you produce the perfect dish. But what happens when things go wrong? These cooking apps aren't designed to steer you in the right direction should you over-salt that enticing Roasted Butternut Squash Soup, burn the Ultimate Chocolate Chip Cookies or singe your Sunday Pot Roast.  Don't fret. Thanks to years of hard-earned knowledge, I've managed to fill this app gap.
With 130 entries, Kitchen Disasters & Fixes offers solutions to common cooking problems such as insanely hot curries, dried out fish, burned rice, and lumpy gravy. It offers cover-ups for cosmetic gaffs, like ugly crêpes and some easy-to-follow Rescue Recipes for when more is needed. Don't want to make the same mistake twice? Handy Avoidance Tactics ensure this. The app even identifies Lost Causes, so you know when it's time to give up and start again.
I've Got You Covered
And if that isn't enough, unlike many cooking apps, Kitchen Disasters & Fixes doesn't require Internet to operate. Even if the wifi is down or you can't catch a signal, simple, practical advice is literally at your fingertips. Always.
Topics include:
Baked Goods

Dairy
Desserts
Eggs
Fish & Seafood
Fruit
Meat & Poultry
Pasta, Rice & Grains
Sauces & Dressings
Soups & Stews
Vegetables
Bonus Articles cover:
10 Essential Kitchen Gadgets
3 Ways to Cook Rice
5 Elements of Salad Dressing
The Classic Mother Sauces (with recipes)
Emergency Ingredients for Quick Fixes
What to Do in Case of Fire (hint: the answer is not "panic.")
Kitchen Disasters & Fixes Specs
Works on the following devices:
• iPhone, iPad and iPod Touch v 4+ via iTunes
• Android via Google Play
Cost:  $0.99 with unlimited updates.