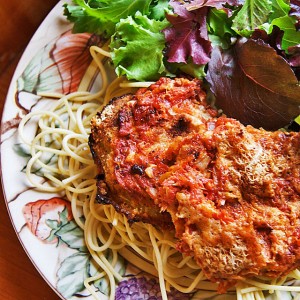 Fried Green Tomato Parmesan
Author: Charmian Christie
Prep time: 30 mins
Cook time: 60 mins
Total time: 1 hour 30 mins
Got lots of green tomatoes and no ideas? Fried Green Tomato Parmesan is a great way to use up those unripened tomatoes. Tangier than its eggplant counterpart, this main has a a firmer, meatier texture that will appeal to carnivores and vegetarians alike.
4 medium green tomatoes, cored
salt
fresh black ground pepper
⅓ cup milk
⅓ cup all-purpose flour
1 large egg
1 cup dried bread crumbs (or panko crumbs)
olive or canola oil for frying
2 cups tomato sauce (homemade or good quality store brand)
1 cup freshly grated Parmigiano-Reggiano
pasta of your choice (spaghetti or fettuccine are good)
Preheat oven to 350°F. Grease a 9-inch by 13-inch glass pan.
Slice tomatoes ½-inch thick. Sprinkle lightly with salt and pepper.
In a large skillet, heat the oil over medium-high heat.
Bread the green tomato slices by dipping them in the coating ingredients in the following order: milk, flour, egg, bread crumbs.
Fry each slice for 4 to 5 minutes per side, then place in a single layer to cover the bottom of the baking pan. Cover the tomato slices evenly with tomato sauce. Sprinkle with Parmesan cheese and bake for 45 to 60 minutes, or until the tomatoes are done to your liking.
Serve hot on freshly cooked pasta.
Recipe by
The Messy Baker
at http://themessybaker.com/2009/09/29/fried-green-tomato-parmesan/