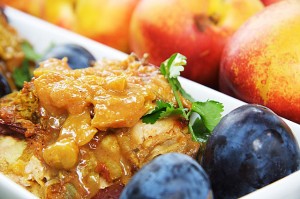 Moroccan-Inspired Nectarine and Plum Chicken
Author: Charmian Christie
Prep time: 20 mins
Cook time: 45 mins
Total time: 1 hour 5 mins
While not authentic, this nectarine and plum chicken recipe conjures the flavours of Morocco. Made with a failed fruit ketchup, it proves nothing need go to waste in a creative kitchen.
6 large chicken thighs, bone-in (or 12 small)
2 medium nectarines, chopped
6 medium plums, chopped
2 medium onions, sliced
1 large clove garlic, minced
1 tablespoon grated fresh ginger
½ teaspoon ground cinnamon
1 teaspoon ground coriander
2 teaspoons ground cumin
½ teaspoon turmeric
2 tablespoons fresh lemon juice
2 cups tomato and peach ketchup or other tangy fruit sauce (NOT commercial ketchup)
1 generous handful fresh chopped cilantro leaves
Preheat the oven to 350°F.
In a large, heavy skillet over medium heat, sauté chicken thighs in their own fat. Brown for about 5 minutes a side until golden. Transfer the chicken pieces in a roasting pan and sprinkle evenly with with nectarines and plums.
Using the same skillet you cooked the chicken in, sauté the onions in the chicken fat for about 3 minutes. Add the garlic and ginger and sauté for 2 more minutes. Add the cinnamon, coriander, cumin, turmeric and lemon juice. Cook 2 more minutes or until onions are very soft.
Spoon the seasoned onions evenly over the chicken pieces. Pour the homemade fruit ketchup or sauce over the entire dish.
Bake uncovered for 30 to 45 minutes or until the chicken is cooked all the way through.
Serve hot on a bed of rice, couscous or quinoa and sprinkled generously with cilantro.
This recipe doesn't call for added salt because the homemade fruit ketchup had salt in it. You can always salt the chicken at the table if you like.
Recipe by
The Messy Baker
at http://themessybaker.com/2009/09/24/moroccan-inspired-nectarine-and-plum-chicken/