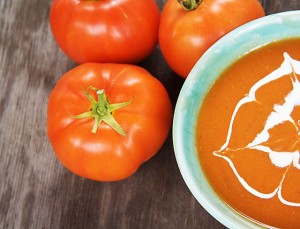 Roasted Tomato and Sage Soup
Author: Charmian Christie
Prep time: 45 mins
Cook time: 40 mins
Total time: 1 hour 25 mins
Want to use up some of the ripe tomatoes from your garden -- or your neighbour's garden? This roasted tomato soup has a fresh twist on an old classic.
2lb ripe tomatoes, halved
1 medium onion, quartered
2 cloves garlic, skin removed
2 tablespoons olive oil
fine sea salt
4 cups chicken broth (or vegetable)
⅓ cup dry sherry
1 tablespoon honey (or more to taste)
fresh cracked pepper
10 fresh sage leaves
creme fraiche or cream
Preheat oven to 450°F. Line a roasting pan with the tomatoes, onion and garlic. Drizzle with oil and sprinkle with salt. Roast for 30 to 45 minutes or until cooked.
Put roasted tomatoes, onions and garlic in a saucepan. Add stock, sherry and honey. Bring to a boil. Immediately reduce to a simmer and cook 30 minutes. Add sage leaves and allow to simmer 10 more minutes.
Using an immersion blender, or a standard blender and working in batches, purée the soup until smooth. Strain through a fine sieve to remove seeds and skins. Season with more salt if necessary and freshly ground black pepper.
Garnish with creme fraiche or cream, if desired.
Recipe by
The Messy Baker
at http://themessybaker.com/2009/09/23/sage-and-tomato-soup/