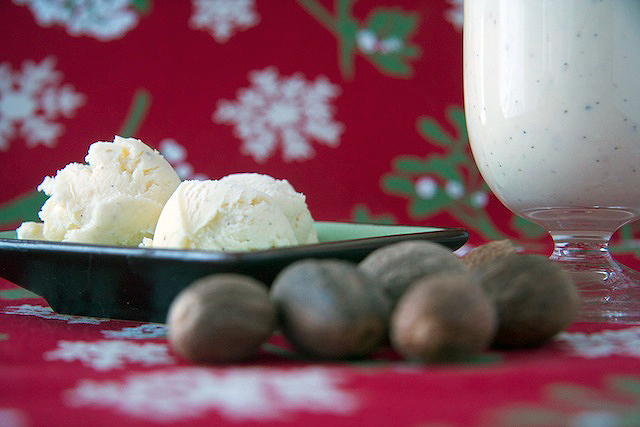 Author: Charmian Christie
This one recipe yields many results. Homemade eggnog can be enjoyed as is, churned into ice cream or frothed into a steaming latte. No matter how you enjoy it, vanilla, eggs and nutmeg make an irresistable flavour combination.
3 cups half-and-half
½ vanilla pod
⅔ cups sugar
3 large eggs
3 large egg yolks
½ teaspoon freshly grated nutmeg
3 tbsp bourbon or Forty Creek whisky (optional)
Slit the vanilla pod in half lengthwise and scrape out the seeds. Put the seed, pods and 2½ cups of the half-and-half into a large, heavy-bottomed saucepan and bring to a simmer over medium heat. Have a strainer set over a bowl ready for straining the eggnog.
Meanwhile, in a medium bowl, whisk together the sugar, whole eggs and egg yolks until light and pale. Gradually whisk the hot cream into the egg mixture, then whisk the mixture back into the saucepan and cook over low heat, whisking constantly, until the mixture is thick enough to coat the back of a spoon and registers 140°F on an instant-read thermometer. Remove from the heat and immediately strain into the bowl.* Stir in the nutmeg and the remaining ½ cup half-and-half.
Let cool to room temperature. Add the bourbon or whisky (if using) and refrigerate to chill. Serve chilled.
• ICE CREAM VARIATION: If you've got an ice cream maker, use it to churn the eggnog into eggnog ice cream. Amazingly decadent.
• LATTE VARIATION: Replace the milk in your latte with heated and frothed eggnog. You will likely need only half the amount of eggnog as it is very rich. Breakfast will never be the same!
* Do not discard the vanilla pod. Rinse it off, let it dry out and use it to make
vanilla sugar
.
Adapted from
The Beekman 1802 Heirloom Cookbook
by Brent Ridge and Josh Kilmer-Purcell with Sandy Gluck. Published by Sterling © 2011.
Recipe by
The Messy Baker
at http://themessybaker.com/2011/12/06/recipe-homemade-eggnog/