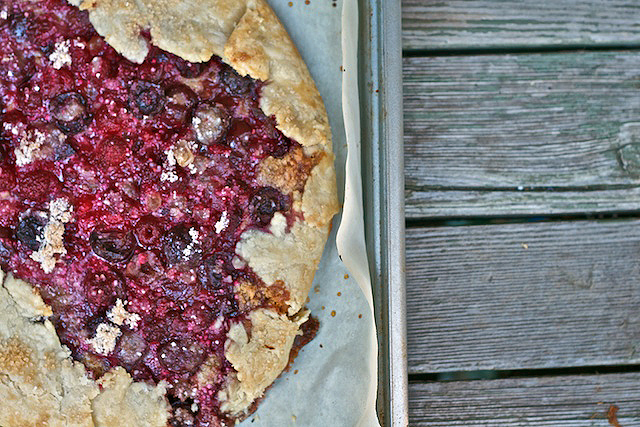 Black Cherry and Raspberry Galette with Walnut Frangipane and Ginger
Author: Charmian Christie
Prep time: 15 mins
Cook time: 40 mins
Total time: 55 mins
Got berries, will make galette. Toss in some walnuts and candied ginger and this rustic open pie will have people asking for seconds. Serve with ice cream or whipped cream if you like.
Pastry
1 recipe of your favourite pie crust dough
1 tbsp milk
raw sugar
Frangipane Paste
½ cup walnuts
½ cup sugar
2 tbsp crystallized ginger
1 egg
1 tsp vanilla
1 tbsp orange zest, finely grated
Fruit Filling
2 cups black cherries (fresh or frozen but unthawed) cut in half
1 cup raspberries (fresh or frozen but unthawed)
¼ cup flour
¾ cup sugar
2 tbsp minute tapioca
2 tbsp crystallized ginger, minced
1 tbsp vanilla
Preheat oven to 400°F.
On a lightly floured board, roll the pastry dough out to form a large 10- to 12-inch circle.
Line a large, rimmed baking sheet with parchment. Transfer rolled dough to the parchment lined sheet.
Walnut Frangipane:
In a food processor, grind the walnuts, ½ cup sugar, egg, crystallized ginger and 1 tsp vanilla to form a paste. Add the orange zest and pulse to blend.
Spread the walnut paste on the pastry, leaving a 1½ to 2 inch border.
Fruit Filling:
In a large bowl, toss the black cherries and raspberries together. Add the flour, sugar, tapioca and crystallized ginger. Toss to coat the fruit well. Add the vanilla and toss again.
Assembly:
Spoon fruit filling evenly over the frangipane paste. Fold the pastry edge over to form a rim. Brush the top of the pastry rim with milk and sprinkle with raw sugar. Bake for 35 to 40 minutes or until the crust is golden and the filling is bubbling at the edges.
Allow to cool before eating. Can be eaten plain, or with vanilla ice cream, whipped cream or creme fraiche.
[/print_this]
Recipe by
The Messy Baker
at http://themessybaker.com/2011/09/11/recipe-black-cherry-and-raspberry-galette-with-walnut-frangipane-and-ginger/