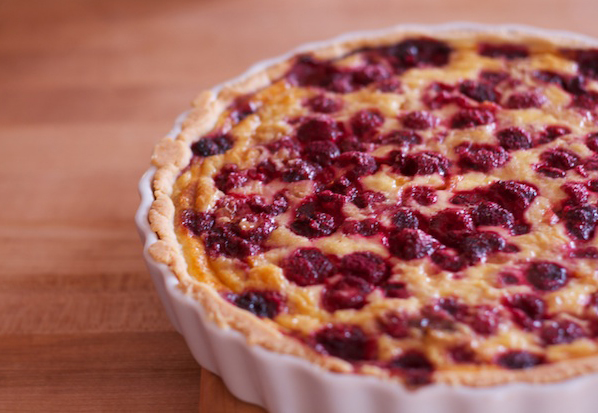 Raspberry Peach Pie with Frangipane
Author: Charmian Chrisite
Prep time: 15 mins
Cook time: 55 mins
Total time: 1 hour 10 mins
This raspbery peach pie can be made with other seasonal fruit. Swap blueberries for the raspberries and plums, nectarines or apricots for the peaches.
pastry dough, enough to line a 10-inch tart pan
6 ounces dark chocolate, shaved
1 cup peaches, diced, fresh or frozen
1½ cups whole raspberries, fresh or frozen
½ cup ground almonds
½ cup granulated sugar
2 eggs (divided)
2 tsp vanilla (divided)
¾ cup whipping cream
Preheat oven to 400°F.
Roll pastry dough to ¼ inch thick and press into a 10-inch tart pan. Refrigerate until needed.
Shave the chocolate. Set aside.
Make frangipane: In a blender or the small bowl of a food processor, blend the almonds, sugar, 1 egg and 1 teaspoon vanilla until they form a paste.
Make the custard: In a small bowl, whisk together the whipping cream, remaining egg and 1 teaspoon vanilla.
To assemble the pie, sprinkle chocolate over the bottom of the pie crust. Drizzle frangipane over the chocolate layer. Place the fruit on top, distributing evenly. Pour custard over the dish.
Place the tart pan in the centre of the preheated oven and bake 10 minutes. Reduce the heat to 350°F and bake for 45 minutes or until the pie is golden and set.
Allow to cool thoroughly before serving. Top with vanilla ice cream or whipped cream, if desired.
Recipe by
The Messy Baker
at http://themessybaker.com/2011/04/28/recipe-raspberry-peach-frangipane-pie/