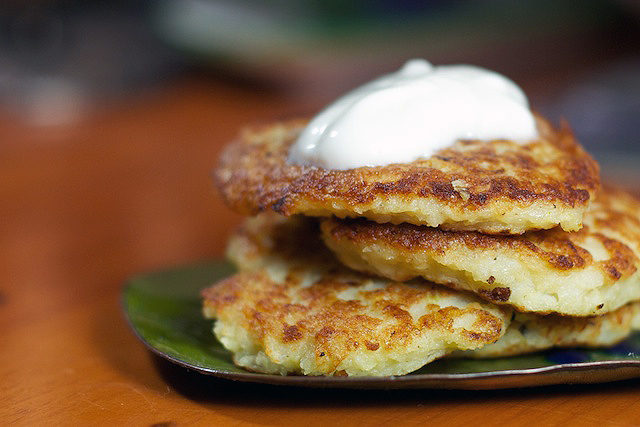 Author: Charmian Chrisite
Prep time: 10 mins
Cook time: 30 mins
Total time: 40 mins
I use Idaho (russet) potatoes, but some cooks prefer Yukon Golds or red-skinned potatoes. Serve latkes with applesauce or sour cream. For Passover, use matzo meal instead of flour.
4 medium potatoes, peeled or scrubbed
1 medium onion
2 eggs (or 1 egg plus 2 egg whites)
⅓ cup flour or matzo meal
1 tsp baking powder
¾ tsp salt
freshly ground black pepper to taste
¼ cup oil (approximately)
In a food processor fitted with grating blade, grate potatoes, using light pressure. Transfer potatoes to a colander, rinse them under cold water then drain thoroughly.
Insert steel blade. Process onion until minced. Add grated potatoes, eggs, flour, baking powder, salt and pepper.
Process with 2 or 3 very quick on/off pulses, just until combined. Do not overprocess.
Heat 2 tsp oil in large nonstick skillet over medium-high heat. Drop potato mixture into hot oil by large spoonfuls to form pancakes. Brown well on both sides. (Don't overcrowd the pan.) Drain on paper towels.
Add additional oil to pan as needed. Stir batter before cooking each new batch.
Latkes can be placed on a baking sheet and kept warm in a 250°F oven.
Quick Notes
Freezing and reheating latkes: To save space when freezing or reheating latkes, stand them upright in a loaf pan. Reheat, uncovered, in preheated 400°F oven for about 10 minutes.
Recipe by
The Messy Baker
at http://themessybaker.com/2011/04/19/recipe-potato-latkes/