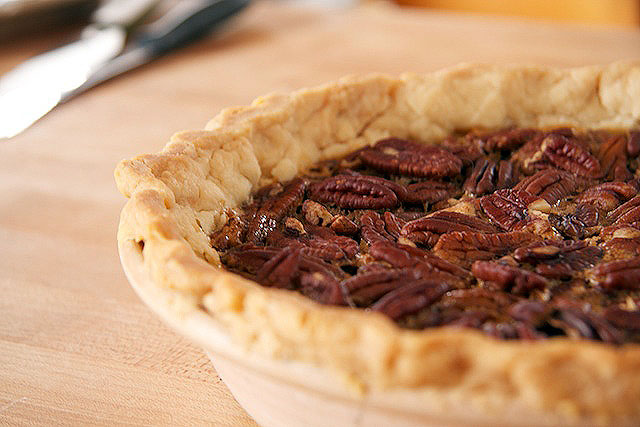 Recipe: Forty Creek Pecan Pie
Author: Charmian Christie
Prep time: 15 mins
Cook time: 45 mins
Total time: 1 hour
This twist on classic bourbon-laced pecan pie is made with Forty Creek Canadian whisky -- my husband's favourite. Not cloyingly sweet, you can actually taste the pecans. And the booze!
pastry - your favourite recipe, enough for one deep 9-inch pie
2 to 2¼ cups pecan halves
3 eggs
¾ cup brown sugar, lightly packed
¾ cup corn syrup
¼ cup butter, melted
1 teaspoon vanilla
3 tablespoon Forty Creek whisky (or bourbon)
Preheat oven to 375°F. Line a deep 9-inch pie plate with your favourite pastry dough.
Roughly chop ¾ cup pecan halves. Place them on a baking sheet and bake for 8 minutes to lightly toast. Remove from baking sheet and set aside to cool.
Combine eggs, brown sugar, corn syrup, melted butter, vanilla and whisky. Stir in the toasted pecans.
Pour filling into unbaked pie crust.
Sprinkle remaining pecan halves over top of pie.
Bake in the bottom third of the oven for 40 to 45 minutes. The pie is done when the filling is firm to the touch and the edges are golden.
Variations
Use bourbon or other whisky. Anyone using fine single malt scotch will be slapped.
Recipe by
The Messy Baker
at http://themessybaker.com/2011/04/04/recipe-forty-creek-pecan-pie/