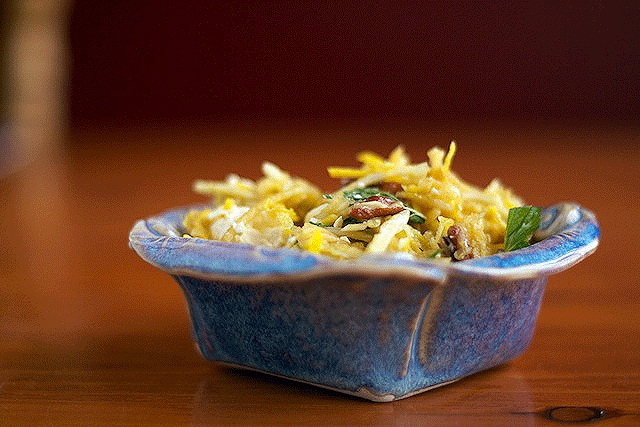 Fennel, Golden Beet and Apple Salad
Prep time: 20 mins
Cook time: 10 mins
Total time: 30 mins
If you can grate a block of cheese, you can make this salad. Apples, golden beets and fennel meet maple syrup, pecans, orange juice and blue cheese. A bit of mint rounds things off.
¼ cup (60 mL) maple syrup
½ cup (125 mL) pecan halves
3 tablespoons (45 mL) olive oil
1 tablespoon (15 mL) balsamic vinegar
1 tablespoon (15 mL) freshly squeezed orange juice
1 large raw beet (ideally golden*), peeled and coarsely grated
1 Fuji apple (or any other hard apple), peeled, cored, and coarsely grated
1 fennel bulb, trimmed and coarsely grated
⅓ cup (80 mL) coarsely chopped fresh mint (stems discarded)
4 ounces (125 g) Stilton (or another blue cheese), crumbled
Salt and freshly ground black pepper
Preheat oven to 350°F (180°C).
Pour maple syrup into a small bowl. Toss nuts in syrup, remove with a slotted spoon, and bake on aluminum foil or a cookie sheet for 10 minutes. The syrup will bubble, and once you take the nuts out of the oven and let them cool, the syrup will solidify. Reserve.
In a large bowl, combine oil, vinegar, and orange juice. Whisk together, then add beet, apple, fennel, mint, Stilton, and nuts. Toss. Season to taste with salt and pepper. Serve immediately.
Recipe by
The Messy Baker
at http://themessybaker.com/2011/04/01/recipe-fennel-salad/