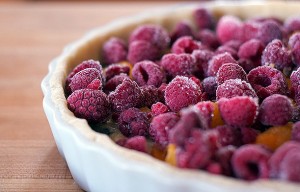 Author: Charmian Christie
Prep time: 15 mins
Cook time: 45 mins
Total time: 1 hour
A classic pie that's been around so long the original was handwritten on personalized stationery. This pie is tart enough to take a scoop of sweet ice cream without becoming cloying. I've amended it to include the frozen fruit option.
1 recipe pie dough, enough for double crust
1 cup granulated sugar
¼ cup all-purpose flour
2 tablespoons minute tapioca
½ lemon, zest and juice
4 cups raspberries, whole (fresh or frozen and unthawed)
1 tablespoon butter
Preheat oven to 425°F and place a rack on the bottom of the oven. Line a 9-inch pie plate with your favourite pastry. Instead of a top crust, use a small cookie cutter and cut out shapes to be placed on top of the filling before baking.
Combine sugar, flour, tapioca and lemon zest in a large bowl. Add the raspberries and toss lightly. Try to not break the fruit up. Spoon the filling into the pie shell. Sprinkle with lemon juice. Dot with butter. Place the pastry cutouts over the filling.
Bake the pie on bottom rack of the oven for 40 to 45 minutes. The crust should be golden brown and the filling bubbling.
Allow pie to cool. Serve warm or room temperature. Vanilla ice cream is a perfect accompaniment. Eat this pie the day it is made. (Like that's gonna be an issue.)
This recipe can be made with blueberries or cherries. If using either of these fruits, increase the lemon to 1 whole lemon.
Recipe by
The Messy Baker
at http://themessybaker.com/2011/03/28/recipe-raspberry-pie/