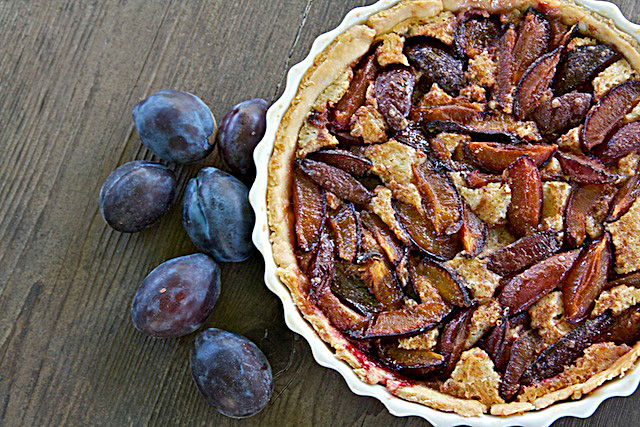 Recipe: Plum Frangipane Tart
Author: Charmian Christie
Prep time: 15 mins
Cook time: 45 mins
Total time: 1 hour
Frangipane, a simple ground almond paste, turns a ho-hum plum tart into something special.
Plums
2 cups plums, pitted and sliced in wedges
⅓ cup sugar
½ tsp cinnamon
fresh nutmeg
Frangipane
½ cup unsalted butter, room temperature
¼ cup ground almonds
2 tbsp icing sugar
2 tbsp all-purpose flour
½ tsp vanilla
1 egg
Preheat the oven to 400°F.
Prepare the crust: Roll the pastry to ¼-inch thick and line a 6-inch tart pan. Chill the pastry in the refrigerator until ready.
Prepare the fruit: In a medium bowl, toss the plums, sugar, cinnamon and nutmeg together. Set aside.
Make the frangipane: In a food processor or blender, purée the butter, almonds, icing sugar, vanilla and egg until smooth.
Assemble the tart: Spread the frangipane evenly over the bottom of the pie shell. Sprinkle with the sugared plums.
Bake: Place the pie in the bottom third of the oven and bake 35 to 45 minutes or until the crust is golden and the plums are bubbling.Allow to cool before serving.
Recipe by
The Messy Baker
at http://themessybaker.com/2010/10/12/recipe-plum-frangipane-tart/