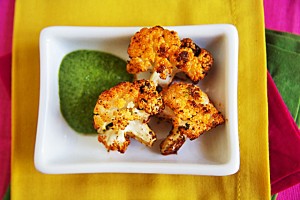 Spicy Roasted Cauliflower with Cilantro Dipping Sauce
Author: Charman Christie
Prep time: 10 mins
Cook time: 45 mins
Total time: 55 mins
This spicy roasted cauliflower and its accompanying cilantro dipping sauce are easy to make. They deliver loads of flavour without a lot of fat.
Cauliflower
1 medium cauliflower, cut into small florets
2 tablespoons canola or light vegetable oil
1 teaspoon Mexican chili powder
1 teaspoon chipotle powder (double the chili powder if you don't like this)
generous pinch fine sea salt
fresh ground black pepper
Dipping Sauce
¼ cup canola or light vegetable oil
1 tablespoon fresh lime juice
1 tablespoon fresh lemon juice
1 cup roughly chopped cilantro
1 clove garlic, roughly chopped
1 teaspoon honey (sugar or agave nectar if you're vegan)
fine sea salt to taste
fresh ground black pepper
Cauliflower
Preheat oven to 425°F. If you have a convection oven, use this setting for crisper results.
Cut cauliflower into bite-sized florets, trying to be as uniform as possible for even roasting.
In a large bowl, whisk together the oil, chili powder, chipotle powder, salt and a good grind of freshly ground black pepper. Add the cauliflower florets to the spiced oil and toss to thoroughly coat.
Spread the cauliflower on a rimmed baking sheet and roast for 25 to 40 minutes, stirring once part way through. The timing varies with the size of cauliflower.
Dipping Sauce
While the cauliflower roasts, combine the oil, lime juice, lemon juice, cilantro, garlic, honey (or sugar/agave nectar), salt and fresh ground black pepper in a blender. Blend until smooth, scraping down the sides as necessary.
Serve the cauliflower hot with the dipping sauce.
Cauliflower shrinks dramatically when roasted. Make a double batch if you have cauliflower fanatics (or me) at the table.
Recipe by
The Messy Baker
at http://themessybaker.com/2010/08/25/spicy-roasted-cauliflower-with-cilantro-dressing/