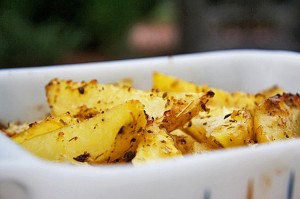 Easy Roasted Lemon Potatoes
Author: Charmian Christie
Prep time: 20 mins
Cook time: 45 mins
Total time: 1 hour 5 mins
These lemony potato wedges are an ideal accompaniment to chicken or a Greek meal. Serve as is or with a side of tzatziki.
4 medium potatoes, washed and cut into wedges (skin left on)
¼ cup olive oil
2 tablespoons melted butter
1 lemon, zest and juice
3 cloves garlic, crushed
1 teaspoon dried oregano
salt
fresh ground black pepper
Preheat oven to 350°F. While the oven is heating, boil the potato wedges in lightly salted water for 15 minutes. Drain.*
In a small bowl, mix together the oil, butter, lemon zest, lemon juice, garlic, and oregano. Pour the oil mixture over the potato wedges and toss to coat evenly.
Spread the potatoes in a single layer on a rimmed baking sheet. Season with salt and pepper. Bake, stirring once or twice, for 30 minutes or until the potatoes are tender.
Increase oven temperature to 425°F and roast another 15 minutes or until crisp. Serve as is or with a side of tzatziki.
* Think boiling potatoes is too much work? Just toss the uncooked potato wedges in the oil mixture and bake for an extra 15 to 20 minutes before increasing the heat. The texture won't be quite the same, but the flavour will be just as good.
Recipe by
The Messy Baker
at http://themessybaker.com/2010/07/27/easy-roasted-lemon-potatoes/