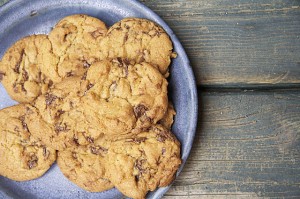 Browned-Butter Chocolate Chip Cookies
Author: Charmian Christie
Prep time: 20 mins
Cook time: 12 mins
Total time: 32 mins
Browned butter adds depth to the classic chocolate chip cookie.
¾ cups butter
¾ cups packed brown sugar
½ cup granulated sugar
2 large eggs, room temperature
1 tablespoon vanilla
2 cups all-purpose flour
½ teaspoon baking soda
½ teaspoon fine sea salt
1 cup semi-sweet chocolate chips
1 cup chopped walnuts (optional, add extra chocolate chips if you prefer)
In a small saucepan, melt the butter over medium-high heat. Once the butter has melted, gently swirl the pot and continue to cook until the butter has browned. (The butter is finished when it has turned dark amber and smells nutty.)
Put the brown and granulated sugars into a medium-sized bowl. Pour the hot browned butter over the sugars, and stir until completely dissolved. Beat in the eggs and the vanilla.
Sift together the flour, baking soda and salt. Add to butter mixture and stir to combine. Stir in the chocolate chips and chopped nuts, if using. Refrigerate for at least an hour or even overnight.
A good half hour before you are ready to bake, preheat the oven to 350°F. Line two baking sheets with parchment. While the oven heats, let the dough come to room temperature.
Drop a heaping tablespoon of dough onto the baking sheet, leaving two inches between cookies to allow for spread. (Note: If the dough doesn't spread while cooking, flatten the cookies a bit before baking. How cold the dough is can affect how much the dough spreads.)
Bake for 10-12 minutes, or until the cookies are done around the edges but the middle is still soft. Leave the cookies on the pan for 2 minutes or until you are able to transfer the cookie off the sheet without it falling apart. Transfer the cookies to a wire rack to cool.
Using a 1-tablespoon cookie scoop works really well with this recipe. Cookies will be a consistent size and bake evenly.
Recipe by
The Messy Baker
at http://themessybaker.com/2010/07/08/brown-butter-chocolate-chip-cookies/