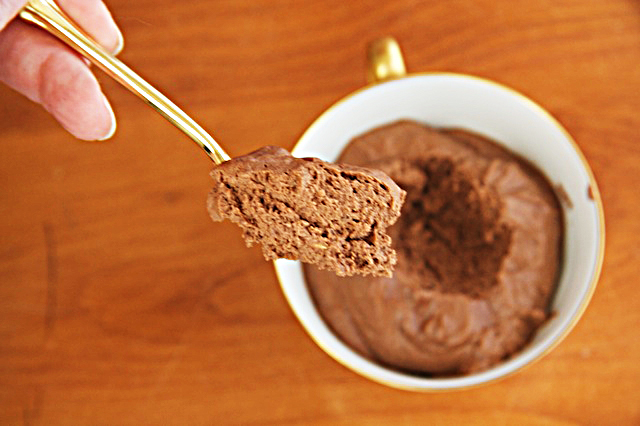 Author: Charmian Chrisite
Prep time: 2 hours 20 mins
Cook time: 10 mins
Total time: 2 hours 30 mins
This version of chocolate mousse is lighter than the traditional French Chocolate Mousse. The secret? Chocolate chips, which give the desserts structure without relying on a lot of eggs and whipped cream.
8 ounces semi-sweet chocolate chips (use a good quality brand)
¼ cup butter
3 eggs, separated
1 cup whipping cream (35%)
¼ cup
vanilla sugar (or plain white sugar with 1 tsp vanilla extract on the side)
In a double boiler or metal bowl over simmering water, gently melt the chocolate chips and butter.
Whisk in the egg yolks and cook 2 minutes.
Pour the chocolate mixture into a large bowl and allow to cool.
Meanwhile, whip the cream. If you are using vanilla extract, add it to the cream while whipping. Set aside.
Whip the egg whites, adding the sugar 1 tbsp at a time. Allow the sugar to dissolved between spoonfuls. Beat until stiff peaks form.
Fold the whipped cream and egg whites into the cooled chocolate mixture. Spoon mousse into dishes and chill 2 hours.
Serve cold with extra whipped cream on top, if desired.
Recipe by
The Messy Baker
at http://themessybaker.com/2010/03/03/chocolate-chip-mousse/