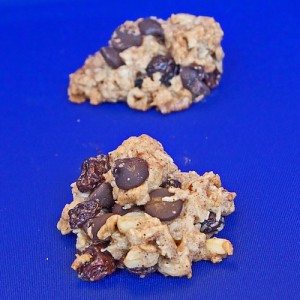 Healthy Oatmeal Chocolate Chip Cookies
Prep time: 15 mins
Cook time: 15 mins
Total time: 30 mins
This healthy oatmeal chocolate chip cookie has no eggs, dairy or refined sugar. You can make a gluten-free version with brown rice flour or a more traditional version with unbleached white. Either way, it's a satisfying treat.
2 cups rolled oats
1 cup unbleached white flour or brown rice flour
¾ cups shredded unsweetened coconut
1 tablespoon ground cinnamon
¼ teaspoon sea salt
¾ cups maple syrup
½ cup canola oil
1 teaspoon vanilla extract
1 cup chopped toasted walnuts
½ cup semi-sweet chocolate chips or raisins (or both)
Preheat oven to 350F.
In a large bowl, combine oats, flour, coconut, cinnamon and salt.
In a separate bowl, whist together syrup, oil and vanilla.
Pour wet ingredients into dry and stir until evenly combined. Fold in walnuts and chocolate chips or raisins. Press dough into equal-sized balls, place onto parchment-lined cookie sheet and bake 15 minutes or until lightly browned. Remove from oven -- and do your best not to eat them all at one sitting.
Recipe by
The Messy Baker
at http://themessybaker.com/2010/02/19/healthy-oatmeal-chocolate-chip-cookies/