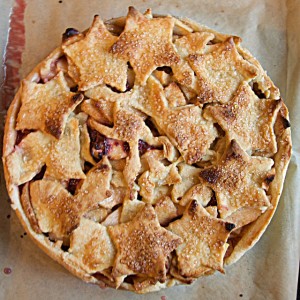 Apple-Raspberry Patchwork Crostata
Cook time: 50 mins
Total time: 50 mins
This deep-dish tart features a rich pastry crust filled with mounds of apples and raspberries, then topped with a patchwork of dough. Sweet apples, such as McIntosh, Golden Delicious, Pink Lady and Cortland are best, especially when combined.
Pastry
2½ cups all-purpose flour
1 tablespoon sugar
½ teaspoon salt
¾ cups cold, unsalted butter, cut into small pieces (6 ounces)
1 large egg yolk
1 tablespoon fresh lemon juice
4 to 6 tablespoons ice water
Filling
1½ to 2lb sweet apples, peeled, cored and cut into ¼-inch thick slices
2 cups fresh or frozen raspberries
1 cup sugar
⅛ teaspoon ground cinnamon
2 tablespoons corn starch
2 teaspoons balsamic vinegar or fresh lemon juice
1 large egg
¼ cup heavy cream
Topping
milk for brushing
1 large egg yolk
2 to 3 tablespoons milk or half-and-half cream
white or coarse sugar for sprinkling
Spray a 10-inch springform pan generously with nonstick cooking spray. Line a baking sheet with parchment paper. Set aside.
Pastry
For the pastry, combine the flour, sugar, and salt in a food processor. Process for a few seconds to blend. Add the butter and pulse to the texture of coarse meal. Add the egg yolk, lemon juice and 4 tablespoons of ice water. Process to make a soft mass of dough, adding more ice water as needed.
Turn the dough out onto a floured surface and knead briefly until smooth. Pat into a disk. Place in a self-sealing plastic bag and refrigerate for at least 1 hour or up to 3 days.
Filling
Preheat the over to 425°F.
For the filling, combine the apples and raspberries in a large bowl. In a small bowl, stir  the sugar, cinnamon, flour and cornstarch together. Add to the fruit along with the vinegar. Toss to mix. In a small bowl, beat the egg and heavy cream together. Set aside.
On a lightly floured surface, roll the dough out to a 12-inch round. Fit the dough into the pan and trim the dough by using a paring knife or by rolling the rolling pin across the top. Place the fruit mixture into the pan. Pour the egg-cream mixture evenly over the fruit.
Roll the excess dough out to ¼-inch thick. Using a serrated pizza cutter or pastry wheel, cut into 2- or 3-inch triangles, squares or odd shapes.
Topping
Brush the edges of the pastry with some milk. Arrange the dough pieces in a patchwork fashion to cover the top surface of the tart completely. Beat the yolk and 2 to 3 tablespoons milk or half and half together and brush over the tart. Sprinkle generously with sugar.
Place the tart on the prepared baking sheet and bake for 30 minutes. Lower the temperature to 375°F and bake for another 15 to 20 minutes, or until the pastry is golden brown and the juices are bubbling. Let cool in the wire rack for 2 to 3 hours before removing from the pan.
Recipe by
The Messy Baker
at http://themessybaker.com/2010/01/06/marcy-goldmans-apple-raspberry-patchwork-crostata/