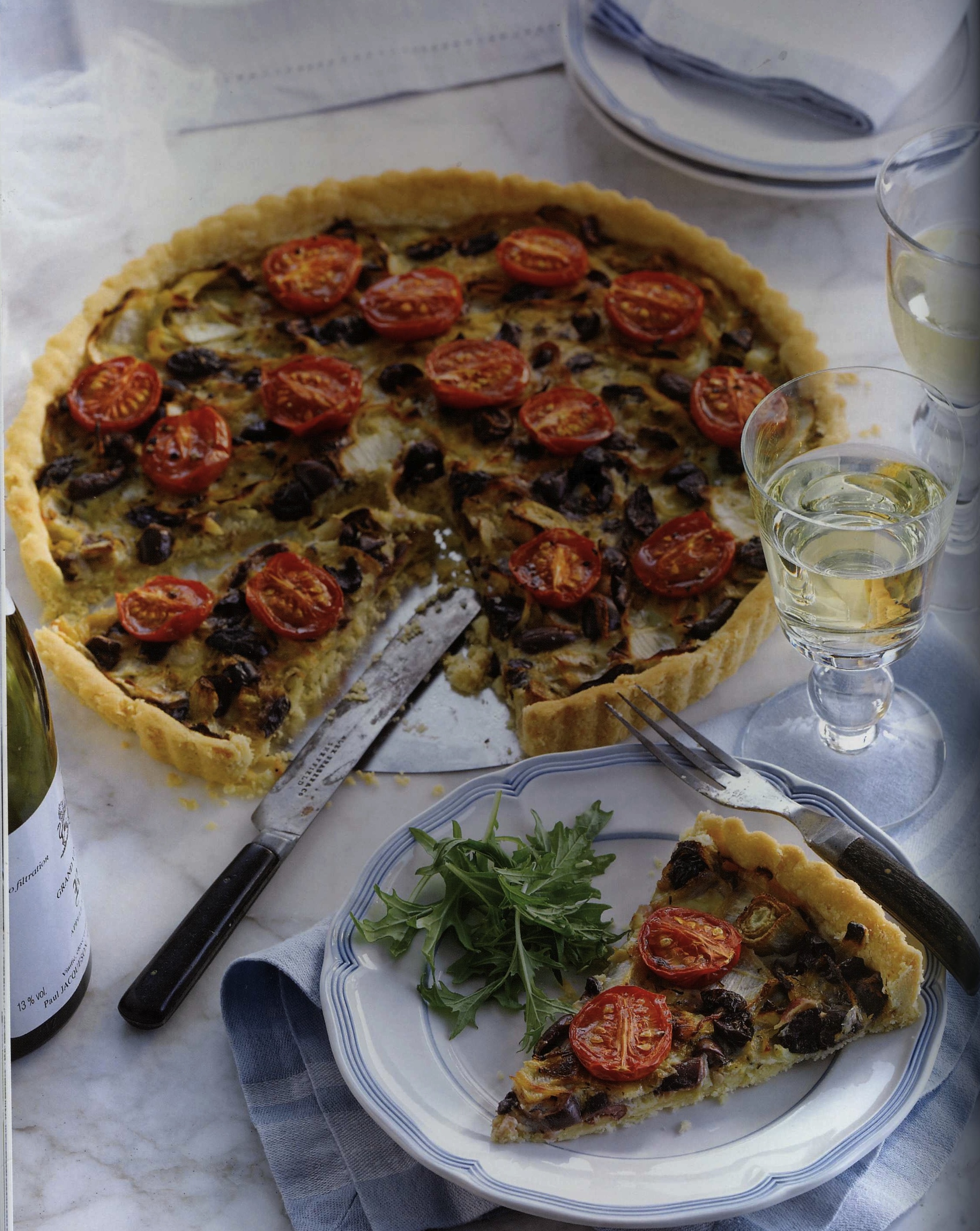 Aix-en-Provence Black Olive Tart
Author: Linda Haynes and Devin Connell
Cook time: 50 mins
Total time: 50 mins
Olive-Oil Pastry
2 cups plus 3 Tbsp unbleached all-purpose flour
pinch of kosher salt
¾ cup unsalted butter, cold, cut in ¼-inch cubes
1 large egg yolk. beaten
3 to 4 Tbsp extra-virgin olive oil
Filling
2 large eggs
3 Tbs creme fraiche or 35% whipping cream
¼ cup extra-virgin olive oil
2 small cooking onions, cut in half and thinly sliced
1 lb Belgian endive, cut in ½-inch slices (Note: I used arugula due to poor looking endive)
3 cloves garlic, finely chopped (about 2½ tsp)
½ tsp finely chopped fresh thyme
¾ cup pitted Kalamata olives, cut in half if large
¼ tsp kosher slat
Heaping ⅛ tsp freshly ground black pepper
6 to 8 oven-roasted tomatoes, cut in half
For the pastry, put the flour, salt, butter, egg yolk and 3 Tbsp oil in the bowl of a food processor. Pulse until it comes together. Add the extra tablespoon of oil if necessary. (If you are mixing by hand, put the flour, salt and butter in a bowl and toss together. Add the egg and 3 Tbsp oil and mix together with your hands. Add the extra tablespoon of oil if needed to bring the dough together. The dough should be crumbly.)
Form the dough into a flattened disc, wrap in plastic and refrigerate for 30 minutes.
Roll the dough between 2 pieces of parchment paper or plastic wrap into a rough 15-inch circle. This may prove difficult as the dough is very crumbly, but don't worry. Just pat the dough evenly into the bottom and sides of a 12-inch fluted tart pan with a removable bottom. Chill for at least 30 minutes. (The dough can be made and patted into the pan up to a day ahead.)
Preheat the oven to 400F.
To prepare the filling, whisk the eggs and creme fraiche in a bowl.
Add the oil and onions to a large cold skillet and heat over medium-high heat. Saute until the onions are soft but not coloured, about 10 to 12 minutes.
Add the endive, garlic and thyme. Cook until the endive is slightly wilted and the pan is almost dry, about 3 to 4 minutes. Remove from the heat and stir in the olives, eggs mixture, salt and pepper. Immediately pour into the tart shell, making sure the olives are evenly distributed. (For a nice finish, brush the exposed crust with a little extra olive oil.)
Bake for 50 minutes or until the filling is just set in the centre. Remove from the oven and let cool for 15 minutes. Top with oven-roasted tomatoes.
Recipe by
The Messy Baker
at http://themessybaker.com/2009/12/08/aix-en-provence-black-olive-tart/