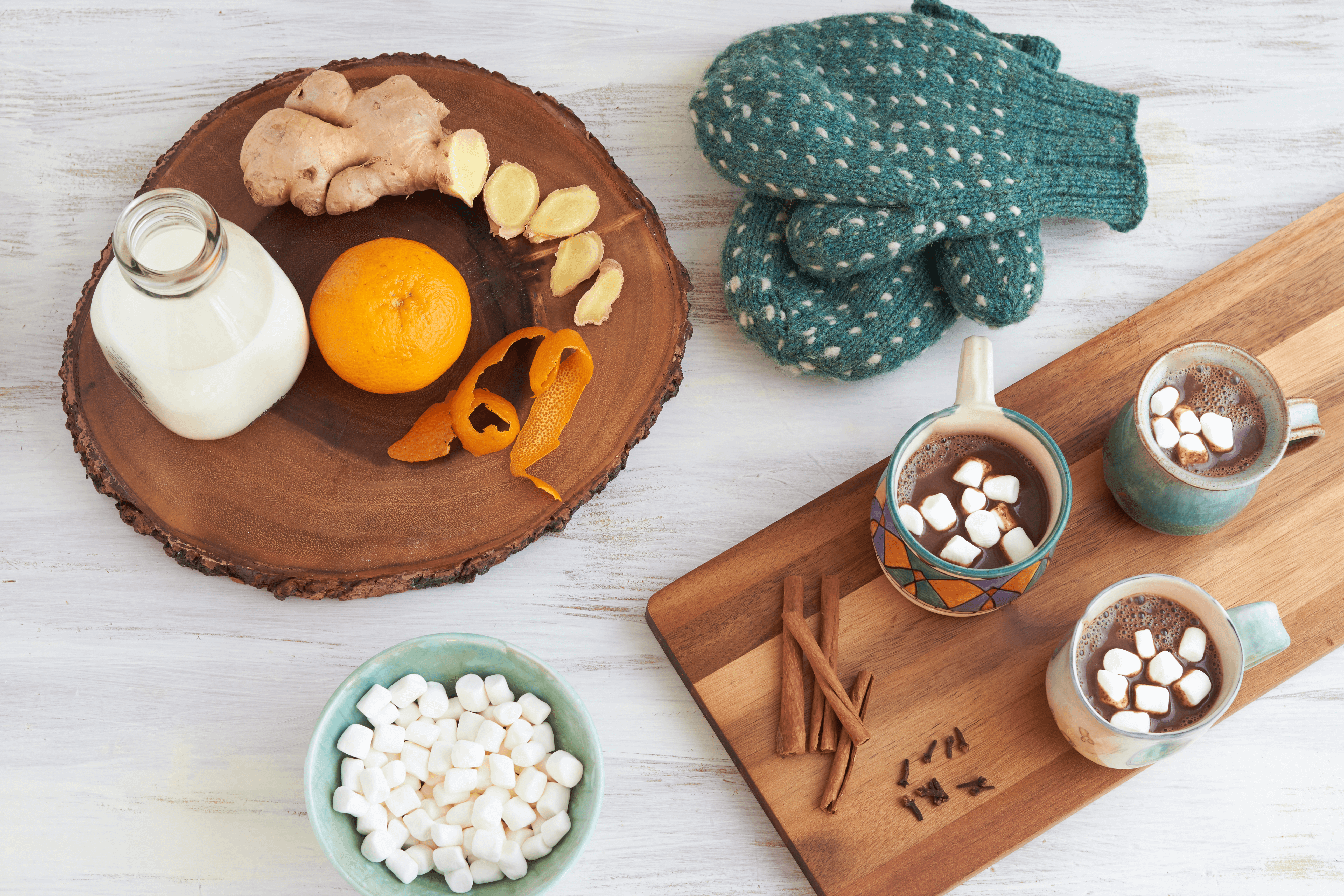 Christmas Spiced Hot Chocolate
Author: Charmian Christie
Christmas Spiced Hot Chocolate This is like a chocolate-dipped ginger cookie in liquid form. It's rich, so a small cup will leave you warm and satisfied.
Hot Chocolate
4 cups whole milk
¼ cup sugar
2-inch piece fresh ginger root, sliced thinly
2 3-inch cinnamon sticks
3 whole cloves
6 strips orange zest, removed with a vegetable peeler
8 ounces dark semi-sweet chocolate (70%), broken into small pieces
2 tablespoons orange or ginger liqueur (optional)
Optional Whipped Cream Topping
1 cup whipping cream
2 tablespoons sugar
Place the milk, sugar, ginger, cinnamon, cloves and orange zest in a medium saucepan over medium heat. As soon as the milk reaches the boil, remove the pan from the heat, cover, and let the flavours infuse for at least 20 minutes. (If you are in a hurry, pour the milk into a regular blender and pulse a few times to release flavours more quickly. Then return the milk to the pan.)
Gently rewarm the spiced milk. While the milk reheats, whip the cream with sugar in a small bowl until stiff peaks form, if using.
Place the chocolate pieces in a medium bowl with the liqueur, if using. Pour the warm milk over the chocolate through a fine mesh sieve. Discard the captured spices. Whisk the warm milk into the chocolate, blending until smooth. Ladle the hot chocolate into mugs. Serve immediately.
Any leftover hot chocolate can be refrigerated in a covered container for up to three days. To rewarm, stir well before heating over low in a saucepan on the stove or in a microwave at half power.
Serves 6 adults or 8 frozen children.
Recipe by
The Messy Baker
at http://themessybaker.com/2017/12/15/christmas-spiced-hot-chocolate/