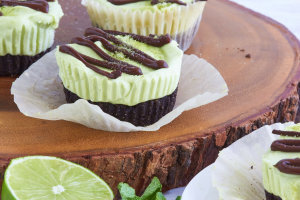 Mini Lime-Mint Cheesecakes
Author: Charmian Christie
Prep time: 20 mins
Cook time: 10 mins
Total time: 30 mins
These no-bake mini cheesecakes are perfect for summer parties (especially as hockey season winds down). If like a crunchy crust, bake it. If you want a truly no-bake dessert, skip this step and just press the crumbs into the muffin paper firmly.
Lime Mint Sugar
1½ cups granulated sugar
¼ cup loosely packed fresh mint leaves
1 tablespoon finely grated lime zest
Crust
2 cups roughly broken chocolate wafers
¼ cup lime-mint sugar
Generous pinch fine sea salt
¼ cup melted butter
Cheesecake
1 cup cold whipping cream
1 cup lime mint sugar
½ cup fresh lime juice (NOT bottled)
⅛ teaspoon fine sea salt
2 large ripe avocados, diced (about 2 cups)
2 packages (250 g each) cream cheese, in cubes
Chocolate Drizzle
2 ounces semi-sweet chocolate.
Preheat oven to 350F. Line 12 muffin tins with paper liners.
Lime-Mint Sugar
Place sugar, mint, and lime zest into Vitamix. Secure lid, set to 1, and pulse to blend until mint is finely chopped. Set lime-mint sugar aside.
Crust
Don't bother to clean the container. Place cookies, ¼ cup lime-mint sugar, and fine sea salt in Vitamix container. Secure lid, set to 1, and pulse to crush cookies into coarse crumbs. With motor running, remove stopper and drizzle in melted butter. Blend until combined and crumbs are fine. Spoon evenly into the muffin tin and press well to flatten. Bake for 8 minutes. Set on cooling rack while you make filling.
Filling
Clean Vitamix container. Pour whipping cream into Vitamix and secure lid. Turn the machine to 1 and slowly increase to 10 until cream is whipped. This takes about 30 to 45 seconds. Transfer the whipped cream to a large bowl.
Place lime juice, salt, avocados, 1 cup lime-mint sugar, and cream cheese in the Vitamix. Blend until smooth using the smoothie setting. Fold cream cheese mixture into the whipped cream. Pour filling evenly into muffin cups and smooth tops flat.
Finishing touches
In the microwave, using the defrost setting, blast chocolate until 80% melted. Stir until all chocolate has melted. Drizzle over the cheesecakes. Sprinkle with remaining lime-mint sugar. Freeze for at least 2 hours or overnight.
When the game begins, set the cheesecakes out. They will be ready to eat in 30 to 40 minutes minutes.
Recipe by
The Messy Baker
at http://themessybaker.com/2017/05/23/mini-lime-mint-cheesecakes/