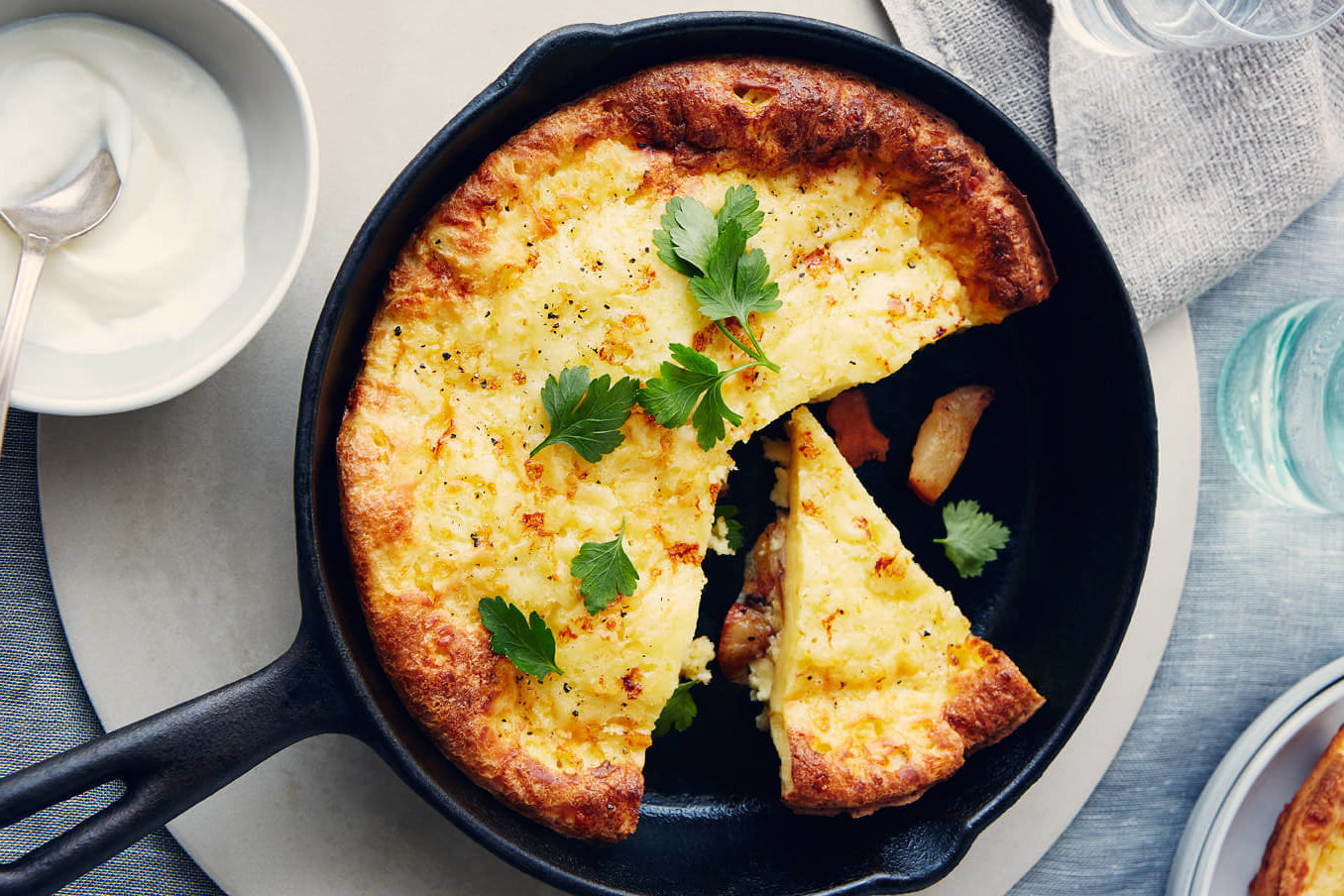 Peppery Pear & Smoked Gouda Dutch Baby
Author: Charmian Christie
Prep time: 20 mins
Cook time: 20 mins
Total time: 40 mins
If a popover and a pancake got together for a romantic tryst, the result would be a bouncing Dutch Baby. Like a popover, this dish emerges from the oven puffed and light and proud as punch. Ooh and ahh quickly as this baby takes on the features of its pancake parentage within minutes. In this version, a layer of peppery sautéed pears naps beneath a blanket of smoked Gouda batter.
1 cup milk
3 eggs, room temperature
2 tablespoons melted unsalted butter
¾ cup all-purpose flour
¼ cup corn starch
½ teaspoon fine sea salt
4 ounces smoked Gouda
2 medium pears, Bosc is good (canned are okay too)
2 tablespoons unsalted butter, room temperature
Fresh cracked black pepper
Garnish
Honey for drizzling
Sour cream or crème fraîche
Place a rack in the centre of the oven and a heavy, 10-inch ovenproof skillet in to heat. Cast iron is ideal but any ovenproof skillet will do. Preheat oven to 425°F.
In a medium bowl, whisk together the milk, eggs, and melted butter until smooth. Add the flour, cornstarch and salt. Whisk until smooth. Grate the Gouda using the large holes of a box grater. Add it to the batter and stir gently to combine. Set aside while you cook the pears.
Peel, core, and cut pears into ¼-inch thick slices. In a large skillet over medium heat, melt the room temperature butter. When the butter bubbles, place the pear slices in the butter, add a light grinding of pepper, and cook, stirring often, until the pears are lightly golden and beginning to get tender, about 4 to 5 minutes.
When the pears are done, remove the heated skillet from the oven. Slide the pears into the hot skillet and arrange in a single layer. Be sure to scrape out all the butter. Give the reserved batter a quick stir, pour it over the pears, and pop the skillet back into the oven. Bake for 15 to 20 minutes, or until the pancake is puffed and golden. The Dutch Baby will not rise as high as a plain version because of the cheese. This is normal. You didn't do anything wrong.
Slice and serve with a dollop of crème fraîche (page TK) or sour cream, a grinding of fresh black pepper, and a drizzle of honey.
Note: Dutch Babies don't sleep well. Eat this dish hot from the oven. Technically, leftovers can be stored in the refrigerator in an airtight container and reheated in a frying pan, but they might disappoint.
Tip: If you don't have smoked Gouda, this recipe works with aged Gouda. Don't like Gouda? Substitute Edam or smoked cheddar.
Recipe by
The Messy Baker
at http://themessybaker.com/2017/05/19/pear-smoked-gouda-dutch-baby/