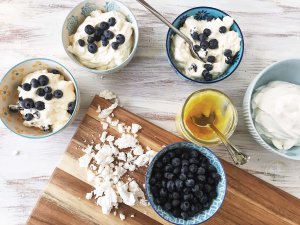 Author: Charmian Christie
Prep time: 10 mins
Total time: 10 mins
This variation on a classic British desserts swaps blueberries in for sliced strawberries and adds tangy lemon curd. Don't bother to sweeten the whipped cream. The meringues and lemon curd will do that.
2 cups cold whipping cream
1 cup lemon curd
4 to 6 cups crumbled meringues
2 cups fresh blueberries, divided
In a stand mixer fitted with a whisk or a large bowl and electric beaters, whip the cream until soft peaks form, about 2 to 3 minutes. If your kitchen is hot, chill the bowl for a few minutes before you whip the cream.
Fold a few tablespoons of the whipped cream into the lemon curd to lighten it. Fold the lemon curd into the whipped cream. Sprinkle with curd-cream mixture with all the crumbled meringue bits and all but ½ cup of the blueberries. Fold gently until meringue pieces and blueberries are incorporated. Be careful not to overmix or you can deflate the cream.
Divide the Eton Mess into bowls. Sprinkle with reserved blueberries.
Serve immediately, or chill until ready to serve.
Recipe by
The Messy Baker
at http://themessybaker.com/2017/05/04/lemon-curd-eton-mess/