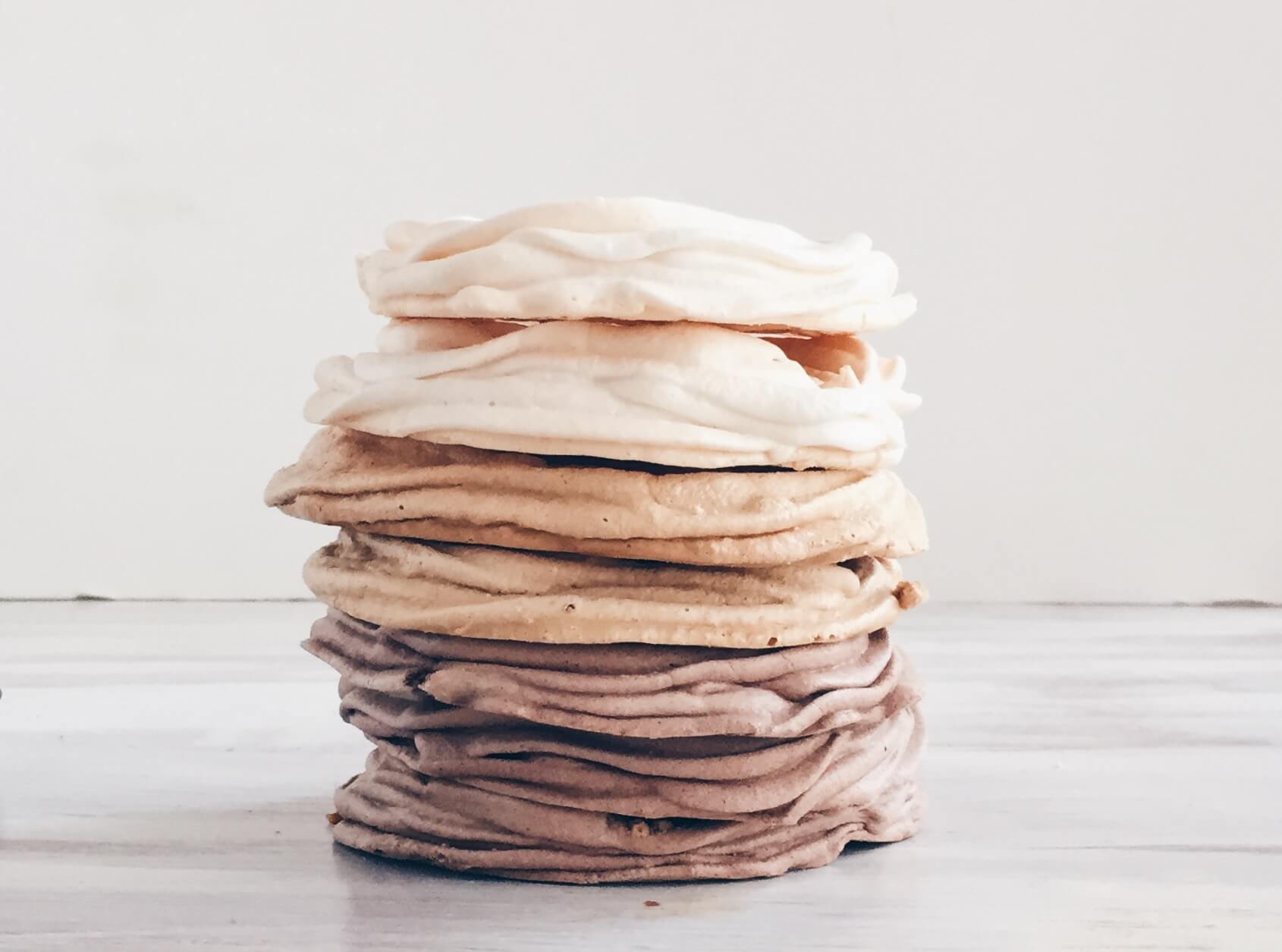 Personal-Sized Chocolate Pavlovas
Author: Charmian Christie
Prep time: 20 mins
Cook time: 60 mins
Total time: 1 hour 20 mins
Chocolate pavlovas are less sweet than their vanilla counterparts. Cocoa powder delivers taste without meringue-destroying fat. The cornstarch helps add structure since the cocoa can deflate the meringue. Pipe them, drop them from a spoon, just make them. On a dry day.
Chocolate Pavlova
4 large egg whites
1 teaspoon white vinegar or lemon juice
pinch of fine sea salt
¾ cup white sugar
½ teaspoon vanilla extract (you can use almond or hazelnut extract if you prefer)
2 teaspoons cornstarch
1 tablespoon cocoa powder (Dutch process is preferred but not necessary)
Topping
2 cups whipping cream
2 tablespoons icing sugar
1 teaspoon vanilla
6 cups (or more) chopped fresh fruit of choice
Preheat the oven to 350°F. Draw 4-inch circles of a sheet of parchment, leaving a good inch between. Flip the parchment over and use it to line a baking pan. You will be able to see the circles but the ink won't touch the food.
Beat the egg white on medium until foamy using either a stand mixer fitted with the whisk attachment or with a handheld electric beater and a medium-sized bowl.
Add the vinegar and salt, and increase to medium-high. Beat until soft peaks form (the peaks will droop when you lift the whisk or beaters).
Increase the speed to high and add the sugar, one tablespoon at a time. Beat until stiff peaks form (the peaks stand straight up when you lift the whisk or beaters). Beat in the vanilla or nut extract.
Sift the cornstarch and cocoa together to remove any lumps. Sprinkle over the beaten egg whites and beat until JUST incorporated so as not to deflate the meringue.
Pipe or spoon the meringue onto the parchment, making sure you stay inside the circles. If piping, pipe a base and then a second layer around the rim. If spooning, push the meringue to the edges of the circle to create a hollow and higher sides. This nest shape will help contain the filling.
Place meringues in the oven. Turn heat to 300°F and bake 30 minutes. Turn off the heat and leave the pan in the oven for 30 more minutes to allow the meringues to dry out. Transfer pan to a wire rack to cool. Once they are completely cool, remove them from the parchment. If you try to remove them too soon, they might tear or stick.
When ready to serve, whip the cream, icing sugar and vanilla in a medium bowl until stiff peaks form.
To assemble, place a pavlova on a dessert plate, add a generous dollop of whipped cream, then top with fruit. Eat immediately.
This recipe is adapted from Meringue by Linda K. Jackson & Jennifer Evans Gardner. Published by Gibbs Smith 2012.
Recipe by
The Messy Baker
at http://themessybaker.com/2017/04/20/personal-sized-chocolate-pavlovas/