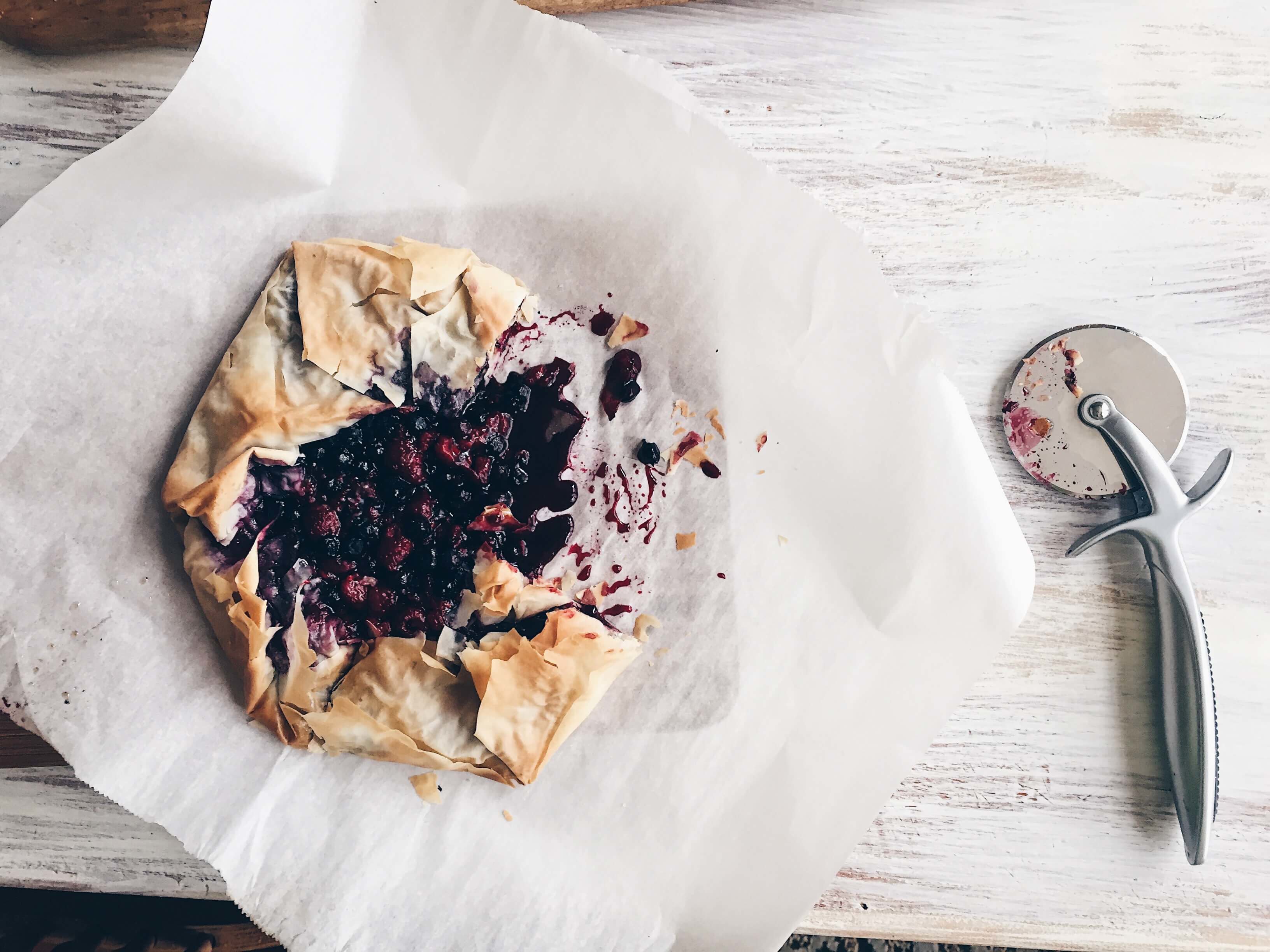 Mixed Berry Phyllo Galette
Author: Charmian Christie
Prep time: 15 mins
Cook time: 30 mins
Total time: 45 mins
Galettes are the ultimate in messy baking. Being freeform, the shape can be less than symmetrical and you're not required to do fancy edging like with pies. Sometimes the filling takes "freeform" too literally and tries to wander off. If it does this during assembly, just gently herd it back in place with your hands. If it does this during baking, call it rustic.
Pastry
16 half phyllo sheets, defrosted (half 454g package)
Fruit Filling
2 cups blueberries (fresh or frozen but unthawed)
2 cups raspberries (fresh or frozen but unthawed)
1 tablespoon pure vanilla extract
1 tablespoon finely grated orange, lime, or lemon zest
½ cup granulated sugar
2 tablespoons cornstarch
1 tablespoons butter, in ¼ inch cubes
Finish
½ cup light oil or melted butter
Turbinado sugar, for sprinkling
Preheat oven to 400°F. Line a rimmed baking pan with parchment.
Fruit Filling: In a large bowl, toss the berries to combine evenly. Sprinkle the vanilla and citrus zest over the fruit and toss again. Combine the sugar and cornstarch. Sprinkle it over the fruit and toss to coat the fruit well.
Assembly:Unfold the phyllo and cut the sheet in half crosswise. Stack the halves, then quickly cover with a sheet of plastic wrap and a lightly dampened clean kitchen towel to prevent it from drying out. (See Working with Phyllo for more details).
Place one sheet of phyllo lengthwise on the prepared baking sheet. Brush with oil or butter. Place a second sheet of phyllo on top crosswise, then brush lightly with oil or butter. Repeat until 8 sheets are used.
Spoon half the fruit filling in the centre forming a 6- to 7-inch circle. Dot with half of the butter. Turn the corners of the phyllo over to form an octagon. Press flat. Fold the pastry edge over the filling to form a rim, pleating the dough as necessary. Brush the top of the pastry rim. Sprinkle the crust and filling with sugar. Repeat with second galette. Bake about 30 minutes or until the crust is golden and the filling is bubbling.
Allow the galette to cool on the parchment before eating. Like most pies, galettes are best eaten the day they're made, but leftovers —if there are any— can be stored in the refrigerator for up to 3 days.
Makes 2 small galettes. Serves 8.
Recipe by
The Messy Baker
at http://themessybaker.com/2017/04/13/mixed-berry-phyllo-galette/