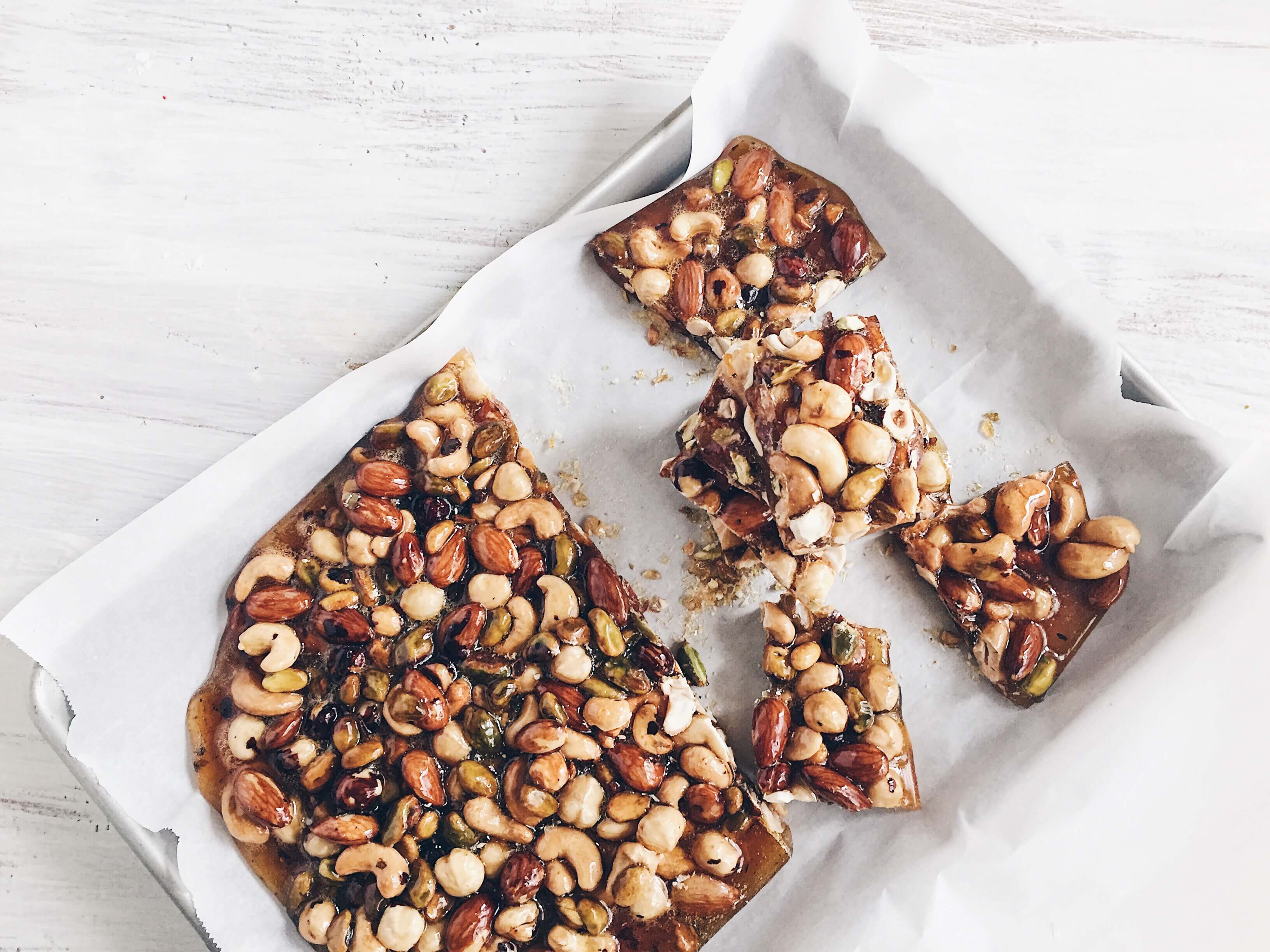 Burnt Caramel Nut Brittle
Author: Charmian Christie
Prep time: 5 mins
Cook time: 20 mins
Total time: 25 mins
Using roasted, salted nuts will save you a bit of time. If you don't have roasted nuts on hand, then toast them in a 350°F oven for 7 to 10 minutes or until fragrant, and then add a generous pinch of fine sea salt to the brittle when you add the nuts.
2 cups granulated sugar
¾ cup water
3 to 4 cups roasted, salted mixed nuts (almonds, hazelnuts, cashews, pecans, pepitas, etc.)
Line a rimmed baking pan with parchment and set aside.
Place a large saucepan on the stovetop over medium heat. Add the sugar and water, being careful not to splash the sides. Heat gently to dissolve the sugar. You can stir the sugar gently now and again but don't splash. DO NOT bring to a boil yet.
Once the sugar has dissolved, increase the heat to medium-high and bring the sugar to a boil. If needed, brush the sides with a wet pastry brush to prevent burning.
The sugar will change colour from pale gold to an amber or reddish brown. You will be able to smell the sugar caramelize. It will have a hint of bitterness but should not smell scorched. (Note: It is important to cook the sugar until it begins to smell likes it's about to burn, otherwise it will not set and just be very sticky.) The second the sugar is ready, remove the pan from the heat and quickly stir in the nuts.
Spread the hot nut mixture over the prepared parchment. Let the sugar cool completely. Break the brittle into pieces with a rolling pin. Large pieces can be used for snacking, or you can crush the brittle into tiny pieces to sprinkle on top of ice cream.
Store in an airtight container. Keeps up to 2 months.
Recipe by
The Messy Baker
at http://themessybaker.com/2017/03/30/burnt-caramel-nut-brittle/