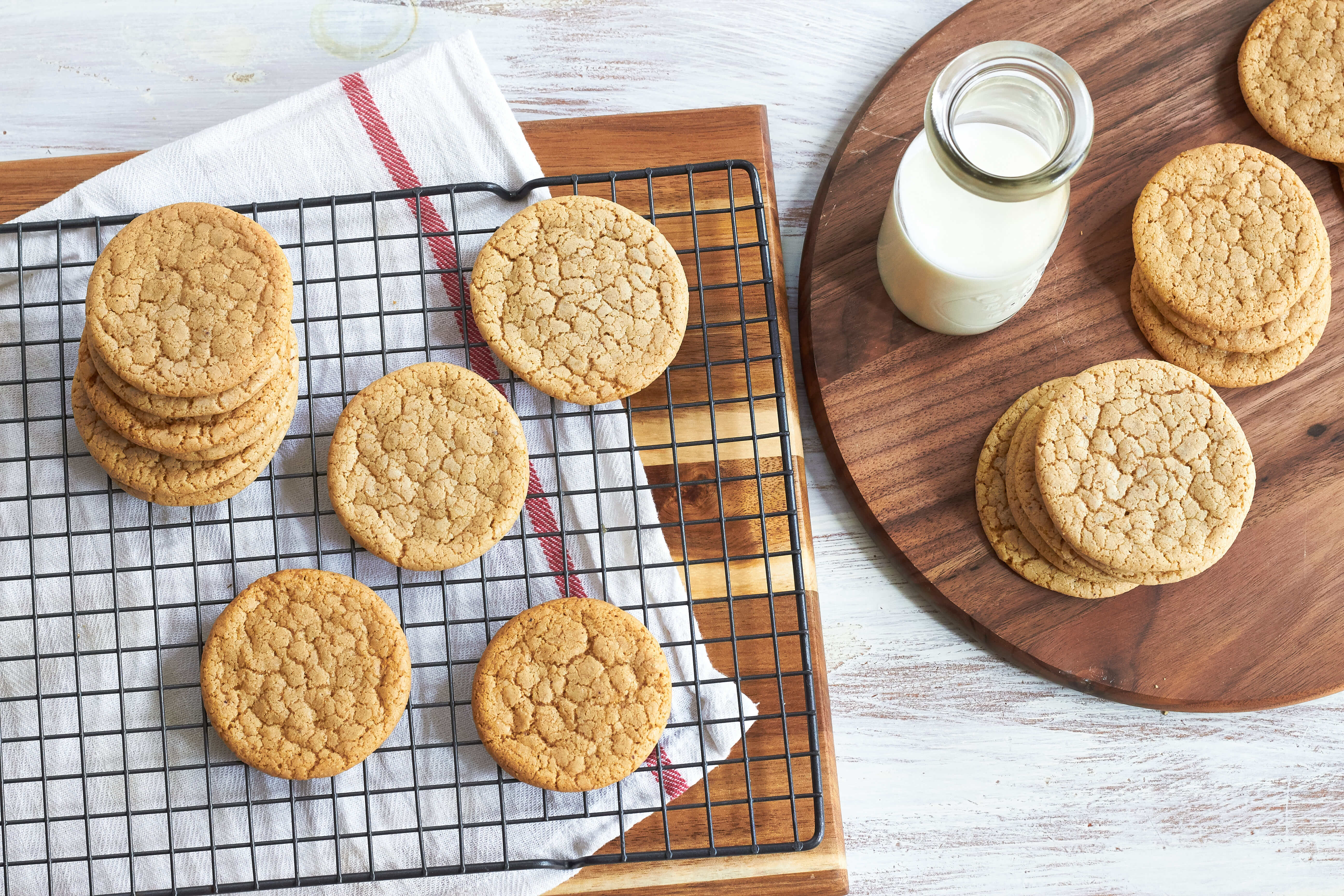 Not My Grandmother's Chewy Cookies
Author: Charmian Christie
Prep time: 20 mins
Cook time: 25 mins
Total time: 45 mins
These cookies are big, flat and crinkled. They're crisp on the edges and chewy in the middle. The taste is pure butterscotch thanks to browned butter, dark Demerara sugar and a generous lashing of vanilla. They capture the flavours of my childhood.
¾ cups unsalted butter
1 cup packed dark brown sugar (Demerara is best)
½ cup granulated sugar
2 large eggs
1 tablespoon vanilla
2 cups all-purpose flour
½ teaspoon baking soda
½ teaspoon fine sea salt
Place a rack in the centre of the oven and preheat the oven to 350°F. Line 2 or 3 baking sheets with parchment cut to fit the pan. Do not have parchment hanging over the sides as this might warp the cookies at the edges. Set up a stand mixer fitted with a paddle.
In a small saucepan, melt butter over medium-high heat. Once the butter has melted, gently swirl the pot and continue to cook until the butter has turned dark amber and smells nutty, about 7 to 10 minutes
Pour the browned butter into the bowl of the stand mixer, being sure to scrape in the browned bits that have sunk to the bottom of the pan. Add the brown and granulated sugars. Mix on low (setting 3) until the sugars have soaked up the butter and the mixture looks like wet sand.
In a small bowl, whisk the eggs and vanilla together with a fork, and add to the sugar mixture. Mix on speed 8 until well blended, stopping the machine once or twice to scrape down the sides.
In a medium bowl, whisk the flour, baking soda and salt together. With the motor on 1, gently spoon the flour mixture into the bowl. Once all the flour has been added, increase the speed to 5 and mix until the flour is blended in. Stop the mixer and scrape down the sides of the bowl. Increase speed to 8 and mix the dough for 1 minute. The dough will be quite loose.
Using a 1-tablespoon cookie scoop, drop the dough onto the parchment lined baking sheets, leaving a good two inches to allow for spread. Bake for 9 to 12 minutes, or until the cookies are done around the edges but the middle is crinkled and soft. Do not overbake. Let the pan of cookies sit 5 minutes before transferring the cookies to a wire rack to cool. While the first pan cools, scoop the second pan. The batter might have firmed up a tiny bit, but the cookies will still spread and crinkle. Repeat with third pan if necessary.
Recipe by
The Messy Baker
at http://themessybaker.com/2017/04/03/not-my-grandmothers-chewy-cookies/