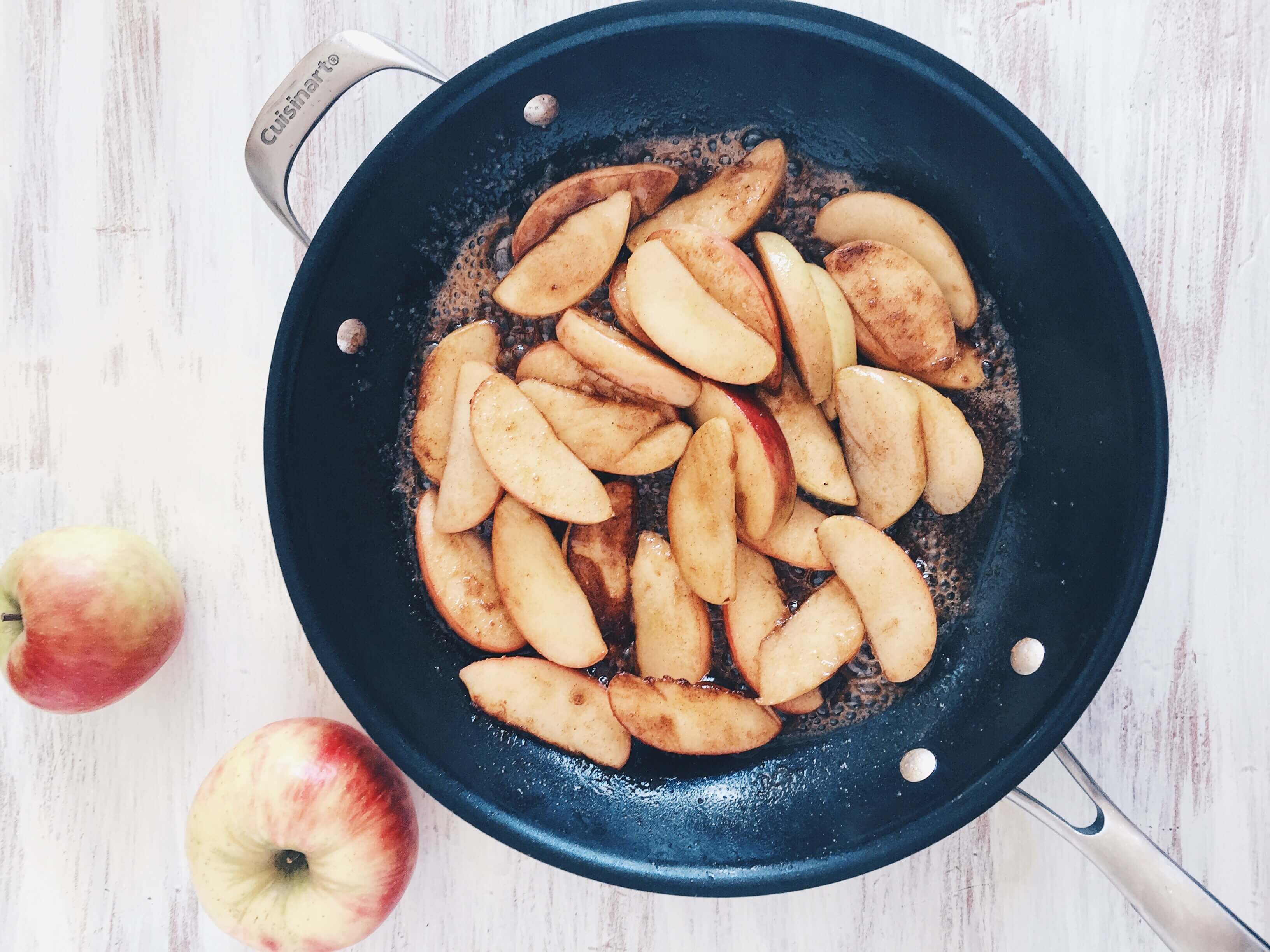 Caramelized Apple Dutch Baby
Author: Charmian Christie
Prep time: 30 mins
Cook time: 20 mins
Total time: 50 mins
Caramel Apple Dutch Baby If a popover and a pancake got together for a romantic tryst, the result would be a bouncing Dutch baby. Like a popover, it emerges from the oven puffed and light, but quickly reverts to its pancake heritage once the topping arrives.
Batter
3 large eggs
1 cup whole or 2% milk
2 tablespoons melted butter, plus 1 tablespoon for the hot skillet
¾ cup all-purpose flour
¼ cup cornstarch
½ teaspoon sea salt
Caramel Apples
3 tablespoons butter
2 firm, sweet apples such Honeycrisp, cored, and cut into 16 slices each
3 tablespoons brown sugar
¼ teaspoon ground cinnamon
pinch fine sea salt
icing sugar for dusting
1 lemon, cut into wedges, one per serving
Centre a rack in the oven. Place a heavy 10-inch ovenproof skillet on the rack to heat. Preheat oven to 425°F and heat the pan for at least 30 minutes.
As the oven heats, put the eggs, milk, and butter in a blender and puree at high speed until smooth. Add the flour, cornstarch, and salt. Blend until smooth. Set aside.
While the skillet heats cook the apples. Melt the butter in a sauté pan over medium-high heat. Add the apples and sauté until they start to soften, about 5 minutes. Add the brown sugar, cinnamon, and a pinch of salt, and sauté until fully tender and glazed, about 2 minutes more. Set aside.
After 30 minutes, remove the hot skillet from the oven. Working quickly, drop 1 tablespoon butter in the pan, and tilt to coat. Pour the batter into the pan and return the skillet to the oven. Bake for 20 minutes or until puffed and golden brown. About 5 minutes before the Dutch baby is done, rewarm the apples if needed.
Remove skillet from oven, top with apples, scraping out all glaze. Dust generously with icing sugar. Slice and serve immediately with lime wedges.
Recipe by
The Messy Baker
at http://themessybaker.com/2017/03/23/caramelized-apple-dutch-baby/