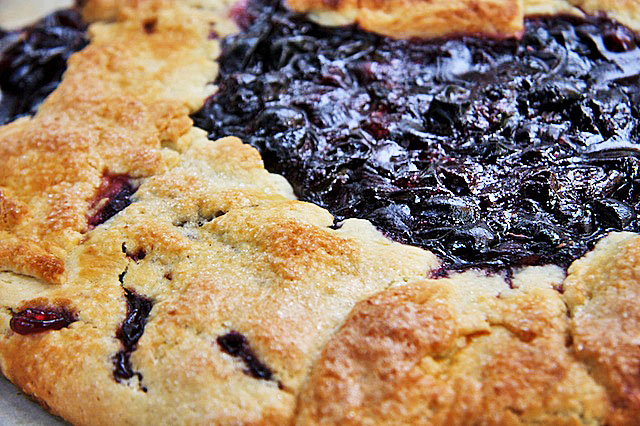 Author: Charmian Christie
Prep time: 30 mins
Cook time: 35 mins
Total time: 1 hour 5 mins
This galette is like grape jelly in pie form. It's messy but delicious. Serve with whipped cream or a dollop of peanut butter.
Pastry
2 cups all-purpose flour
½ cup sugar
zest of 1 lemon, finely grated
1 cup butter, chilled (if you use unsalted butter, add ½ tsp salt)
1 egg
1 egg yolk
Concord Grape Filling
2 pounds Concord grapes
¼ cup cornstarch
1 tbsp lemon juice
1 tbsp grated orange zest
½ cup sugar
Egg Wash
1 egg
2 Tbsp water
extra sugar for sprinkling
Pastry Instructions
Stir together flour, sugar, lemon zest (and salt, if using).
Cut in the butter until it resembles small peas.
Whisk the egg and yolk together. Add to the flour and blend until the dough comes together. On a floured surface, knead a few times.
Divide into two balls. Cover and chill for an hour. While it's chilling, make the filling.
Grape Filling Instructions
Pop grapes out of their skins and into a medium-sized non-reactive sauce pan. Place the skins in a bowl for later.
Bring the pulp to a boil. Reduce the heat to a simmer and cook until the grapes release their seeds.
To remove the seeds, strain the pulp through a fine mesh sieve pushing the fruit through with the back of a ladle. Discard the seeds. Add the skins to the pulp and mix thoroughly.
In a large bowl, mix the cornstarch with the lemon juice, orange zest and sugar. Add the strained grape mixture and stir to combine. Allow to cool to room temperature before forming the galette. Hot filling will dissolve the pastry.
Assembly
Preheat the oven to 375°F. Line two baking sheets with parchment.
In a small bowl whisk the egg with the water to make an egg wash.
On a lightly floured surface, roll out one ball of dough into a round about ¼-inch thick. Transfer the dough to one of the parchment-lined baking sheets.
Spoon ½ the grape filling into the centre. Working quickly as the filing will spread, fold the edges up towards the middle. This will take 6 or 8 folds. The pasty won't meet in the middle, but the sides will hold the filling. Brush the dough with egg wash and sprinkle with sugar.
Repeat with second galette.
Bake for 35 minutes or until golden brown and bubbling.
Recipe by
The Messy Baker
at http://themessybaker.com/2009/10/13/concord-grape-galette/