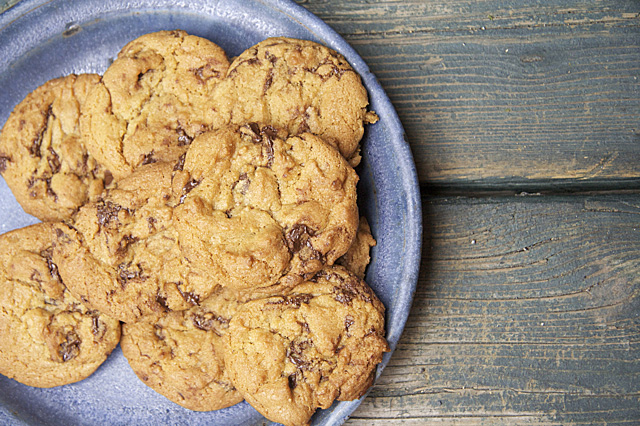 A while ago I solicited recipes for the
ultimate chocolate chip cookie.
A lot of suggestions rolled in. Conflicting opinions on walnuts, oatmeal and chefs flew through cyberspace. Some people loved
Alton Brown's recipe
. Others called it "cakey" and touted the ever-popular
David Lebovitz
. Thomas Keller's name cropped up frequently, while a small but vocal group swore on their grandmother's baking pans that Cook's Illustrated's browned butter version was the best. Make that The Very Best. Ever. So I did some research into the various options. Some recipes called for chopped chocolate. But with chips readily available that just seemed like extra work. Other recipes used bread flour, which I don't stock. So I nixed them. Many demanded an extra yolk. Needless to say, I was a little put off by this requirement since I hate wasting food and never know what to do with an extra white. Two or three? Make meringues. But one? However, I adore browned butter and hunted down the Cook's Illustrated recipe. Even though it called for that pesky extra yolk, it used ordinary flour and included my beloved walnuts. So I was willing to sacrifice some albumin for the cause. Then I read the instructions.