[caption id="attachment_7789" align="alignnone" width="500"]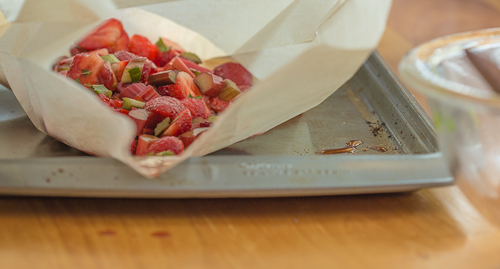 En Papillote (French for "in parchment") makes for tender rhubarb in no time.[/caption] As if Friday isn't reason enough to celebrate. Today is the first anniversary of Lynn Ogryzlo's 
The Ontario Table
, and I'm one of her virtual guests. I'm pretty chuffed to be asked to take part. Not only do I enjoy a party, I like hanging out with Lynn, even if it is online. First of all,
she spells my  name right
. Granted, with a surname like Ogryzlo, you're probably sensitive to such things, but it still earns her bonus points. Secondly, she loves my  
doughnuts
, and last but certainly not least, she takes one of the most sensible approaches to eating local I've ever seen. Instead of giving you the stink eye if everything on your shopping list doesn't comply with the 100-mile diet, she simply issues a $10 challenge. The concept is easy. Each week, spend $10 of your grocery money on local food. That's it. Small (locally grown) potatoes, right?