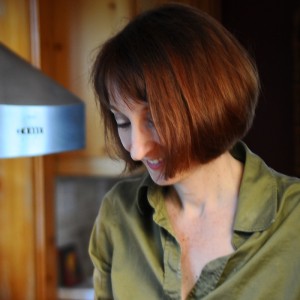 I'm Charmian Christie, aka The Messy Baker. My husband complains that since I started blogging, we have no more undocumented meals. Sorry dear, as long as the lighting is good and the battery's charged you'll just have to keep your elbows off the table and chew with your mouth closed.
I'm a freelance independent writer who loves food, gardening and travel. My first cookbook. The Messy Baker, is due on store shelves in Spring 2014 through HarperCollins Canada here at home and Rodale in the rest of the English-speaking world. The book features sweet and savory recipes all levels of bakers can enjoy.
My culinary influences are my mother and Canadian Living magazine. Fresh ingredients, well-balanced flavours and nothing too complex are the only things I look for in a recipe — those and an absence of visceral organs or beets. Of course, when it comes to baking the "nothing too complex" rule goes out the window. See my post of choux pastry swans for proof.
As a trained journalist, I'm as comfortable with a digital recorder and keyboard as I am with digital scales and rolling pin. My writing appears in various regional, national and online publications. I've had an eclectic career so far. I've written about fruit wines and gourmet jams for Edible Toronto, waxed poetic about cookie baking and corn-on-the-cob for The Globe and Mail, made some uncomfortable confessions in More Canada, dished the dirt at Canadian Gardening and interviewed Olivia Newton John. While my posts occasionally make Reuters UK Lifestyle News, I have yet to achieve fame and fortune. An extensive portfolio languishes on my website.
If you read through the archives, you'll know I have a sweet tooth, a passion for chocolate, coffee, coconut milk, cilantro, citrus and ice cream. Perhaps my initials prompted me to gravitate towards words that begin with C?
You can follow me on Twitter, Google+, Pinterest and Facebook. I could go on, but you'll have to excuse me. I think I smell something burning…
Google+