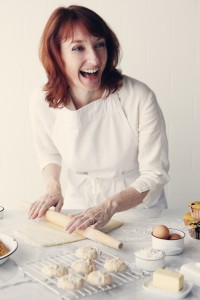 I'm Charmian Christie, aka The Messy Baker®*. I'm a food writer, recipe developer and cookbook author living just outside Ontario's lush Greenbelt region. I specialize in approachable, inspiring, from-scratch cooking. Fresh, local ingredients — often from my garden — plenty of herbs and spices, and a bit of imagination are key. Oh, and some full-fat cream doesn't hurt either. Although I've managed to turn my sweet tooth into a career move, I balance things out with healthy options such as soups and homemade salad dressing.
My book, The Messy Baker: More than 75 Recipes from a Real Kitchen, is published by HarperCollins in Canada and Rodale in the US and the rest of the English-speaking world. This cookbook features delicious, approachable recipes that will flake, spill and drip their way across your kitchen table.
The former baking columnist for Recipes.ca, my articles appear in a variety of national publications, including The Globe and Mail, More, Edible Toronto, Canadian Gardening, Relish and Natural Health. I'm also a contributor to several cookbook anthologies including Allergy-Friendly Food for Families by Kiwi and Share: Delicious Dishes from FoodShare and Friends. My book was the guest give-away on CBC's Steven & Chris, and I showed Canada AM viewers how to salvage baking disasters on live TV.
But it's not all ingredient lists and measuring cups. My personal essays have been broadcast on CBC Radio, published in The Globe and Mail's popular Facts & Arguments section, and appear in a range of anthologies.
I'm always open to new clients, editors hungry for fresh voices, and recipe development opportunities. My extensive portfolio languishes on my website while my pitch policy outlines what I do best. If you're interested in a custom-made recipe, need a story covered or want to line up a cooking demo, you can contact me via this super-simple form.
Of course, you can also follow me on Twitter, Google+, Pinterest and Facebook. I could go on, but you'll have to excuse me. I think I smell something burning…
---
* THE MESSY BAKER  is a registered trademark of Charmian Christie.