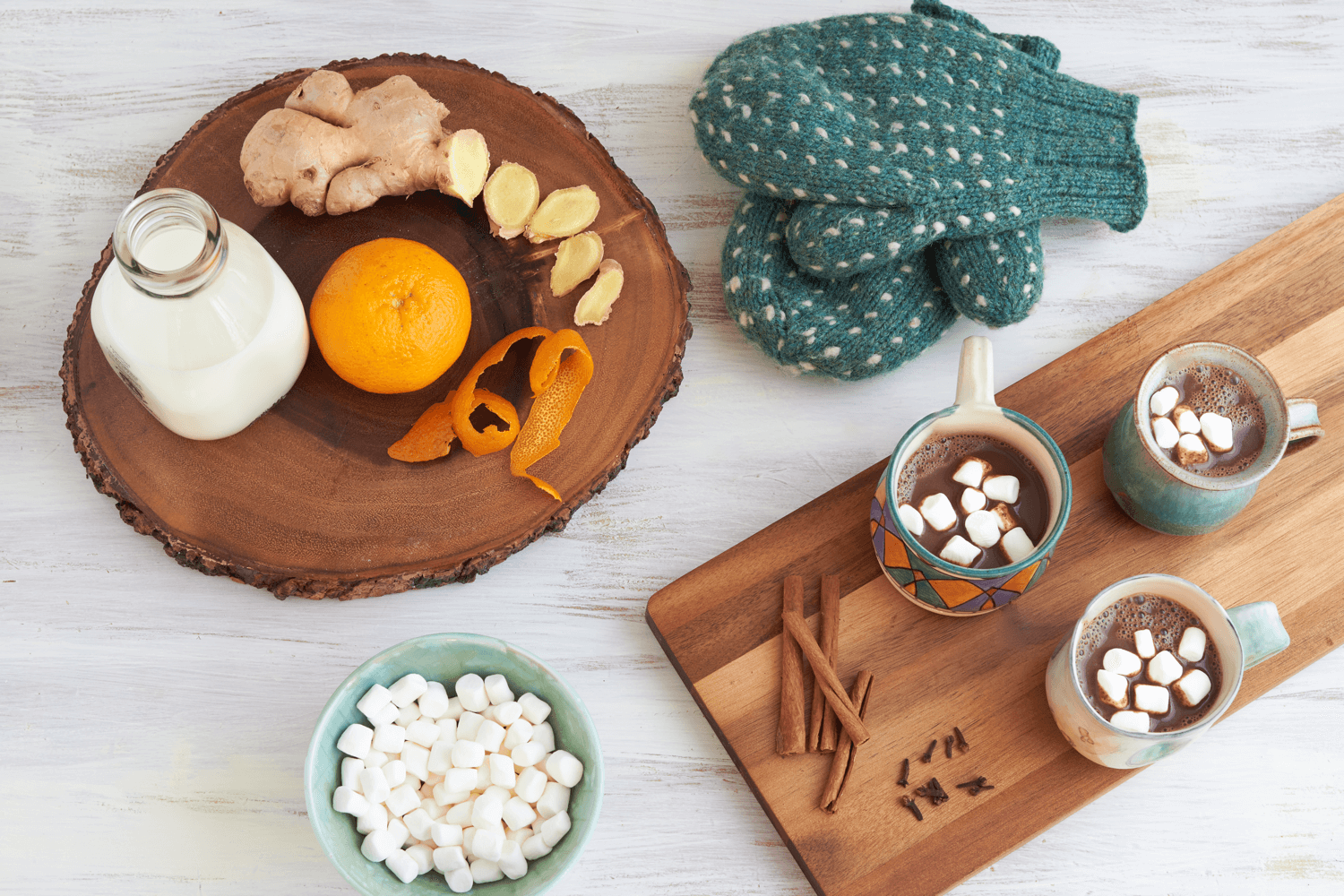 15 Dec

Christmas Spiced Hot Chocolate

It's time for my annual Christmas story. Before I begin, let's set the stage …

The above, in all its needle-felted adorableness, is courtesy of Dairy Farmers of Canada. I can't figure out how they animated wool, but the video captures the feeling I had in childhood sipping homemade hot chocolate from a Santa mug. In a change from my usual holiday tale, nothing got ruined, no hopes were crushed. Nothing to put me on the Naughty List.
---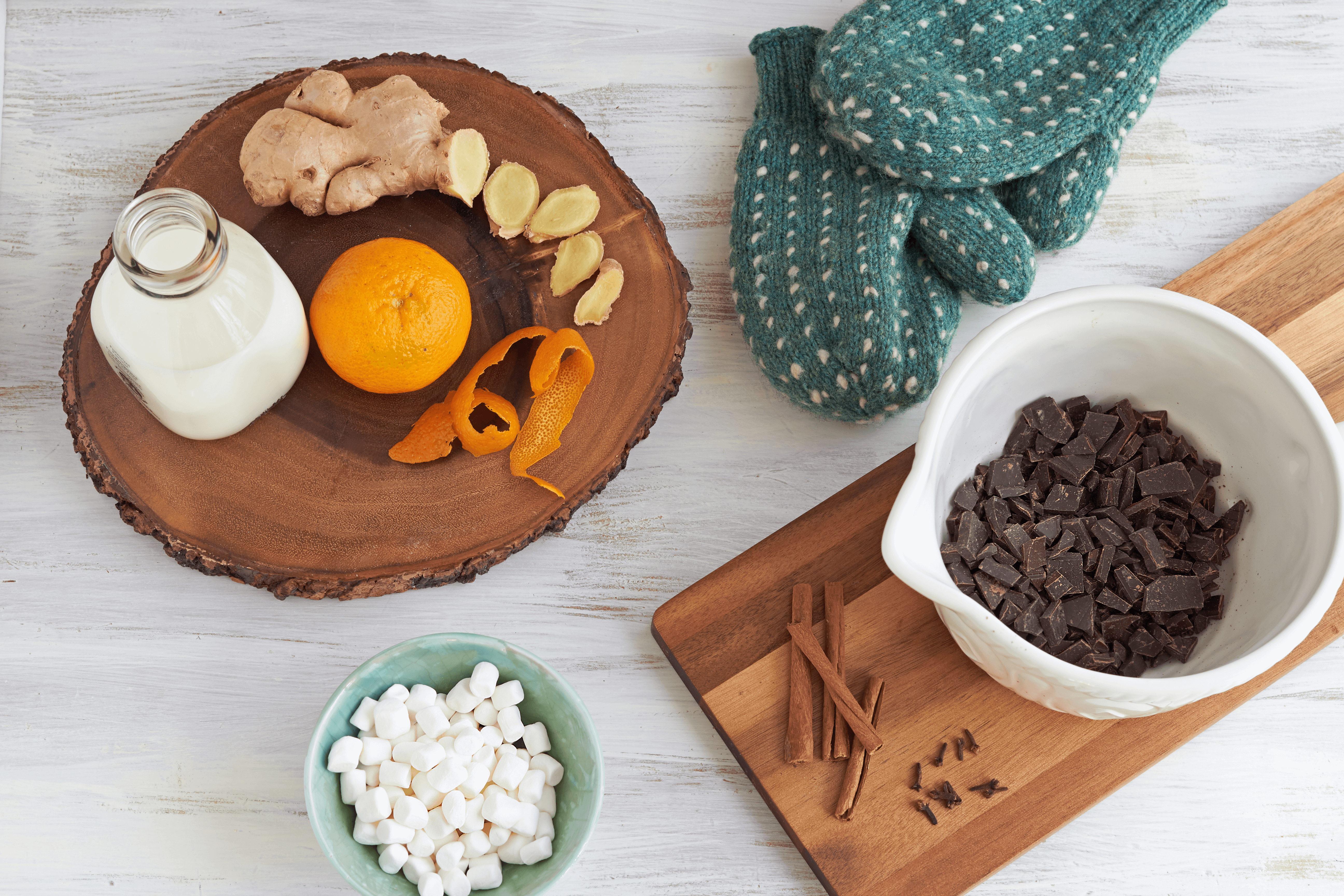 Christmas, the skating rink, and hot chocolate made the winters of my childhood bearable. They were colder and longer than today's winters. And they were relentless. Once the snow arrived in November, it stayed until March. Icicles hung from the eaves, snow banks as tall as cars lined the streets. There was no Internet, no cable TV, and no video games. But in a twist, that seems decadent by today's standards, fresh milk was delivered straight to our front door. We always had plenty of delicious milk for our breakfast cereal in the morning before school and piping hot chocolate at night after playing outside in the fresh, frosty air.
We made it through the frozen months in part thanks to the bribe of cocoa, and the backyard skating rink my father made religiously each year.
When it was cold and snowy, and winter showed no sign of giving in, Dad would announce, "It's time to start the rink." We were never sure how he knew but it had to do with the amount of snow, the long-range forecast, and Mom's sanity.
Once it was officially rink weather, after dinner, Dad would put on his snowsuit and gigantic black boots and go fetch the toboggan. While he untangled its rope, Mom stuffed the three of us into snowsuits, pulled hats over our ears, pulled up hoods and anchored it all into place with a firmly knotted scarf. Once our mittens were tucked into our cuffs, and our boots were laced, we lumbered down the back porch and into the night. "Go help your father," she said, closing the door behind us before the cold air reached further than the boot rack.
Outside, the yard was dark, lit only by the streetlamp and the porch light, which never got one of the bright bulbs in case it got left on all night. Our breath rose white and wispy from our mouths and my sisters and I piled onto the back of the toboggan before Dad pulled us around the yard, stomping the snow with his giant boots, and dragging us behind him to flatten out his footprints. The first pass took us around the perimeter of the yard, outlining where the banks would be. Then he dragged us back and forth, up and down. "You need a good base!" he'd say as we clung to the sister in front and bounced our way around the yard.
Once I got used to the rhythm of the ride, I dragged one of my hands on the snow as we glided around the yard. My hand bounced up and down in the snow, like a stone skimmed across a summer lake. By the time we had tamped the yard to my father's satisfaction, my mitten was encrusted in snow and the fingers inside were like icicles.
Satisfied that the snow had been trampled into submission, Dad sent us inside while he got out the hose. We weren't needed during the flooding and were only too happy for the ride to end.
Inside, I'd pull my mittens off, flap them to release the snow, then place them on the hot air vent before heading to the kitchen.
Mom placed a Santa mug in front of us. The mugs were short and fat. Their entire side was a Santa face, one with a wide grin, one giving the user a wink. My younger sister named them Dopper and Wink. Dopper, her attempt at telling Santa to "Stop here!", and Wink for obvious reasons. Mom ladled her homemade chocolate syrup into the bottom of each mug and poured hot milk on top. We stirred vigorously hypnotized as the swirling hot milk changed from white to brown. If we were lucky, there would be marshmallows to go on top.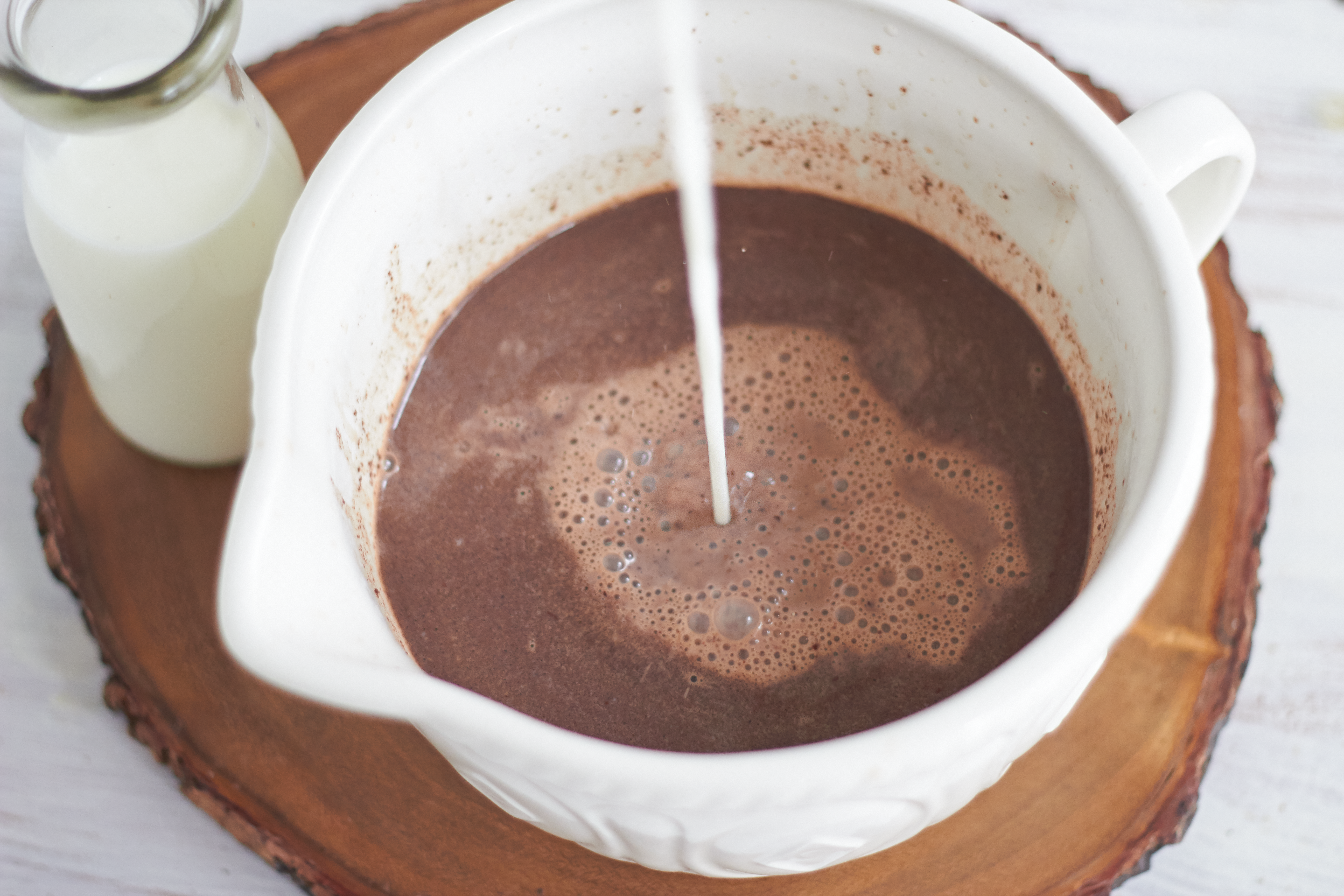 Two mysteries surrounded the mugs. Why were there only two mugs when there were three children. And why were the handles hollow? We burned our fingers on hot chocolate almost every time.
The nightly cocoa ritual continued throughout the winter. In time, the rink went from a thin layer Dad's giant boots could break easily with a single stomp, to an impenetrable slab of ice capable of taking all the abuse our sharp skates could deliver.
I learned to skate in the backyard, pushing a chair around the rink with a pillow stuffed down the seat of my snow suit. I tiptoed around the rink on the toe picks, only attempting a glide when I saw how easy the other kids made it look. I'd fall. And fall. And fall. I'd pretend I'd meant to. I'd lie on the ice, facing the sky, and sweep my arms and legs wide in an attempt to make a snow angel on the rink. My mittens gathered up the snow and ice shavings as I flapped. When my mittens were no longer flexible, I'd head inside, put them on the hot air register, and wait for my hot mug of cocoa to warm me from my frozen fingers to my toes.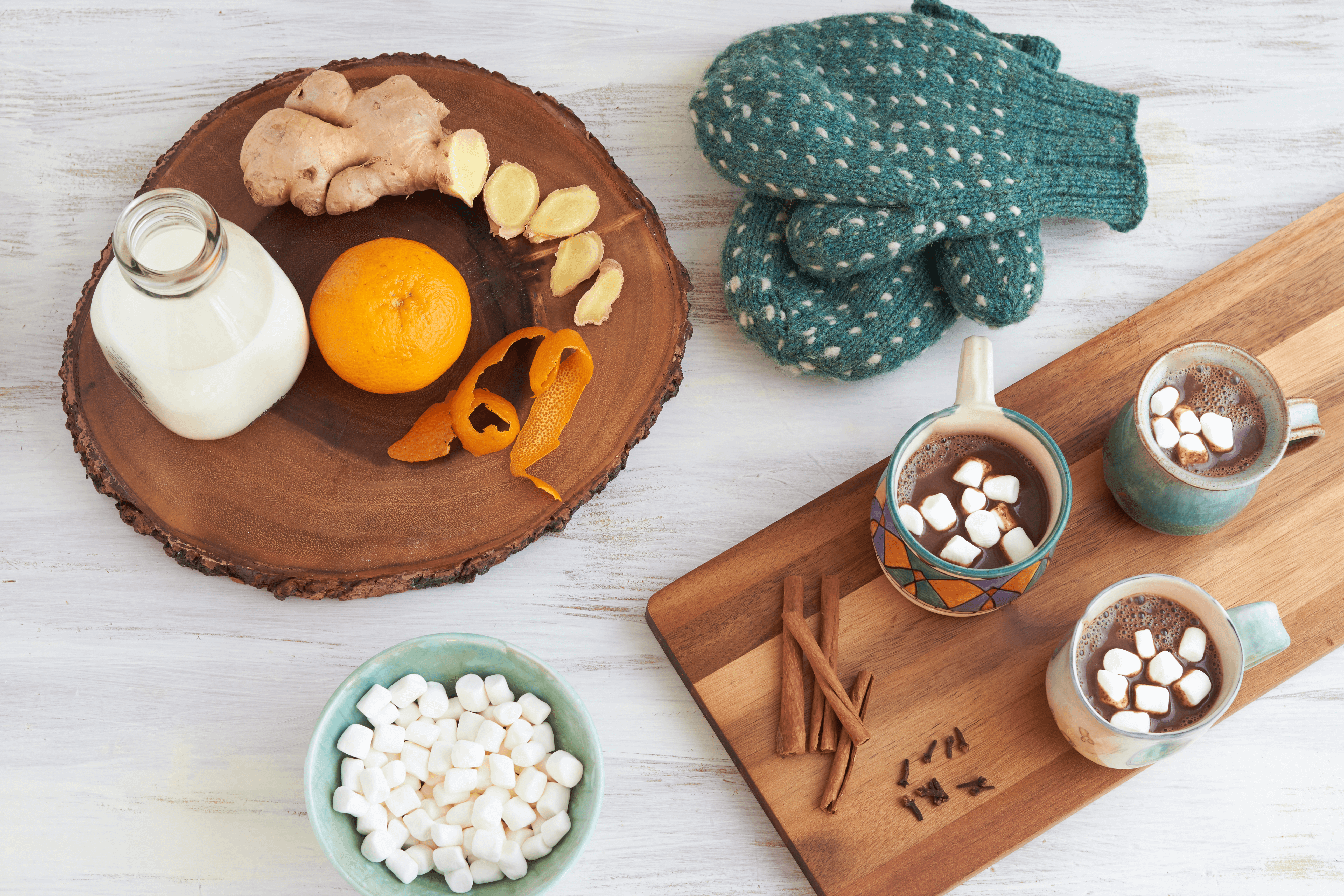 I never learned to skate that well. I get up no speed and rely on the toe pick to propel myself. I can skate backwards, a bit. But only in one direction. While I fail on ice, I have mastered the art of homemade hot chocolate. Below is my updated version, with cinnamon, ginger, orange peel and cloves. Since I no longer skate, I use it as a reward for shoveling snow, which I do fairly often.
Mom tells me Dopper and Wink expired long ago. I'm still on the lookout for their replacement. Hollow handles and all. When I find them, I'll buy three. One for each sister.

Christmas Spiced Hot Chocolate
Author:
Charmian Christie
Christmas Spiced Hot Chocolate This is like a chocolate-dipped ginger cookie in liquid form. It's rich, so a small cup will leave you warm and satisfied.
Ingredients
Hot Chocolate
4 cups whole milk
¼ cup sugar
2-inch piece fresh ginger root, sliced thinly
2 3-inch cinnamon sticks
3 whole cloves
6 strips orange zest, removed with a vegetable peeler
8 ounces dark semi-sweet chocolate (70%), broken into small pieces
2 tablespoons orange or ginger liqueur (optional)
Optional Whipped Cream Topping
1 cup whipping cream
2 tablespoons sugar
Instructions
Place the milk, sugar, ginger, cinnamon, cloves and orange zest in a medium saucepan over medium heat. As soon as the milk reaches the boil, remove the pan from the heat, cover, and let the flavours infuse for at least 20 minutes. (If you are in a hurry, pour the milk into a regular blender and pulse a few times to release flavours more quickly. Then return the milk to the pan.)
Gently rewarm the spiced milk. While the milk reheats, whip the cream with sugar in a small bowl until stiff peaks form, if using.
Place the chocolate pieces in a medium bowl with the liqueur, if using. Pour the warm milk over the chocolate through a fine mesh sieve. Discard the captured spices. Whisk the warm milk into the chocolate, blending until smooth. Ladle the hot chocolate into mugs. Serve immediately.
Any leftover hot chocolate can be refrigerated in a covered container for up to three days. To rewarm, stir well before heating over low in a saucepan on the stove or in a microwave at half power.
Serves 6 adults or 8 frozen children.
You can find more holiday recipe ideas and videos on the
Dairy Farmers of Canada YouTube channel
. Personally, I'm enchanted by the Claymation kitten. I want one for Christmas.
Disclosure: From time to time I work with sponsors that are a good fit for my brand. Dairy Farmers of Canada have generously compensated me for this post. I was asked to share a story and a milk-based recipe featuring Canadian milk (as if I'd use any other kind!). I chose the story and the hot chocolate recipe. Pass the marshmallows.