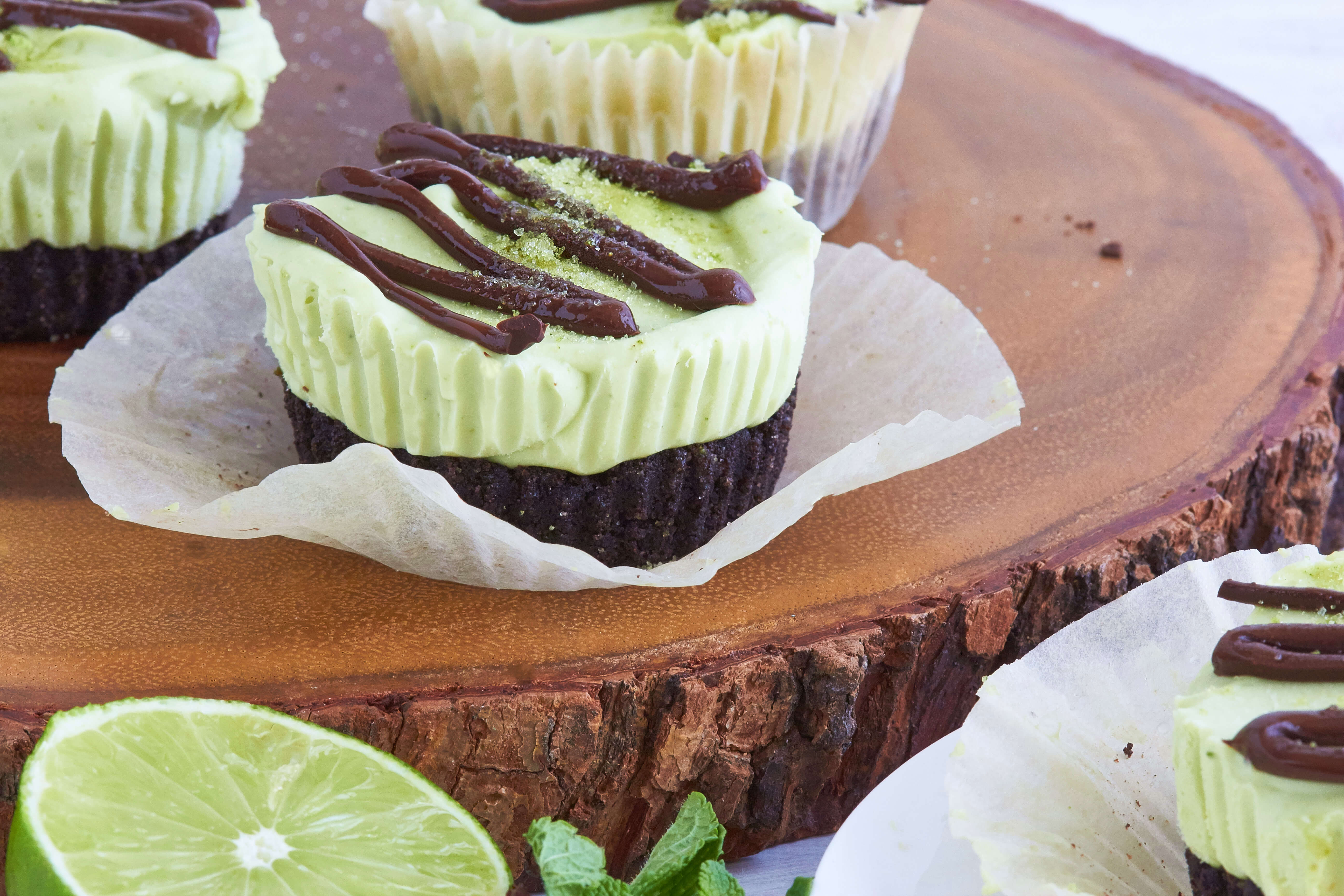 23 May

Mini Lime-Mint Cheesecakes

I am trying to decide whether I'm a hypocrite or late bloomer. I don't watch hockey during the regular season because there's too much fighting. But come the playoffs, when neither side is as willing to risk a penalty, hockey draws me in. I tell myself it's just a game, but end up watching through my fingers and squealing, "No, no, no!" when the puck nears my goalie and "Yes, yes, yes!" when the action's at the other end. I don't want to care. But I do.

And I'm the more level-headed one in the marriage. My husband has to get up and pace when the clock winds down and the score is close or — heaven forbid — tied. He has been known to leave the room, do deep breathing, and flap his arms as he walks in circles. He lives and dies with every face-off, slap shot, high stick, and save.

And after 20 minutes of game play, the teams retire to the locker room, and we regain our composure with food.
I let others take care of the savory dips and protein snacks. I'm in charge of dessert. So I'm making something small, that doesn't require forks or spoons and will cool hot tempers or at least distract. A chocolate base, cool lime, a hint of mint, and creamy avocado make these a non-traditional playoff treat. Then again, I'm either a hypocrite or late bloomer. You decide.
Mini Lime-Mint Cheesecakes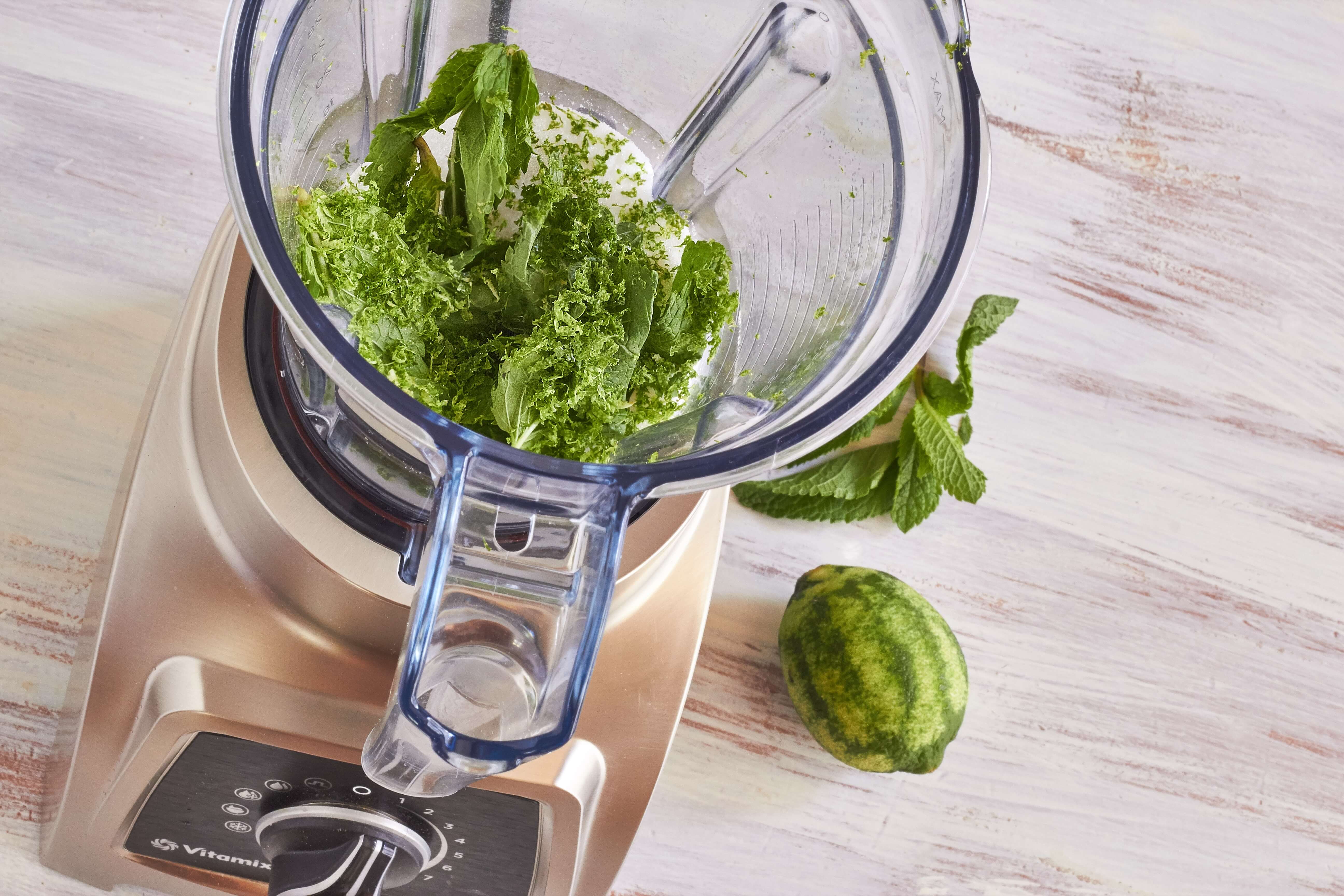 If there is a secret to this dessert it's the lime-mint sugar. It adds flavour and crunch to the crumb crust base — which I bake briefly to get crisp. It sweetens the filling, and adds a splash of colour to the top. If there' s any leftover, I stir it into a well-deserved cup of tea, be it served piping hot or iced.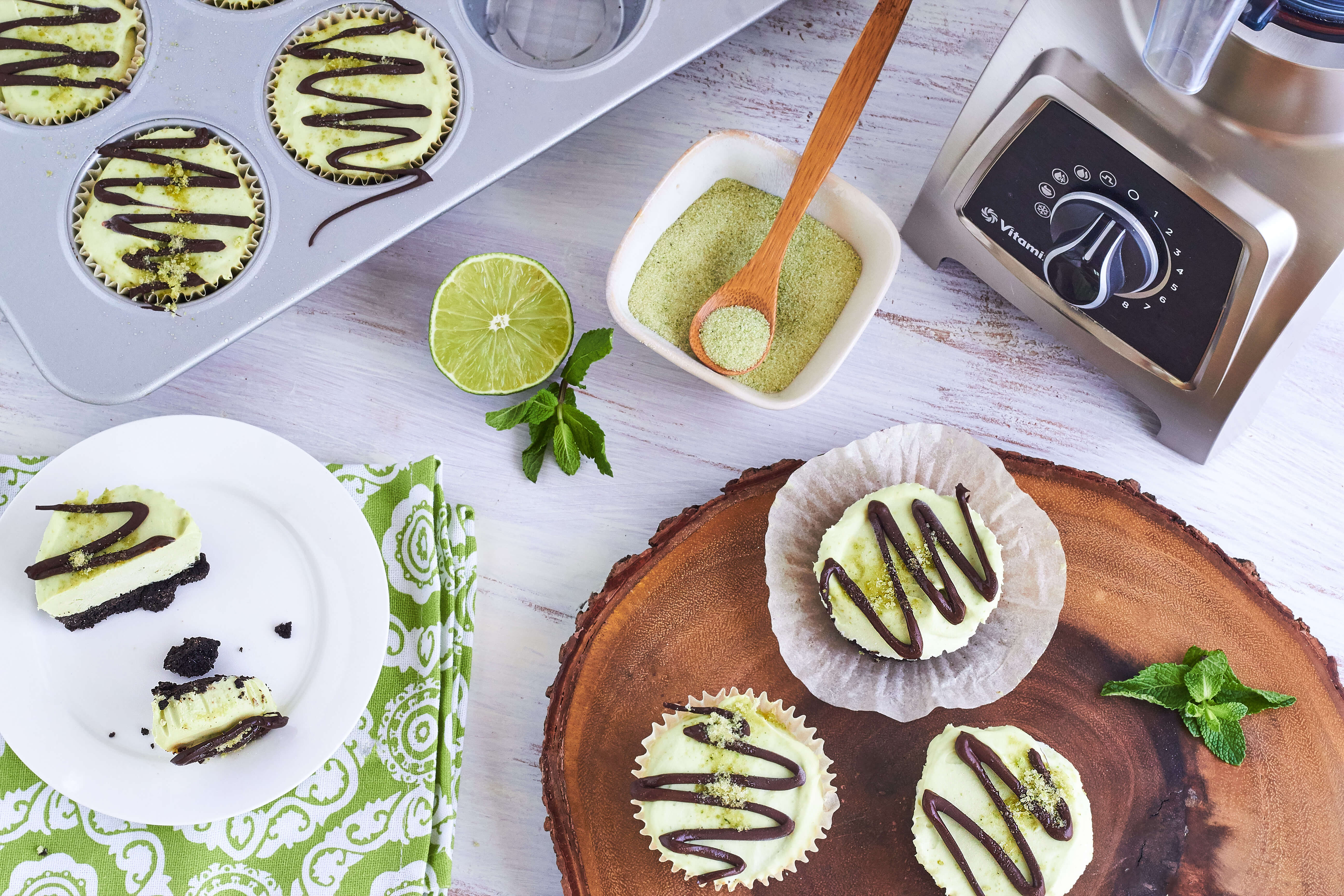 While this might seem like a complicated dessert — with the special sugar, crumb crust, and chocolate drizzle, it comes together quite quickly. Just make it the day before or that morning so it can freeze. Then let it sit while you cheer on your team.
If they win, reward yourself with a Mini Lime-Mint Cheesecake. If they lose, console yourself with a Mini Lime-Mint Cheesecake. After all, it's only a game.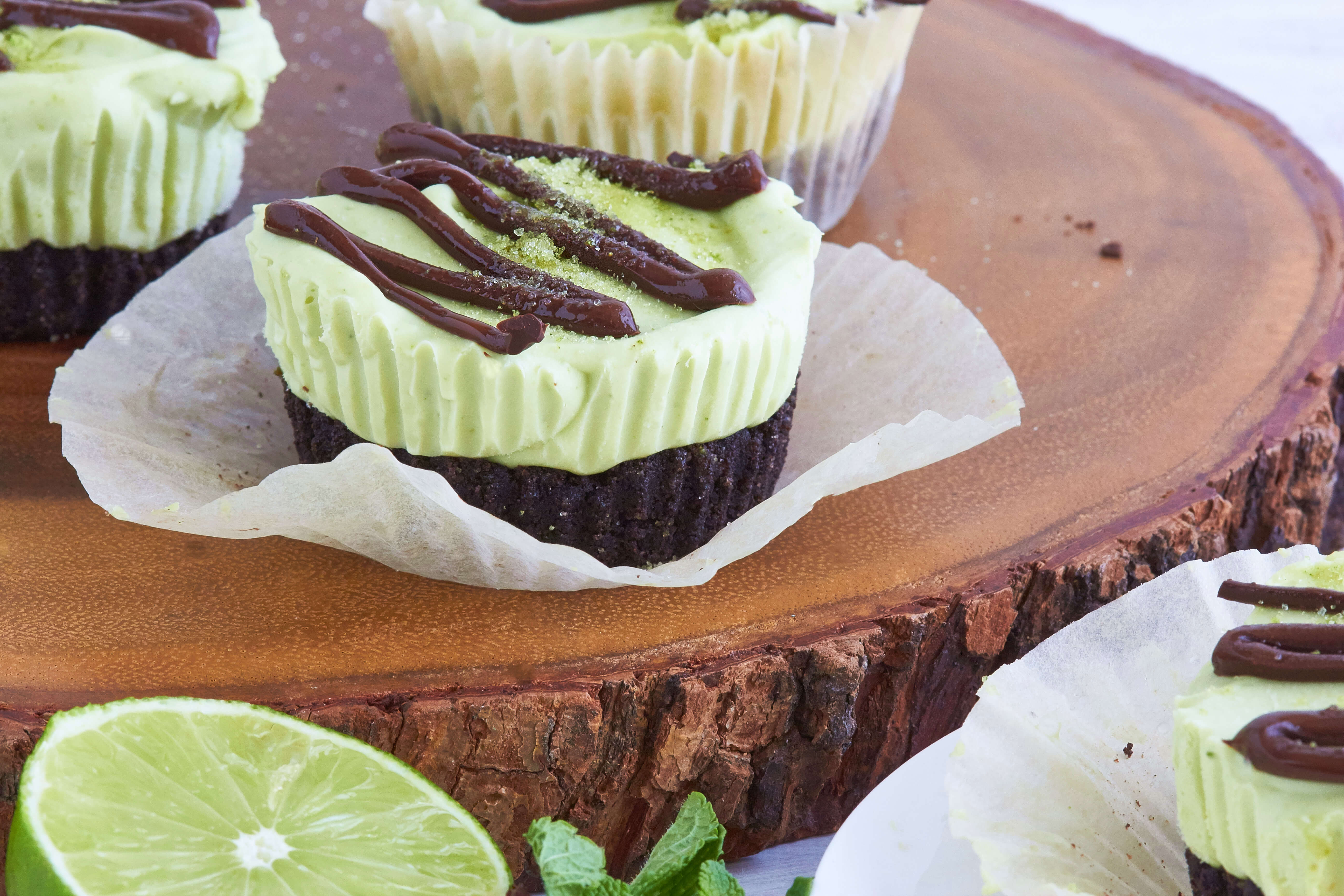 Or at least that what I tell myself during the playoffs.

Mini Lime-Mint Cheesecakes
Author:
Charmian Christie
Prep / inactive time:
Cook / active time:
Total time:
These no-bake mini cheesecakes are perfect for summer parties (especially as hockey season winds down). If like a crunchy crust, bake it. If you want a truly no-bake dessert, skip this step and just press the crumbs into the muffin paper firmly.
Ingredients
Lime Mint Sugar
1½ cups granulated sugar
¼ cup loosely packed fresh mint leaves
1 tablespoon finely grated lime zest
Crust
2 cups roughly broken chocolate wafers
¼ cup lime-mint sugar
Generous pinch fine sea salt
¼ cup melted butter
Cheesecake
1 cup cold whipping cream
1 cup lime mint sugar
½ cup fresh lime juice (NOT bottled)
⅛ teaspoon fine sea salt
2 large ripe avocados, diced (about 2 cups)
2 packages (250 g each) cream cheese, in cubes
Chocolate Drizzle
2 ounces semi-sweet chocolate.
Instructions
Preheat oven to 350F. Line 12 muffin tins with paper liners.
Lime-Mint Sugar
Place sugar, mint, and lime zest into Vitamix. Secure lid, set to 1, and pulse to blend until mint is finely chopped. Set lime-mint sugar aside.
Crust
Don't bother to clean the container. Place cookies, ¼ cup lime-mint sugar, and fine sea salt in Vitamix container. Secure lid, set to 1, and pulse to crush cookies into coarse crumbs. With motor running, remove stopper and drizzle in melted butter. Blend until combined and crumbs are fine. Spoon evenly into the muffin tin and press well to flatten. Bake for 8 minutes. Set on cooling rack while you make filling.
Filling
Clean Vitamix container. Pour whipping cream into Vitamix and secure lid. Turn the machine to 1 and slowly increase to 10 until cream is whipped. This takes about 30 to 45 seconds. Transfer the whipped cream to a large bowl.
Place lime juice, salt, avocados, 1 cup lime-mint sugar, and cream cheese in the Vitamix. Blend until smooth using the smoothie setting. Fold cream cheese mixture into the whipped cream. Pour filling evenly into muffin cups and smooth tops flat.
Finishing touches
In the microwave, using the defrost setting, blast chocolate until 80% melted. Stir until all chocolate has melted. Drizzle over the cheesecakes. Sprinkle with remaining lime-mint sugar. Freeze for at least 2 hours or overnight.
When the game begins, set the cheesecakes out. They will be ready to eat in 30 to 40 minutes minutes.
Disclaimer: Every once in a while I work with sponsors that are a good fit for my brand. Vitamix generously compensated me for creating this recipe. I was asked simply to create a dish I'd bring to the playoffs. Not surprisingly, I chose dessert. With chocolate.