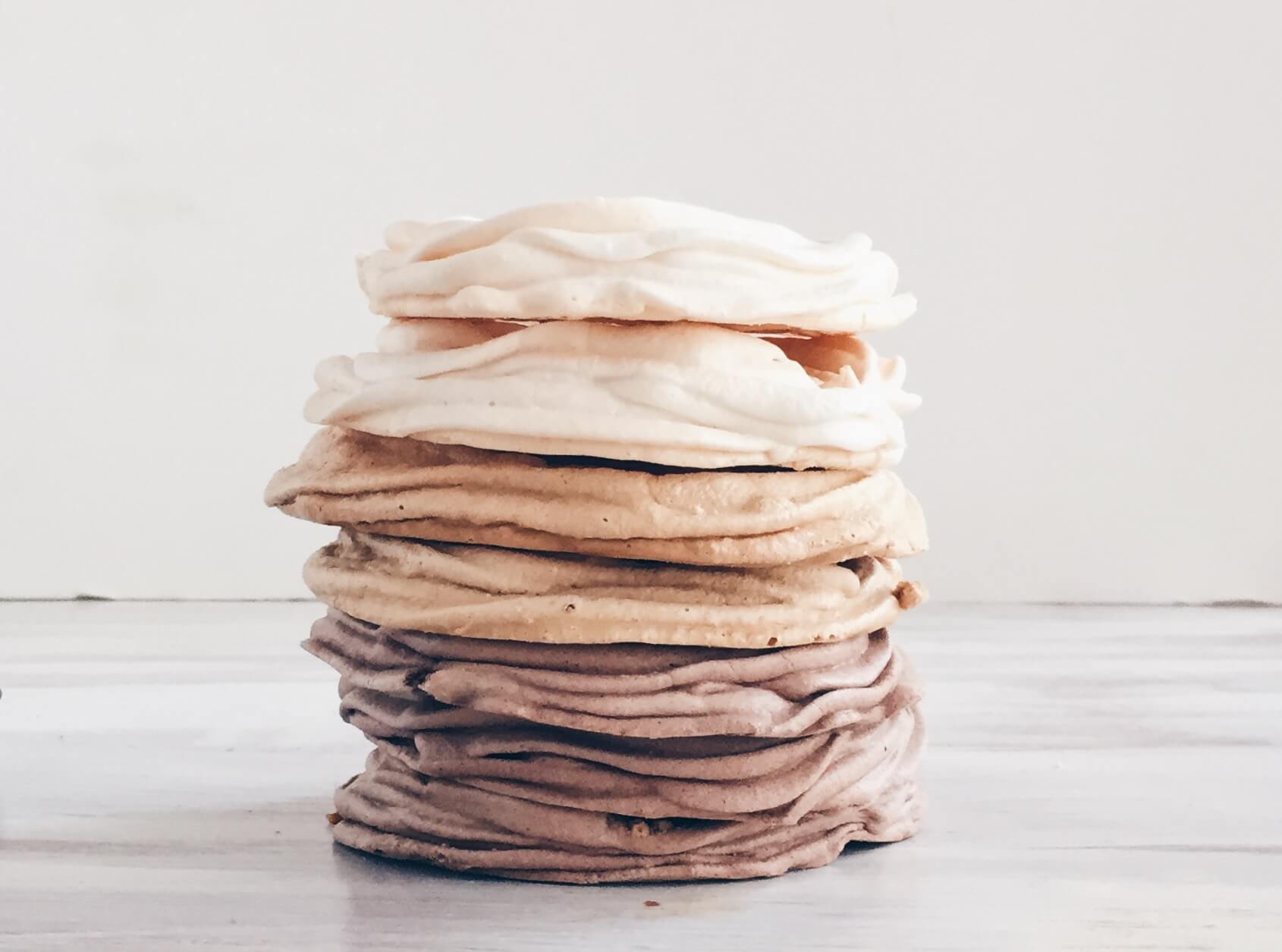 20 Apr

Personal-sized Chocolate Pavlovas

Somedays you just aren't meant to bake. Of course, those days are often when you have no choice. Take Easter weekend for instance. When you're in charge of desserts and the only two items you are asked to bring involve meringue. And it's wet and rainy and humid. All the things meringues hate. But you forge ahead anyway.

Ever the dutiful daughter, I made mini-pavlovas for my mom. I didn't intend to do an ombre variation, but I get bored with plain-old, plain-old and decided to experiment. Captive audience. Honest opinions. Everything gets buried under fresh fruit and cream, so everybody wins. Or so I thought.

The plain old vanilla pavlovas worked well. They whipped up quickly, piped neatly, and generally gave me no grief. They worked so well, despite the rain,  I got a bit cocky and decided to push the culinary envelope.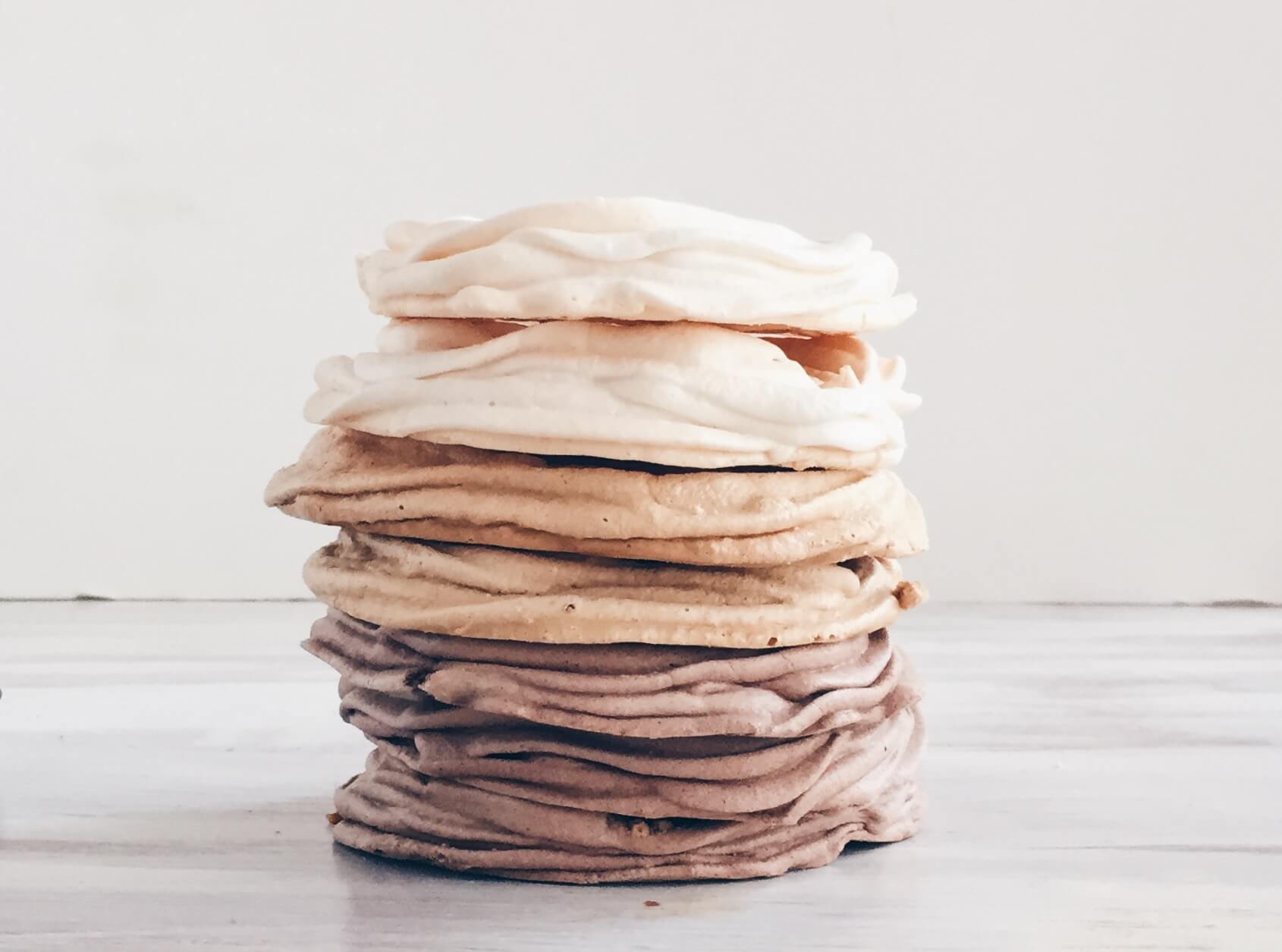 The brown sugar pavlovas brought me back to reality. They were as uncooperative as the weather. I beat the whites for 5, 10, 20 minutes. Even then the meringue was a bit wimpy, didn't hold its shape and flattened into a disk within minutes of piping. The taste was pleasant, with burnt caramel undertones, so I'm willing to give it a try again on a dry day. If the mood strikes. I'm still mad about those 20 minutes I'll never get back.
The chocolate version, using cocoa powder, was somewhere in the middle. It whipped well, piped adequately, and generally behaved. Bullet dodged.
Or so I thought.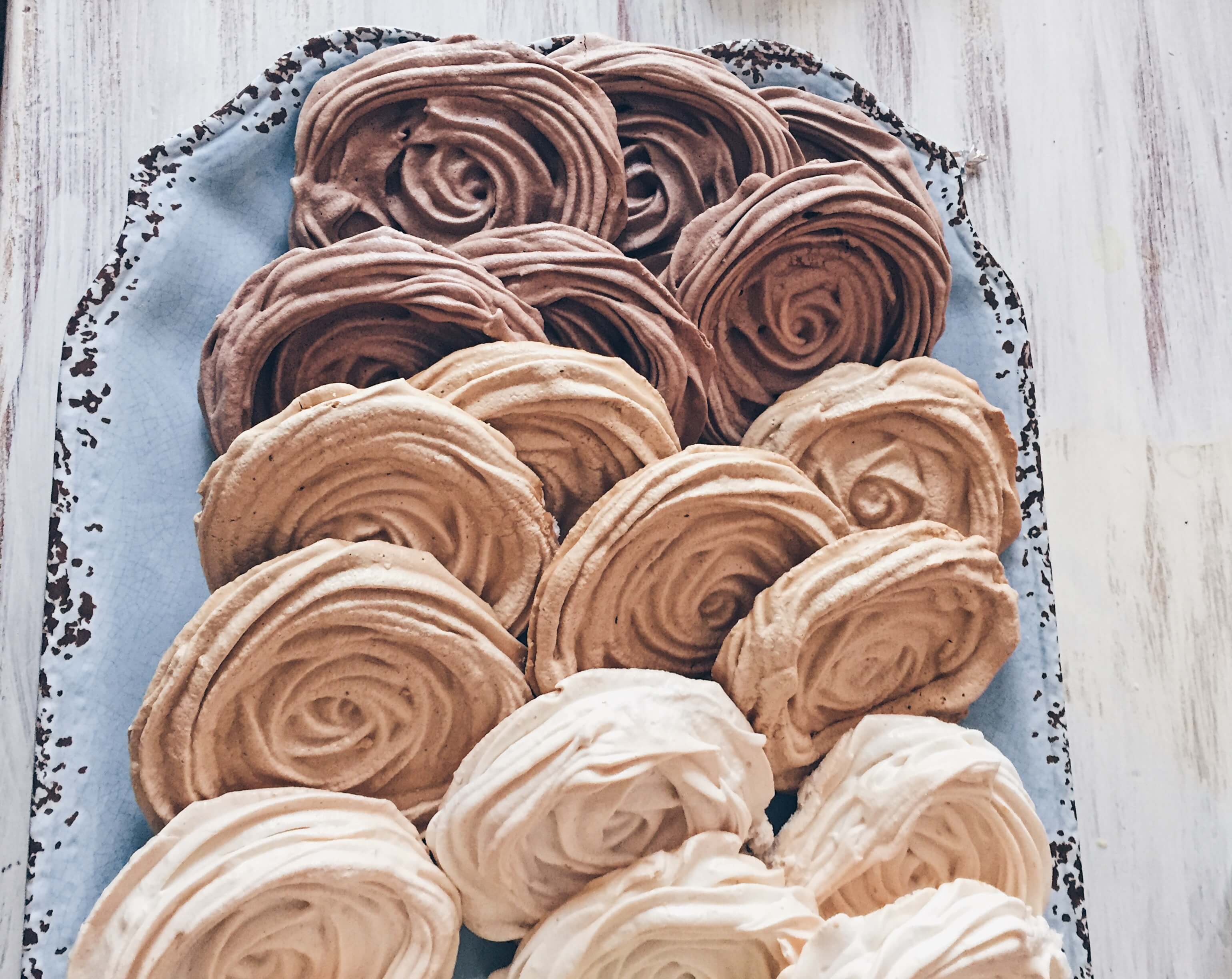 The morning of our family Easter meal, I made Lemon Meringue Pie since Easter coincided with my Dad's birthday. As my grandmother would say, "Pie won't sleep!" so I didn't dare leave it sit overnight. Putting results above efficiency, I got up early. Softened the pastry. Rolled it, baked it. The crust looked good.
I made the filling, whipped the meringue, topped off the pies, and baked them. They cooled in the kitchen as I went about with housework and email. I checked on them periodically. The meringue didn't weep. All was good. In fact, I was ahead of the game. Or so I thought.
Fast forward to Easter dinner.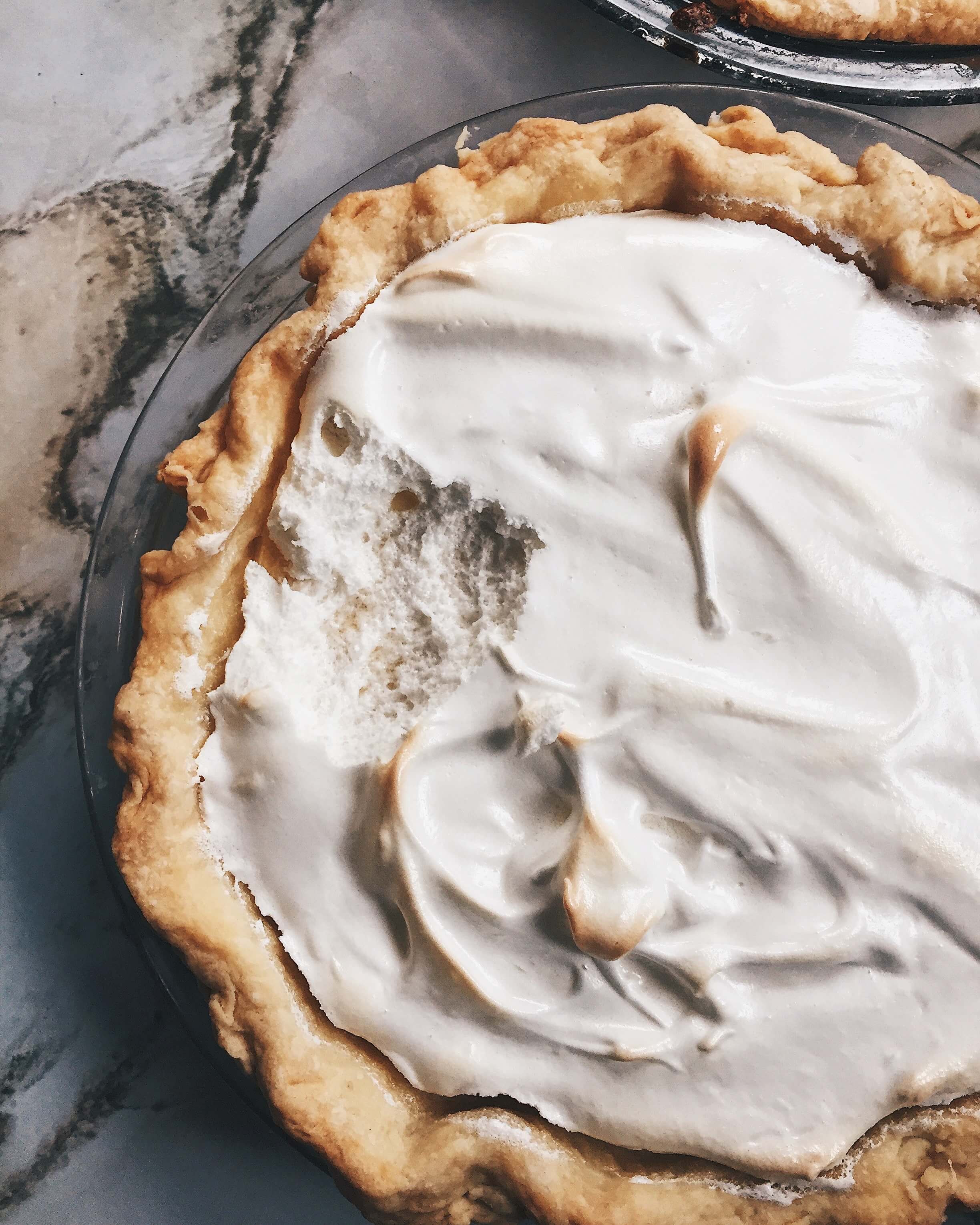 I showed up at my parents with a cat-approved pie in hand. The meringues? They looked fine, but when I lifted them from the rack, they flopped. No worries. I just popped them into a low oven to crisp for a few minutes. Dry heat would breathe some life into them. Or so I thought.
The shells emerged crispy, but the insides? Instead of being softly chewy, they had turned to sticky, filling-threatening taffy. Deceptively pretty, but they could remove dentures.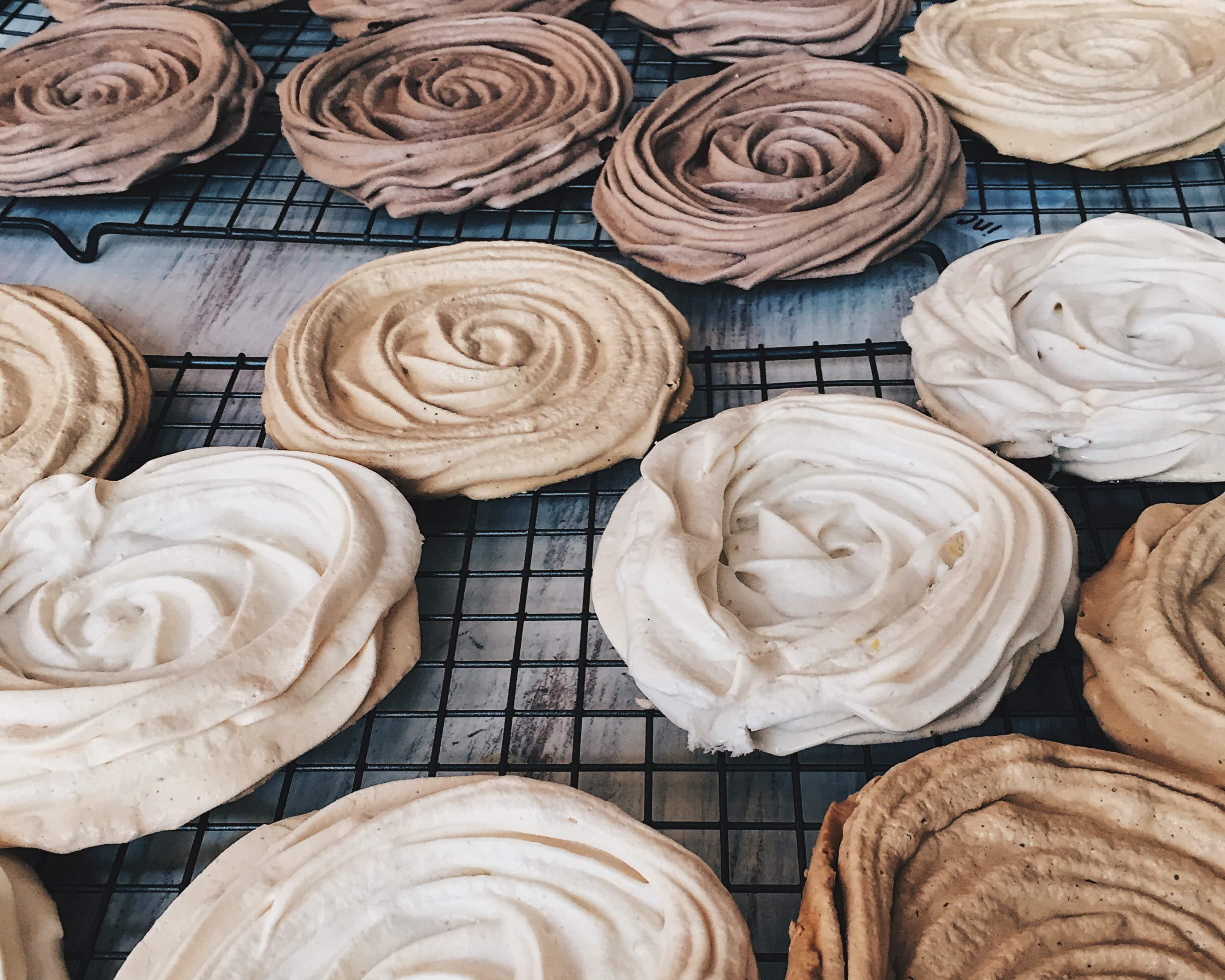 Next Easter? I'll bring whatever I'm asked, but I'll gently suggest a less weather-dependent dessert. Like chocolate mousse. Or lemon ice cream. Anything but meringue.

Personal-Sized Chocolate Pavlovas
Author:
Charmian Christie
Prep / inactive time:
Cook / active time:
Total time:
Chocolate pavlovas are less sweet than their vanilla counterparts. Cocoa powder delivers taste without meringue-destroying fat. The cornstarch helps add structure since the cocoa can deflate the meringue. Pipe them, drop them from a spoon, just make them. On a dry day.
Ingredients
Chocolate Pavlova
4 large egg whites
1 teaspoon white vinegar or lemon juice
pinch of fine sea salt
¾ cup white sugar
½ teaspoon vanilla extract (you can use almond or hazelnut extract if you prefer)
2 teaspoons cornstarch
1 tablespoon cocoa powder (Dutch process is preferred but not necessary)
Topping
2 cups whipping cream
2 tablespoons icing sugar
1 teaspoon vanilla
6 cups (or more) chopped fresh fruit of choice
Instructions
Preheat the oven to 350°F. Draw 4-inch circles of a sheet of parchment, leaving a good inch between. Flip the parchment over and use it to line a baking pan. You will be able to see the circles but the ink won't touch the food.
Beat the egg white on medium until foamy using either a stand mixer fitted with the whisk attachment or with a handheld electric beater and a medium-sized bowl.
Add the vinegar and salt, and increase to medium-high. Beat until soft peaks form (the peaks will droop when you lift the whisk or beaters).
Increase the speed to high and add the sugar, one tablespoon at a time. Beat until stiff peaks form (the peaks stand straight up when you lift the whisk or beaters). Beat in the vanilla or nut extract.
Sift the cornstarch and cocoa together to remove any lumps. Sprinkle over the beaten egg whites and beat until JUST incorporated so as not to deflate the meringue.
Pipe or spoon the meringue onto the parchment, making sure you stay inside the circles. If piping, pipe a base and then a second layer around the rim. If spooning, push the meringue to the edges of the circle to create a hollow and higher sides. This nest shape will help contain the filling.
Place meringues in the oven. Turn heat to 300°F and bake 30 minutes. Turn off the heat and leave the pan in the oven for 30 more minutes to allow the meringues to dry out. Transfer pan to a wire rack to cool. Once they are completely cool, remove them from the parchment. If you try to remove them too soon, they might tear or stick.
When ready to serve, whip the cream, icing sugar and vanilla in a medium bowl until stiff peaks form.
To assemble, place a pavlova on a dessert plate, add a generous dollop of whipped cream, then top with fruit. Eat immediately.
Notes
This recipe is adapted from Meringue by Linda K. Jackson & Jennifer Evans Gardner. Published by Gibbs Smith 2012.