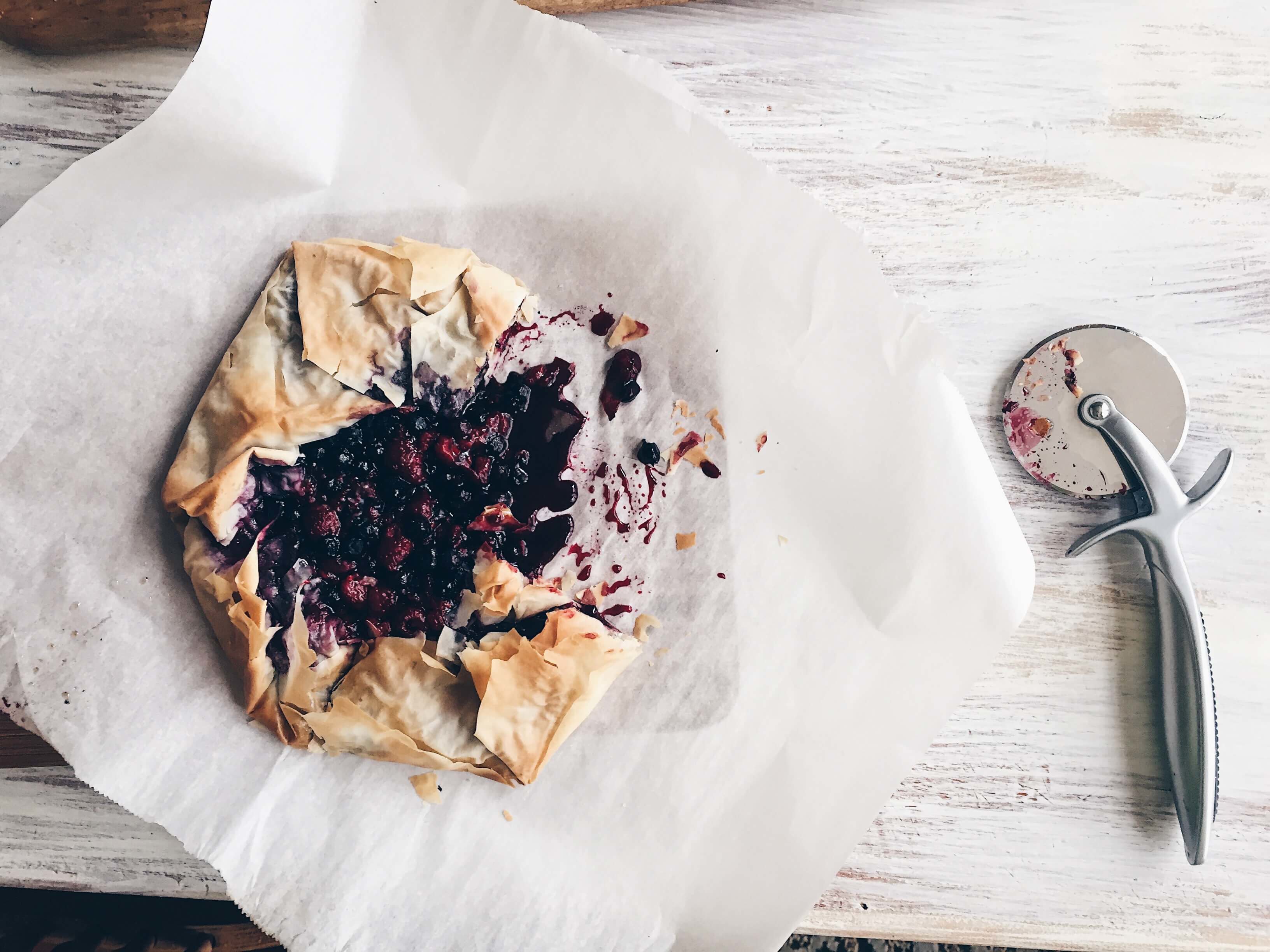 13 Apr

Mixed Berry Phyllo Galette

I often have a box of phyllo in the fridge – "just in case" I "need" to make appetizers. When I do,  I fold them into triangles, roll them into logs, and even stuff them into muffin tins for little "bundles". When I'm too lazy to make pastry, or want to use up some stranded half-sheets, I make galettes. This Mixed Berry Phyllo Galette comes together in minutes, and bakes in half an hour. It makes two, but the recipe can also be halved. The time you spend waiting for the galette(s) to cool will feel like an eternity, especially since you'll have long since cleaned up and be waiting for your reward.

I normally make the galette on a sheet of parchment lining a rimmed baking tray. However, parchment and phyllo are very similar in colour so I made the galette in these photos directly on a board for contrast. To get it onto the tray, I slid the parchment UNDER the galette before lifting the sheet onto the baking tray. I didn't lift the galette itself with my hands for fear it would collapse and make more of a mess than usual. You have been warned.

This galette uses 8 half sheets of phyllo placed in a criss-cross pattern (only you will do this directly on a parchment-lined rimmed baking pan.) Brush each layer lightly with oil or melted butter as you go.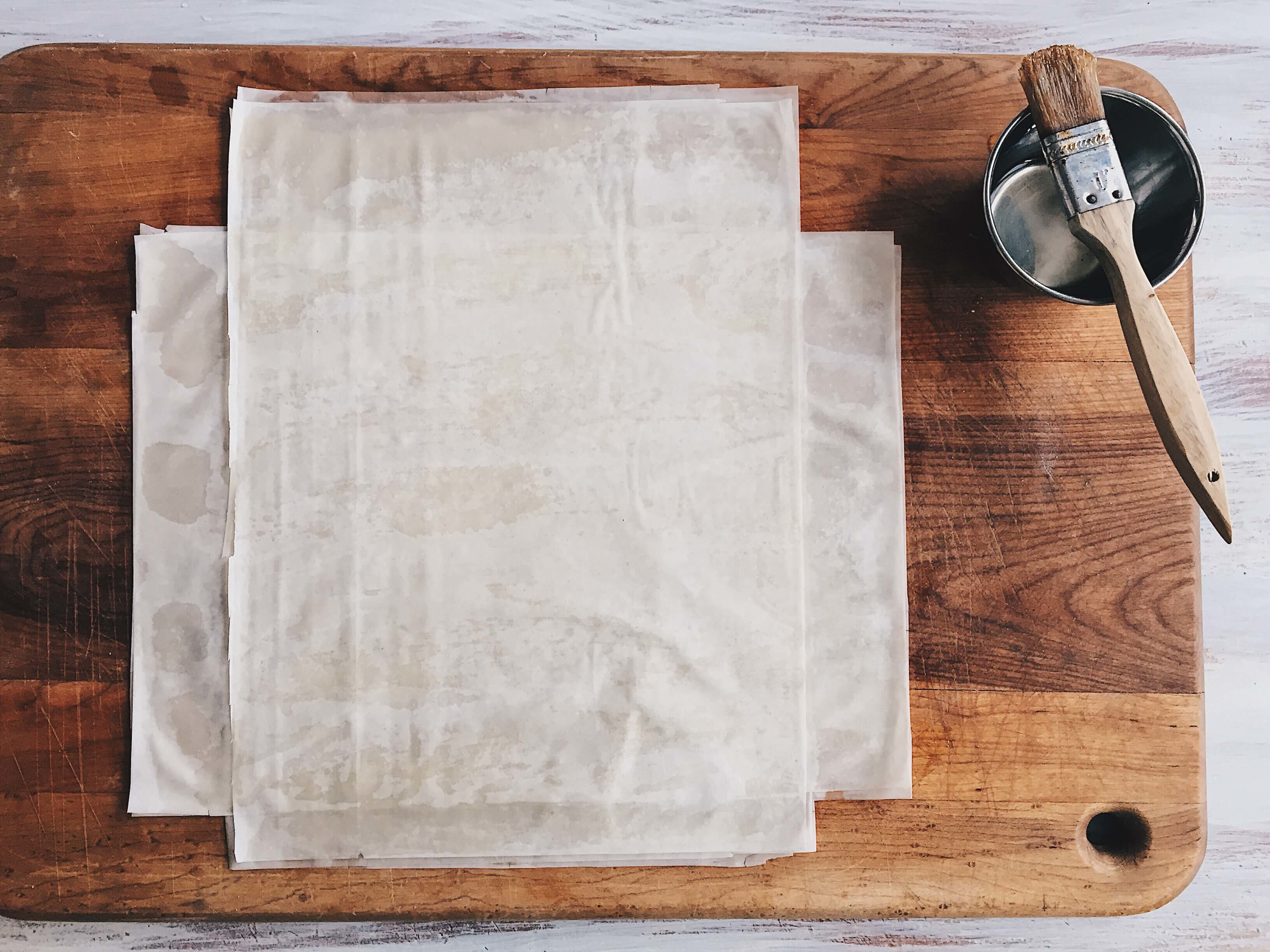 Place half the berry filling in the centre, forming a 6- to 7-inch circle. It should be gently mounded, not heaped.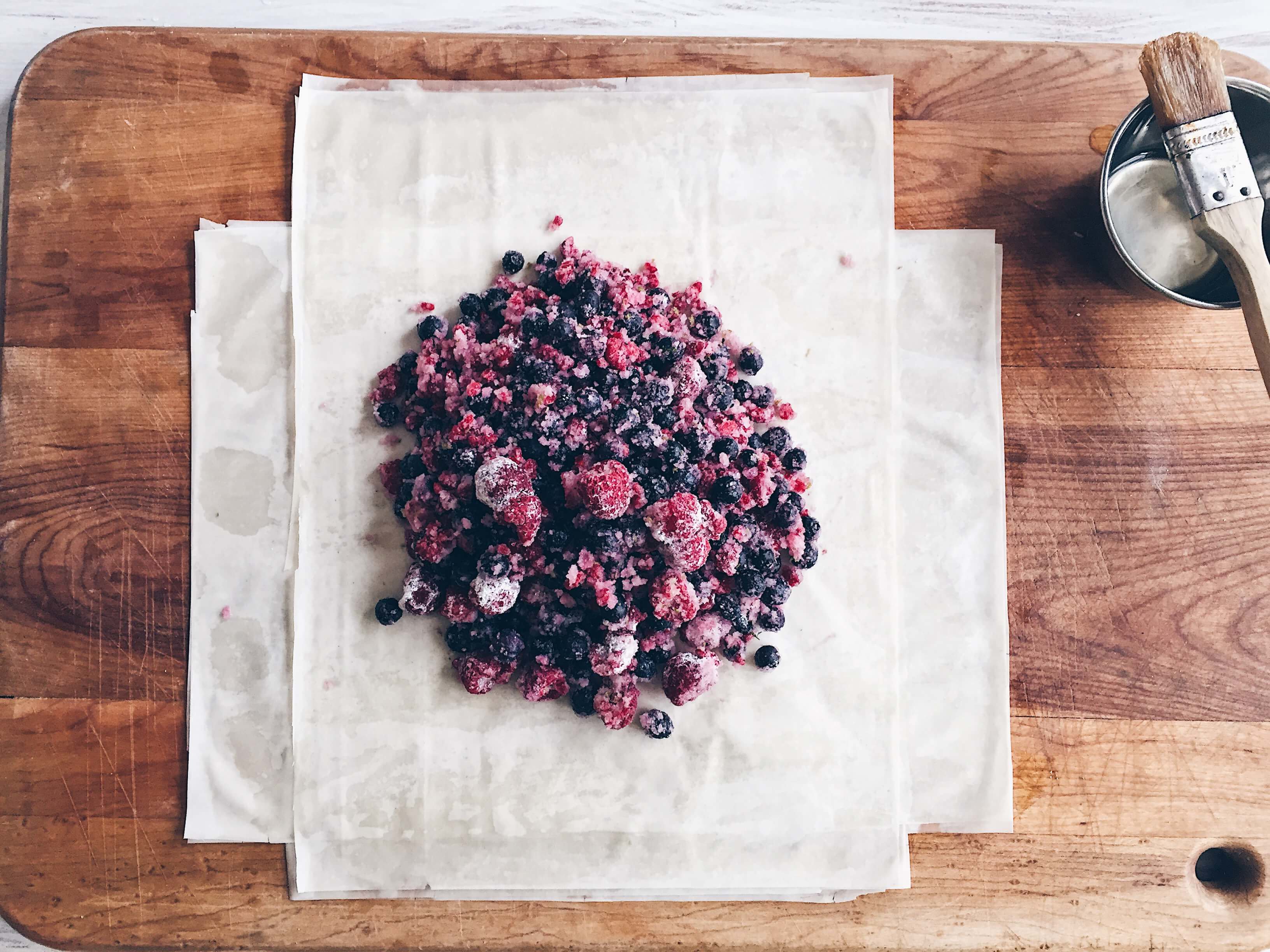 Turn the corners in to form an octagon.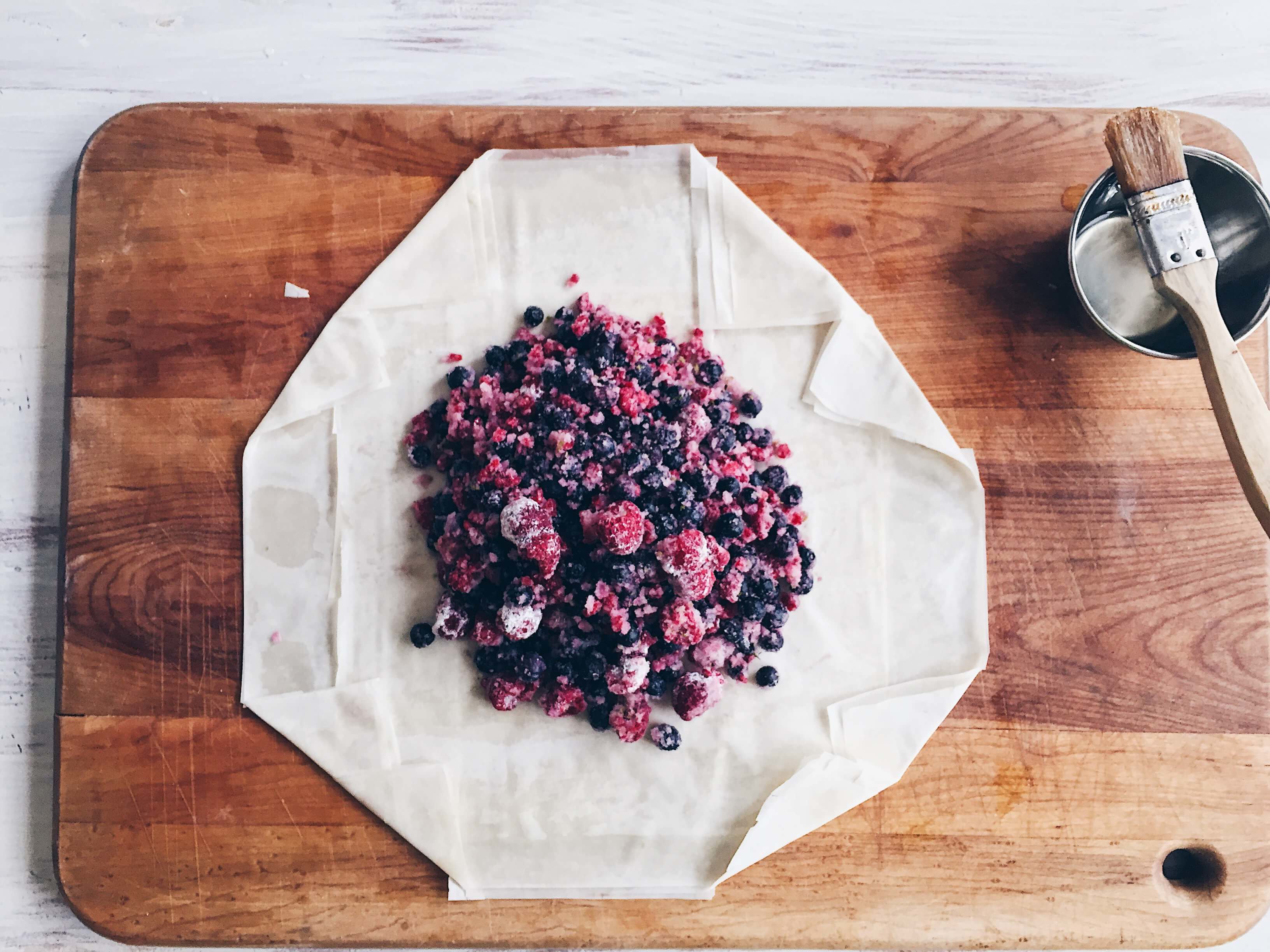 Turn the edges over the filling, pleating as you go. The edge will not cover the centre. It will not look perfect. That's okay. Galettes are rustic.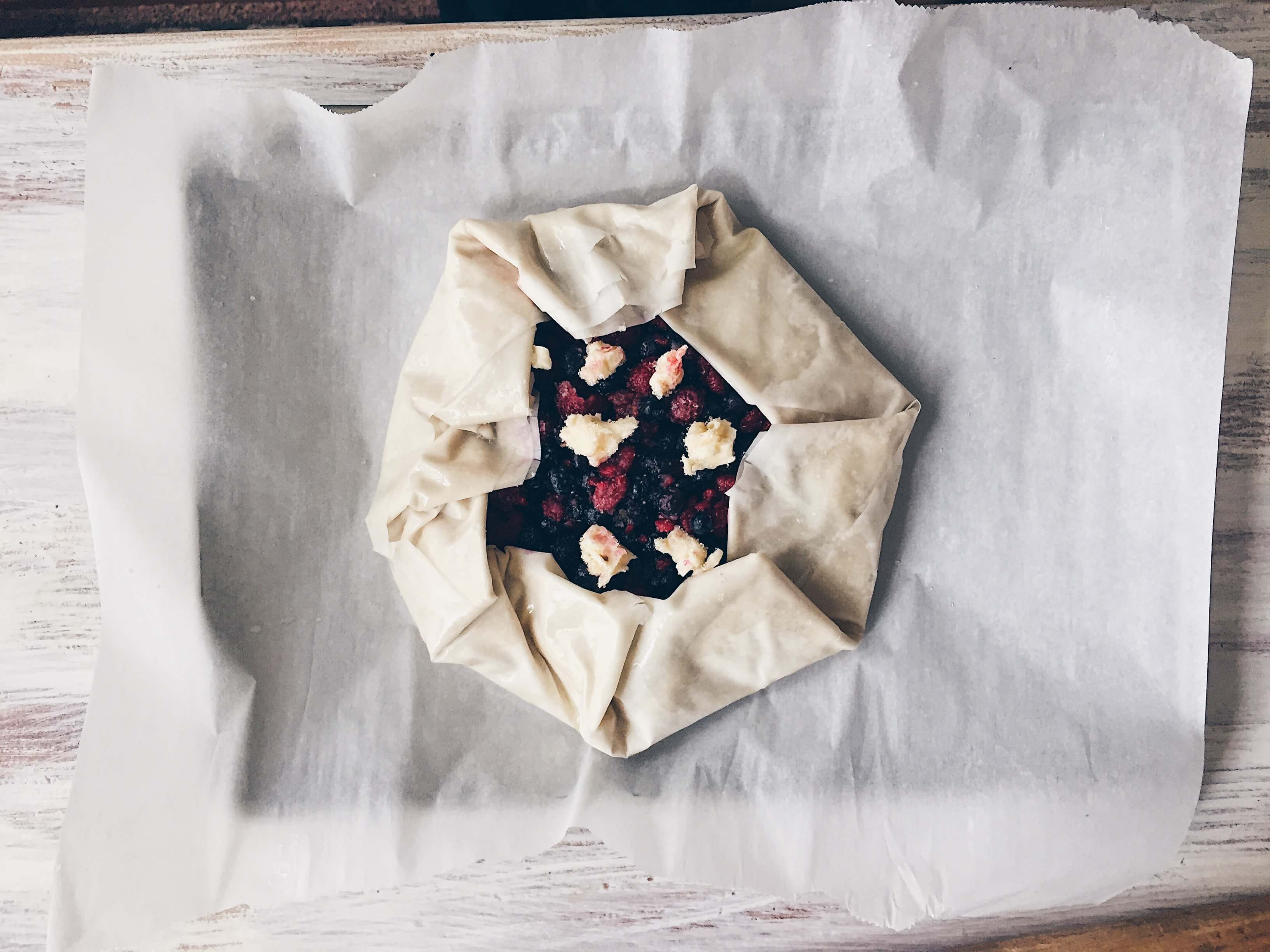 See, it looks fine. Once cooled, cut with a pizza cutter or sharp knife.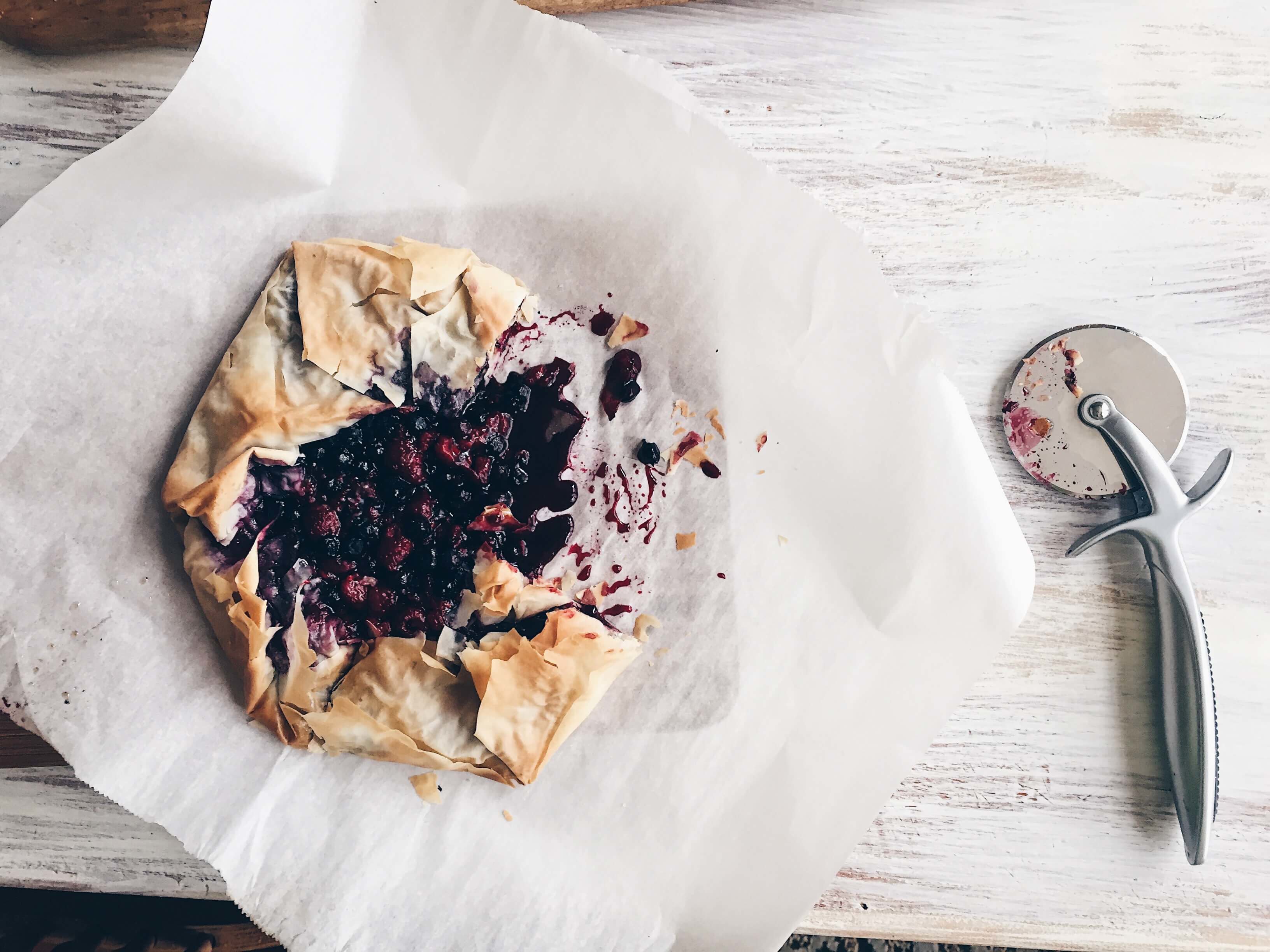 Mixed Berry Phyllo Galette
Author:
Charmian Christie
Prep / inactive time:
Cook / active time:
Total time:
Serves:
2 galettes, serves 8
Galettes are the ultimate in messy baking. Being freeform, the shape can be less than symmetrical and you're not required to do fancy edging like with pies. Sometimes the filling takes "freeform" too literally and tries to wander off. If it does this during assembly, just gently herd it back in place with your hands. If it does this during baking, call it rustic.
Ingredients
Pastry
16 half phyllo sheets, defrosted (half 454g package)
Fruit Filling
2 cups blueberries (fresh or frozen but unthawed)
2 cups raspberries (fresh or frozen but unthawed)
1 tablespoon pure vanilla extract
1 tablespoon finely grated orange, lime, or lemon zest
½ cup granulated sugar
2 tablespoons cornstarch
1 tablespoons butter, in ¼ inch cubes
Finish
½ cup light oil or melted butter
Turbinado sugar, for sprinkling
Instructions
Preheat oven to 400°F. Line a rimmed baking pan with parchment.
Fruit Filling: In a large bowl, toss the berries to combine evenly. Sprinkle the vanilla and citrus zest over the fruit and toss again. Combine the sugar and cornstarch. Sprinkle it over the fruit and toss to coat the fruit well.
Assembly:Unfold the phyllo and cut the sheet in half crosswise. Stack the halves, then quickly cover with a sheet of plastic wrap and a lightly dampened clean kitchen towel to prevent it from drying out. (See Working with Phyllo for more details).
Place one sheet of phyllo lengthwise on the prepared baking sheet. Brush with oil or butter. Place a second sheet of phyllo on top crosswise, then brush lightly with oil or butter. Repeat until 8 sheets are used.
Spoon half the fruit filling in the centre forming a 6- to 7-inch circle. Dot with half of the butter. Turn the corners of the phyllo over to form an octagon. Press flat. Fold the pastry edge over the filling to form a rim, pleating the dough as necessary. Brush the top of the pastry rim. Sprinkle the crust and filling with sugar. Repeat with second galette. Bake about 30 minutes or until the crust is golden and the filling is bubbling.
Allow the galette to cool on the parchment before eating. Like most pies, galettes are best eaten the day they're made, but leftovers —if there are any— can be stored in the refrigerator for up to 3 days.
Makes 2 small galettes. Serves 8.
Mixed Berry Phyllo Galette FAQ
In a previous post, I cover the basics of defrosting, handling and Working with phyllo pastry. This will give you a good overview if you aren't familiar with the basics. I cover the main points in class, but once students get their hands into the process, they dig deeper and ask some really helpful questions. Here are my answers.
Which brand of phyllo is best?
I have never had a problem with Krinos or President's Choice. I have tried other store brands and wasn't happy with the results. If another brand works for you, stick to it. Proper freezing, defrosting, and handling are half the battle.
Defrosting phyllo takes so long. Can I speed it up?
Not if you want full, unscathed phyllo sheets. While you can't rush the process, you can be prepared and keep a box waiting  in the fridge. Unopened, phyllo keeps for about 1 month.
Which brush is best?
I like a 2-inch wide natural bristle brush that is flat (not round), and not very thick. Hefty brushes can absorb too much oil or butter and that's a bit of a waste. I like natural bristle since it's soft. Plastic can tear the phyllo. Silicone bristles, which are super for BBQ sauces, aren't fine enough, and just dump globs of oil or melted butter onto the pastry. (Of course, the brush in these photos is my 1-inch because my 2-inch was being washed. Small works. Wider is better.)
Why do you recommend oil over butter?
I adore butter for baking, but working with phyllo can take a long time if you're making lots of appetizers. Butter is just too fussy.  My kitchen is often cool and when the melted butter separates, I get lumps of butter in the brush and useless watery whey in the bottom of the bowl. I also never melt enough, or melt too much. Oil, on the other hand, is easy to pour, doesn't clog the brush and delivers non-greasy results, which makes it perfect for finger foods. Because most of the fillings that go into phyllo are so flavourful, you won't miss the taste of butter.
Can you use ghee instead of butter or oil?
*Forehead slap*! In all my years of working with phyllo, why didn't I think of this? Sheer brilliance!! Worthy of two exclamation marks. Yes, melted ghee would deliver buttery flavour without the butter issues. If you have ghee on hand, use it!
Can I use other fruits?
You can use almost any fruit as long as the pieces are approximately the same size. I like blueberries and raspberries since they don't have a lot of juice (like a strawberry does) and are about the same size.
I don't have turbinado sugar. Can I use regular sugar?
Absolutely. Turbinado is just a bit more crunchy. It's purely cosmetic.
I didn't place the phyllo sheet just right. Can I reposition it?
You can but unless it's very wonky, don't bother. The base is 8 layers thick, so a spot with only 7 layers won't be an issue. If you do reposition it and it tears, just pat it in place. The next layer will cover the tear.
Can you freeze phyllo once it's filled? If so, do we cook it or not?
With the galettes, it's best to bake them right away. However, if you are making appetizers, like my Spinach Dill Pockets, then you have two options.
If you are making them for the next day, bake them for 10 minutes. Refrigerate once cool. They will wrinkle a bit, but will be fine. Then, just before serving, bake them for 12 to 15 minutes.
If you are making them for an occasion in the more distant future, freeze them uncooked, then bake from frozen, adding about 10 minutes baking time.