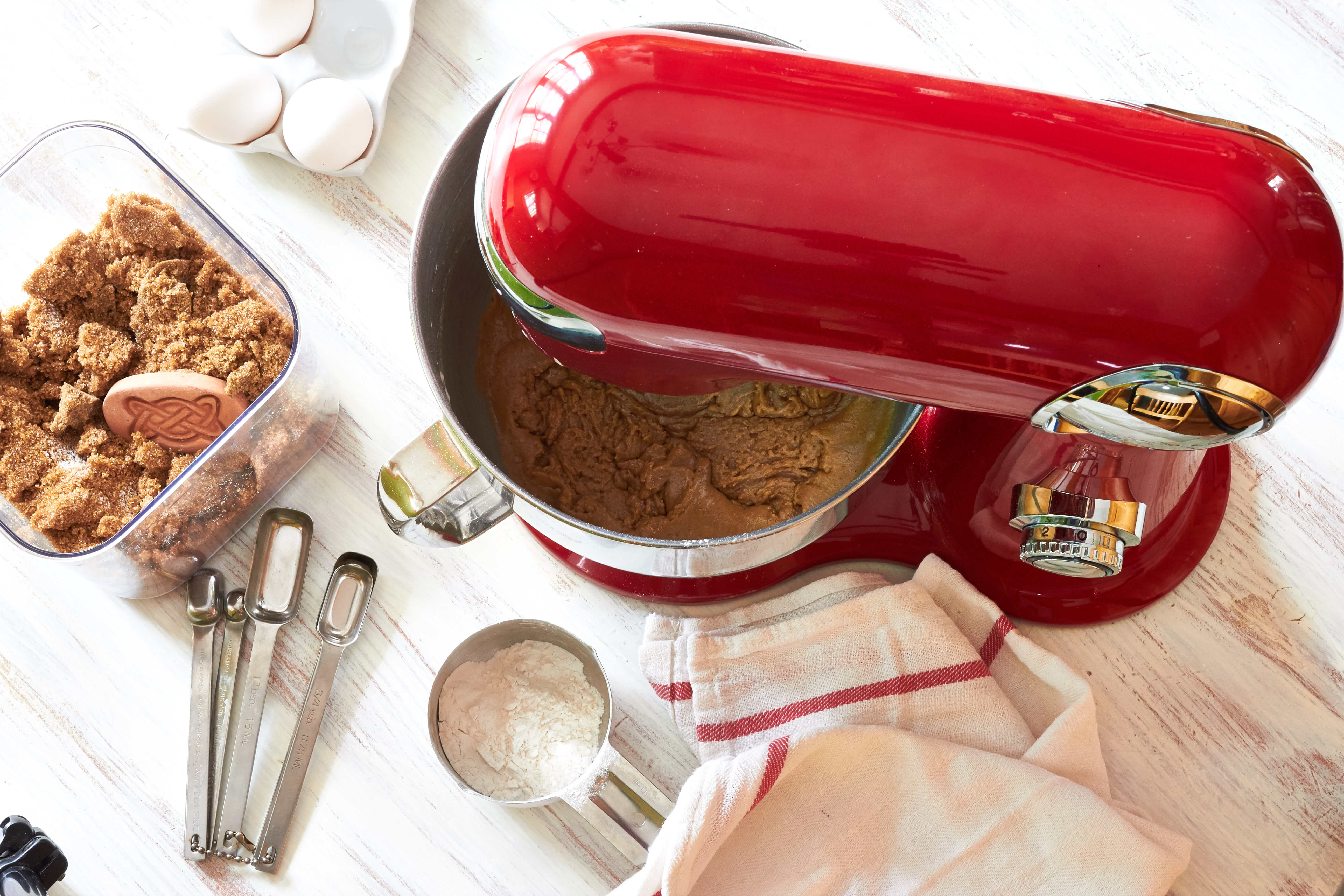 03 Apr

Not My Grandmother's Chewy Cookies

My grandmother wasn't Grandma or Nanna or Nonna, any other such moniker. Everyone called her Town — short for Townsend, her last name. Like her nickname, she was unique and practical and easy to latch onto. I was obsessed with her and even though she lived only a few minutes' drive away, I was determined to move into her spare room.

As a Gemini, I carried two bakers inside me. The Curious Baker pestered my mom with questions. I was eager to stir, mix and measure. I wanted to learn everything. Right now. The only thing I wanted more than cookie dough was her knowledge.

The Distracted Baker emerged when I visited my grandmother. With her, I was focused on everything but the baking. My mind was on all the possible events surrounding the cookies we were making. Would she allow me to wear her necklaces? If so, which ones would I drape around my neck like Cruella De Vil. Would she let me try on her make up? Would this glittery blue-eyelidded Princess, her chest weighed down with jewels, have tea on the balcony? And if we did, would we blow bubbles between bites of cookie? I would wish on the biggest bubble, packing each prayer with details until it burst. The longer the bubble floated, the more I would ask for. And I always asked to stay with her. For an extra hour. For dinner. For the night. Forever.

Earlier that day, we'd made Town's Chewy Cookies. I had helped her make them, in between questions and plotting. After we had mixed and scooped and baked, done the washing up, we sat on the balcony overlooking Riverside Park and ate them with coffee. Real coffee. This wasn't hot chocolate or malted milk. Town had filled my tea cup with warm milk and topped it off with hot coffee from the percolator. She drank hers black but mine was smooth and creamy and tasted like what I imagined grownups felt like. I didn't dunk my cookies. They were soft and chewy enough on their own. They tasted like butterscotch, with a slight crunch on the outside. But once your teeth broke the surface, they'd sink with ease into the chewiest cookie on earth. And I knew because I was a Cookie Monster long before Sesame Street hit the airwaves.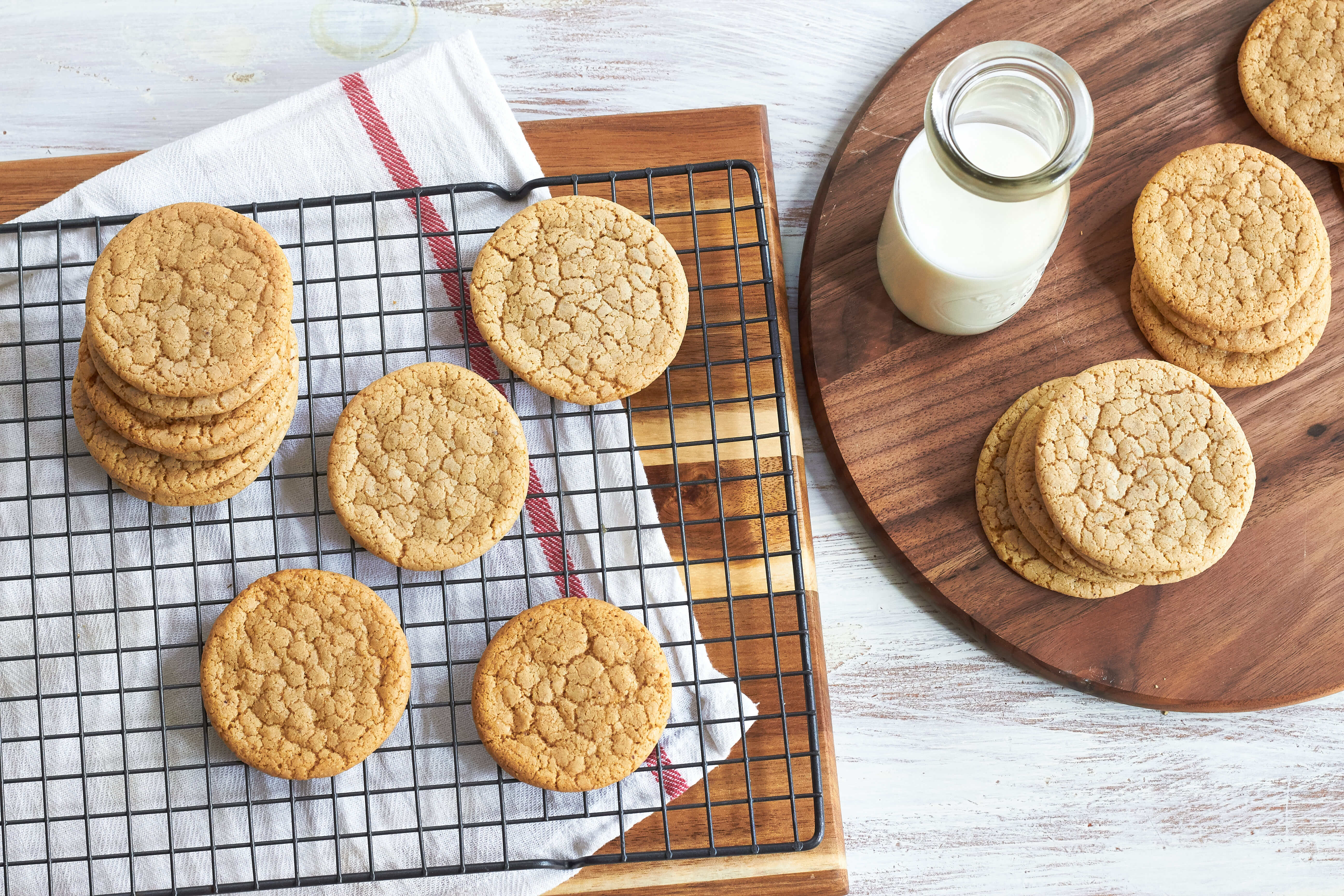 I watched the bubble float out over the balcony, making its way across the roadway to the park. It popped before I finished my expansive wish. Time was up. Mom had buzzed from the foyer and the family was on the way up. I'd better go get my things.
Instead of gathering my coat, I walked to the spare room, slid onto my belly, and glided under the bed. I pulled myself to the farthest corner of the headboard and waited. I could hear my parents calling my name and their footsteps getting closer and closer. I held my breath hoping they'd give up and leave me here. A hand pulled up the bed skirt. I looked straight into my mother's face.
"Time to go." she said.
"Can't I stay? I'll be extra good." Maybe Mom would change her mind. I was only 7 but had calculated the risks. If you asked an adult often enough, you could end up either with no TV for a week, or you might get your way. It was a gamble, but the chance to stay with Town was worth it.
"Home. Now."
Mom had switched to her eat-your-vegetables-or-get-them-for-breakfast voice. She wasn't going to cave. Not this time. I reluctantly inched out from under the bed and dragged my way to the front door. To distract me, I hopscotched my way down the hall jumping in the little striped squares on the floor. I had no idea why this pretty wooden pattern was named after a brand of margarine. Our floors at home were just strips of wood. Boring. Everything about my grandparents' place was itching to be explored.
As I hopped, my arms were shoved into my coat. When I reached the front door, I could feel my hat being tied under my chin. Before mittens where stuffed onto my hand, Town slipped a cookie into my fingers.
"One for the road."
"One for each hand?"
Even Town wasn't caving. I was on the verge of too far. I hugged her good-bye and took the single cookie, holding it in both hands so one hand wouldn't feel so empty.
Before I could bite into it, large hands on my shoulders guided me out the door and down the hall. I wanted to gobble the cookie, but was determined to make it last for the entire elevator ride. All four floors.
The elevator doors slid open, I stepped inside. In the car, I waved my mittens frantically at my grandparents who waved tea towels from the balcony as we drove away. Once they were out of sight, I sat in the back seat, swinging my legs and silently plotting my next escape. If I wanted more of the cookies when I got home I would have to behave.
I never thought the supply of cookies would end. Town would be there to make them forever, stacking them like towers for my amusement. As an adult, I wish I'd paid less attention to their height and more attention to the recipe itself. Despite every member of my family having a copy of the recipe, the secret of Town's Chewy Cookies died with her.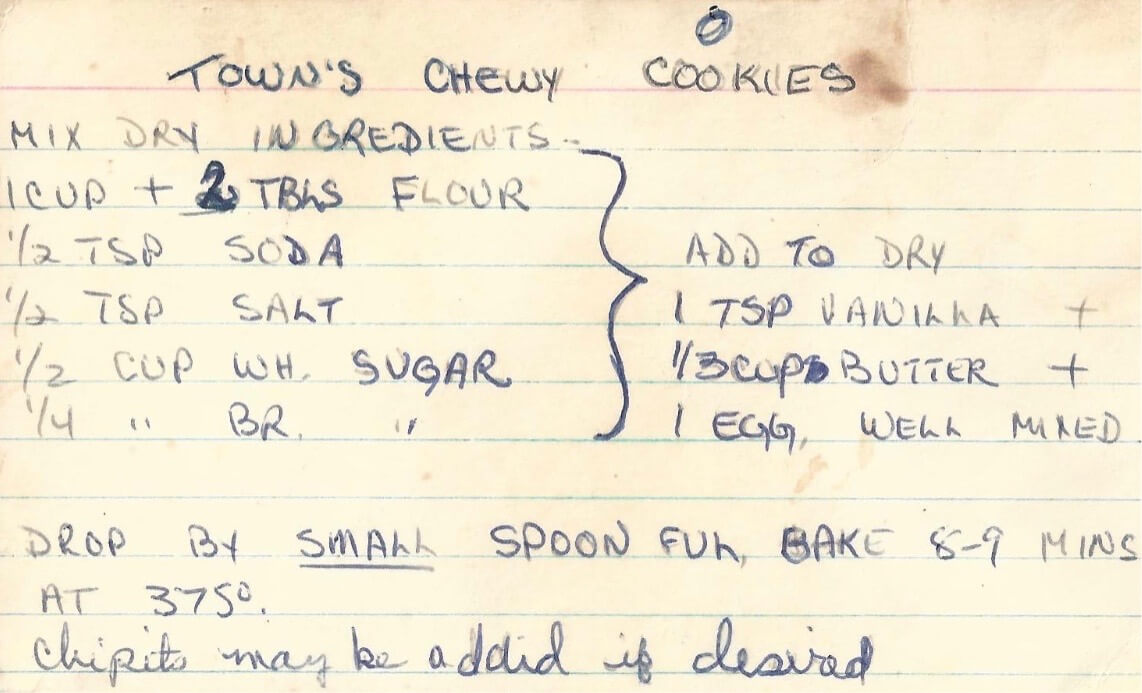 This is the original recipe. It's faded over the years and my mother has gone over areas with fresh pen. The instructions are cryptic, not to confuse, but for practical reasons. She didn't want to have to flip the recipe over. This left me wondering. How many cookies did it make? How many chippets could you add? And what did she mean by "small spoon"?
Compare my grandmother's recipe to the one I share with you below. They're very different.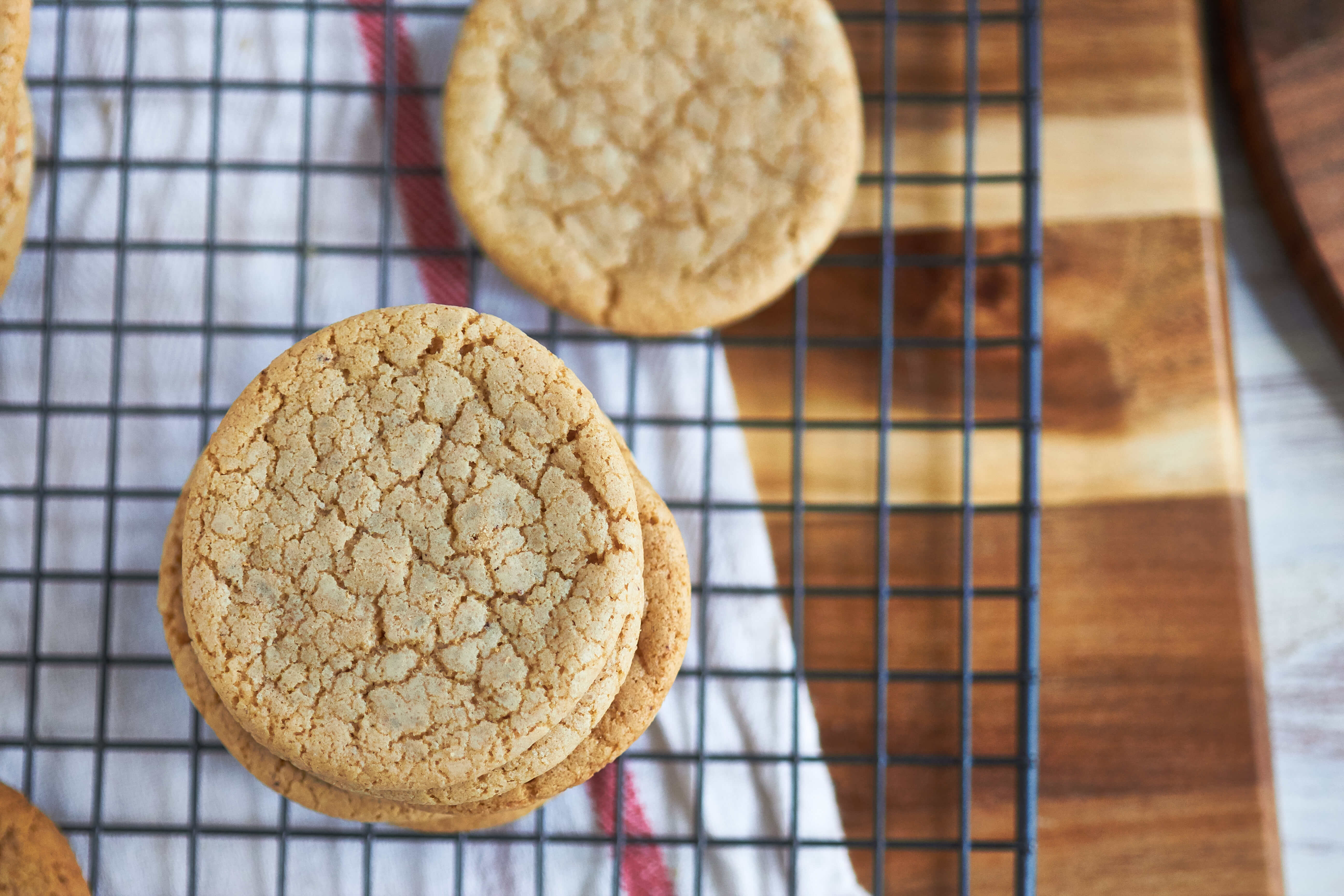 My grandmother married at the start of the Great Depression and raised a child on her own while her husband was overseas during World War II. She would never have made anything but a practical cookie. She wouldn't have browned any kind of butter, let alone unsalted. She didn't know what Demerara sugar was. She certainly didn't have a stand mixer. And she wouldn't have used a cookie scoop, just that small spoon.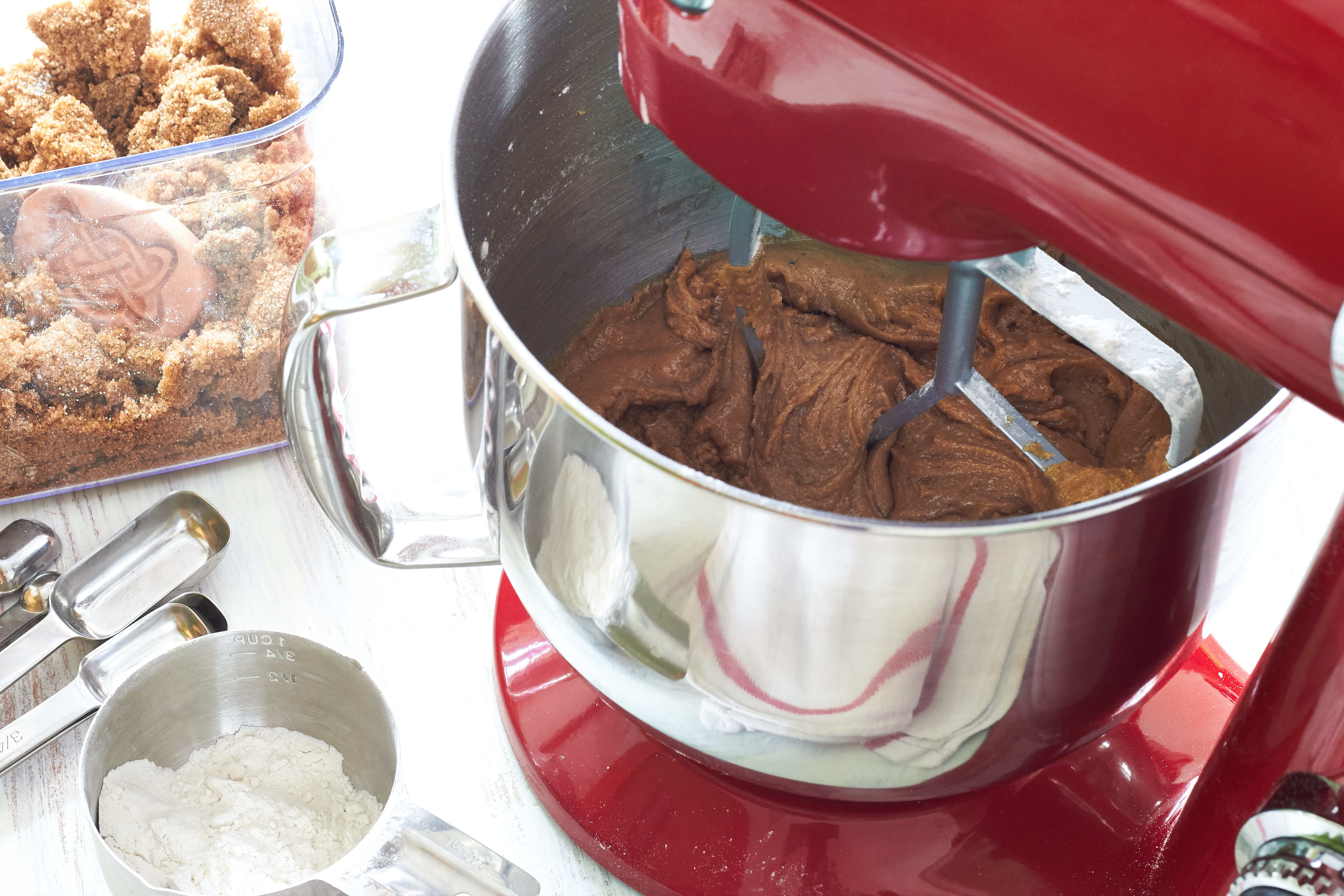 If Town came back and made me a batch in her tiny apartment galley kitchen, they wouldn't taste the way I remember. Nothing possibly could. So, I created a cookie that matches my memory, not reality. And I'm paying these cookies all the attention my 7-year-old self couldn't.
The child in me demanded I double the recipe. I obliged. The results are the chewiest, most butterscotchy cookie possible. My family says this is the closest a cookie has come to the ones my grandmother made. One of my bubble wishes is granted at last.

Not My Grandmother's Chewy Cookies
Author:
Charmian Christie
Prep / inactive time:
Cook / active time:
Total time:
These cookies are big, flat and crinkled. They're crisp on the edges and chewy in the middle. The taste is pure butterscotch thanks to browned butter, dark Demerara sugar and a generous lashing of vanilla. They capture the flavours of my childhood.
Ingredients
¾ cups unsalted butter
1 cup packed dark brown sugar (Demerara is best)
½ cup granulated sugar
2 large eggs
1 tablespoon vanilla
2 cups all-purpose flour
½ teaspoon baking soda
½ teaspoon fine sea salt
Instructions
Place a rack in the centre of the oven and preheat the oven to 350°F. Line 2 or 3 baking sheets with parchment cut to fit the pan. Do not have parchment hanging over the sides as this might warp the cookies at the edges. Set up a stand mixer fitted with a paddle.
In a small saucepan, melt butter over medium-high heat. Once the butter has melted, gently swirl the pot and continue to cook until the butter has turned dark amber and smells nutty, about 7 to 10 minutes
Pour the browned butter into the bowl of the stand mixer, being sure to scrape in the browned bits that have sunk to the bottom of the pan. Add the brown and granulated sugars. Mix on low (setting 3) until the sugars have soaked up the butter and the mixture looks like wet sand.
In a small bowl, whisk the eggs and vanilla together with a fork, and add to the sugar mixture. Mix on speed 8 until well blended, stopping the machine once or twice to scrape down the sides.
In a medium bowl, whisk the flour, baking soda and salt together. With the motor on 1, gently spoon the flour mixture into the bowl. Once all the flour has been added, increase the speed to 5 and mix until the flour is blended in. Stop the mixer and scrape down the sides of the bowl. Increase speed to 8 and mix the dough for 1 minute. The dough will be quite loose.
Using a 1-tablespoon cookie scoop, drop the dough onto the parchment lined baking sheets, leaving a good two inches to allow for spread. Bake for 9 to 12 minutes, or until the cookies are done around the edges but the middle is crinkled and soft. Do not overbake. Let the pan of cookies sit 5 minutes before transferring the cookies to a wire rack to cool. While the first pan cools, scoop the second pan. The batter might have firmed up a tiny bit, but the cookies will still spread and crinkle. Repeat with third pan if necessary.
Bake New Memories Contest
Want to make these cookies in your own stand mixer? Cuisinart Canada is generously sponsoring the Bake New Memories Contest. From April 3rd to May 14th 5 PM Eastern Time, 2017, they will be awarding prizes. There are 6 (six) weekly prizes of a Cuisinart Precision Master™ Stand Mixer and 1 Grand Prize to win a "Cuisinart Kitchen" with a retail value of approximately $2000 CDN.
Full rules for the contest are here. But in a nutshell, you can enter two ways. 1.) Submit a short story about a baking memory, or 2.) submit a photo for your favourite recipe. Whichever you choose, be sure to share this on Cuisinart Canada's Facebook page using the #bakenewmemories. This ensures they will see your post.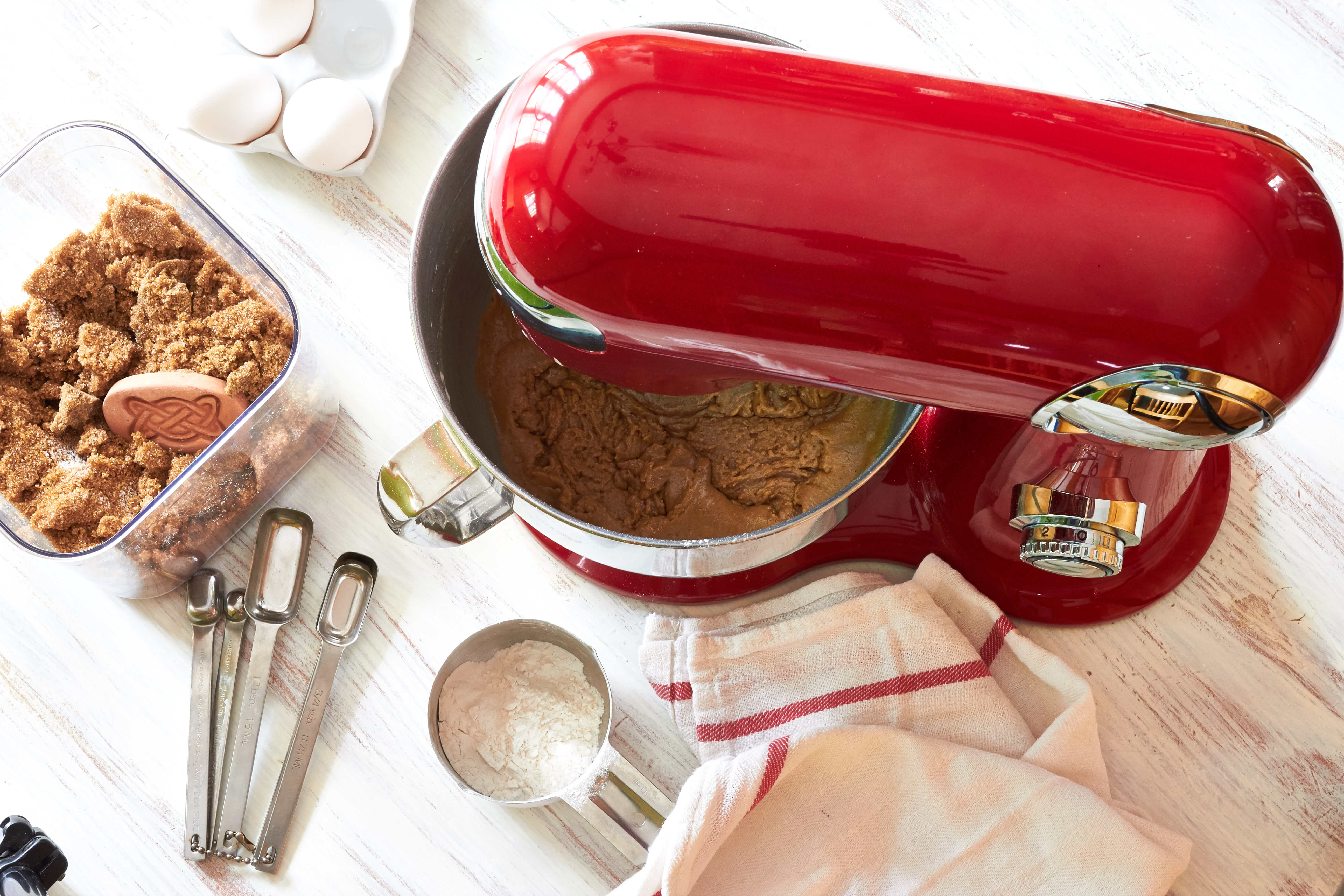 Disclosure: From time to time I work with brands that are a good fit. I was compensated by Cuisinart Canada for this post. They asked me to share a baking memory and a related recipe of my choosing. I opted for cookies because of my grandmother. Plus, my early breadmaking stories get filed under Kitchen Disasters. Cookies? I'll hang my hat on these every time.