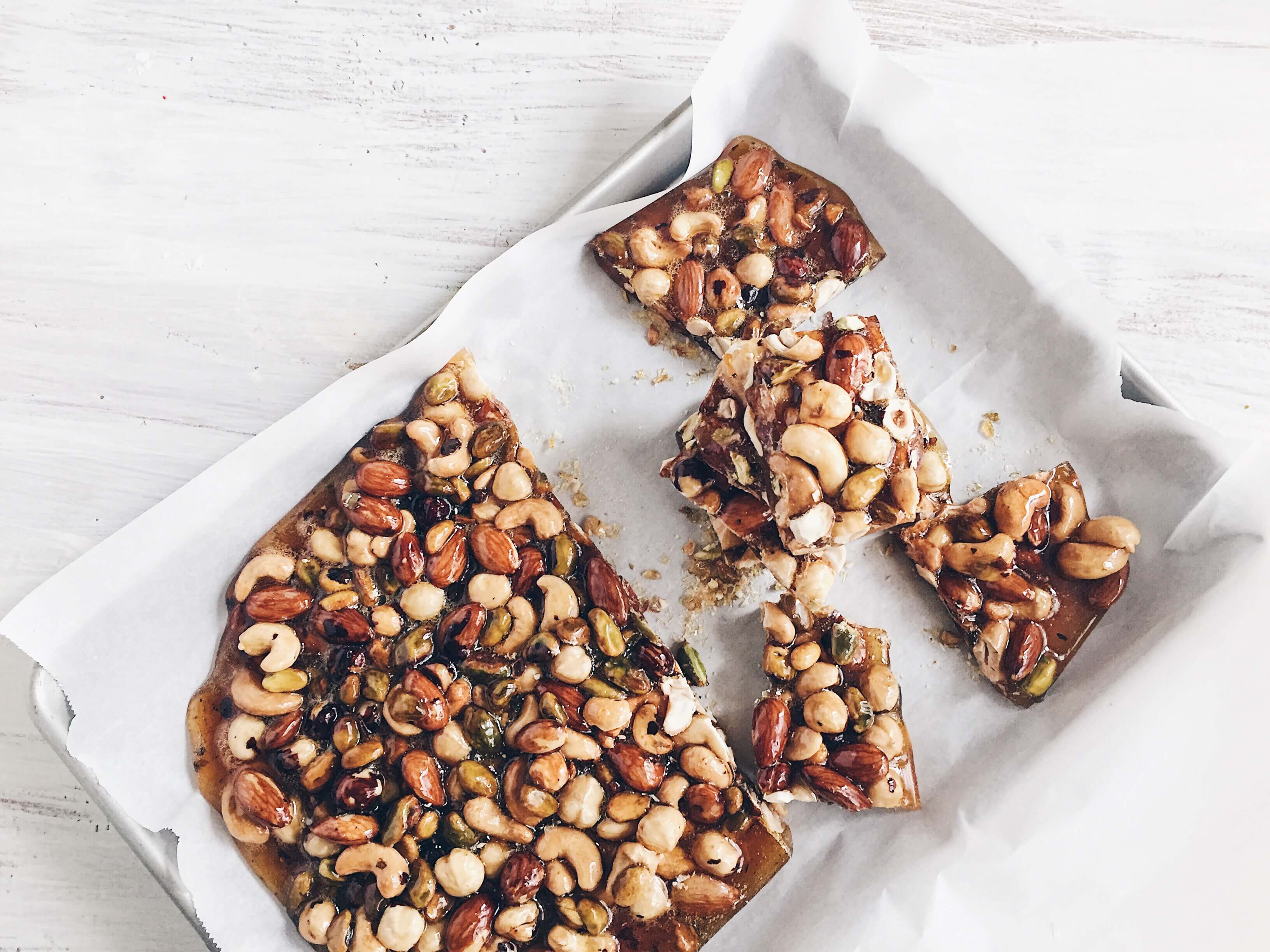 30 Mar

Burnt Caramel Nut Brittle

Posted at 12:18h

in

Christmas

,

Dairy-free

,

Egg-free

,

FAQs

,

Gluten-free

,

Messy Baker

,

Recipes

,

Snack

,

Uncategorized

,

Vegan

,

Vegetarian

2 Comments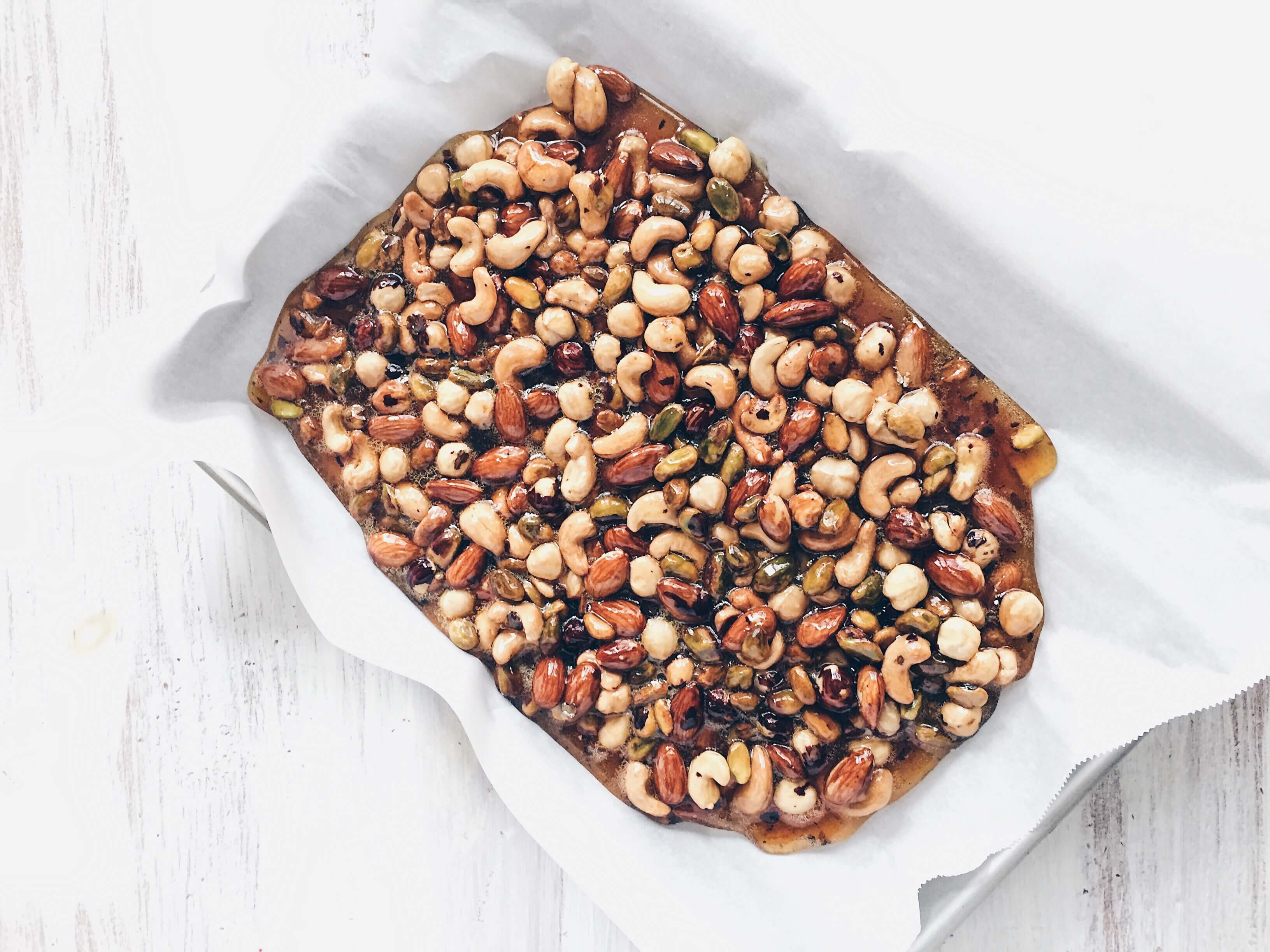 I've decided to change the idiom from "watching paint dry" to "waiting for sugar to caramelize". It doesn't roll off the tongue, but it's a fair description of the process. This recipe for Burnt Caramel Nut Brittle calls for deeply caramelized sugar. While it doesn't take quite as long as drying paint, the smell of sugar and anticipation of the reward slows time. The 15 or 20 minutes it takes to turn sugar to caramel seems all the longer since you shouldn't agitate the sugar. You will want to stir it. Don't. You will want to speed things up. You can't. You'll be tempted to wander off. Not recommended. Caramelizing sugar will turn on you. And quickly.
Amuse yourself with how the white, white sugar turns pale yellow, then light brown and finally amber. Track its progress with a candy thermometer, if numbers are your thing. Or just think of the decadent nut brittle you'll have in only a quarter of an hour. 20 minutes. Half hour, tops.
I make this Burnt Caramel Nut Brittle in cooking class. Here are the FAQs based on the great questions from the participants. The recipe is below the answers. If this doesn't answer all you questions, just email me.
Burnt Caramel Nut Brittle FAQs
Can I use a non-stick pot?
No. Caramelized sugar reaches very high temperatures, too high for non-stick surfaces. Your best bet is a stainless steel saucepan or skillet with a very heavy bottom. This helps with heat distribution. An alternative is enamel-coated cast iron.
Are you really burning the caramel?
Not quite. I'm taking the caramel to JUST before it actually burns. It's called burnt caramel because if has a slightly smoky taste.
It's smoking! Is that safe?
Whisps of white smoke are fine. Just be sure to never walk away from the caramel while you're making it. This way you can take the caramel off the stove before it actually burns.
Why cook the caramel so long?
The longer caramel cooks the more flavour it develops. Melted sugar has a single note — sweet — but the darker you let the caramel get, the more "layers" emerge. There will be a bit of a bite that you don't get with light caramel.
What if I get stopped part way through? Can I restart partially cooked caramel?
Sugar can be temperamental. Generally, once you start making caramel, you should be committed to the process. No phone calls, no texting, no wandering off to amuse yourself with a cat video, which can be tempting. That said, a lot depends on how far you got in the caramelization process. If you were in the early stages where the sugar is just melting or very pale yellow, you can likely start again by adding a bit of water and reheating slowly.  If the sugar is boiling madly and the caramel is light brown, it's likely too far.
I have a candy thermometer. What temperature should I aim for with burnt caramel?
Congratulations! Just mentioning a candy thermometer scares most people off. You're ahead of the game. This recipe pushes past what most caramel recipes advise. Aim for 350°F to 370°F. Yes. That's high, which is why  non-stick is a bad idea. But use your eyes and nose as well. Don't just blindly believe the thermometer.
I have a recipe where you make caramel with just sugar, no water added. Why do you add water to the sugar?
You can definitely make caramel without any water. This is called dry caramel and is usually the case when you are going to spin the sugar or use it for some form of garnish. It's also used in some candy making. It's a bit tricky since any agitation can create crystals that turns the caramel lumpy (this is called recrystallization). Wet caramel has water added. This not only reduces the chance of recrystallization, it slows down the caramelization process so your chances of success are greater. This method is often used for sauces and pourables, like brittles and caramel corn.
How much water do you add for wet caramel?
The exact amount is not all that important. The sugar won't start to caramelize until enough water has evaporated. The more water, the longer the process, but also the more leeway.
Why can't I stir caramel?
Stirring can cause the sugar to recrystallize and turn your caramel lumpy. This is most likely to happen at the beginning, just as the sugar starts to melt. Gentle swirling is okay. If your stove top, like mine, has a hot spot that even a heavy bottomed pot can't mitigate, tip the pan gently in circles. If this splashes sugar on the side of the pan, dip a natural bristle brush in water and wipe down the splashed sugar. Not only will this prevent the sugar splatter from scorching, it reduces the chances of recrystallization.
A friend had some brittle with a layer of chocolate on it. How do you do that?
Chocolate, especially dark, is a great match with brittle. However, caramel is VERY hot and might scorch the chocolate. So, for layers, make the brittle first and then drizzle melted chocolate over top. If you want a higher chocolate-to-caramel ratio, pour the brittle, let it harden, then flip it over and spread a layer of melted chocolate over the flat surface. Of course, you could pour the chocolate on top, but that would hide the beautiful nuts.
I don't have mixed nuts. Can I use peanuts or other items?
Yes. You can use a single nut, peanuts, or a mix of your favourites, including seeds. Think pepitas, sesame, sunflower and flax, hemp, or chia. It's up to you.
Hardened caramel is like cement. How do you clean up this mess?
Hardened caramel cleans up very easily if you get it in hot water right away. Once you've transferred the brittle to the baking sheet, place the pan in the sink and immediately fill it with hot water. You can even have a kettle of boiling water ready, if you like. Let the pan soak for a good 10 minutes, then wash. If you get called away before you can do this, and return to hardened caramel, put a few inches of water into the pot, place it on high heat, and bring the water to a boil. Turn off the heat and let the hardened caramel dissolve. Pour out the water and wash the pot as usual.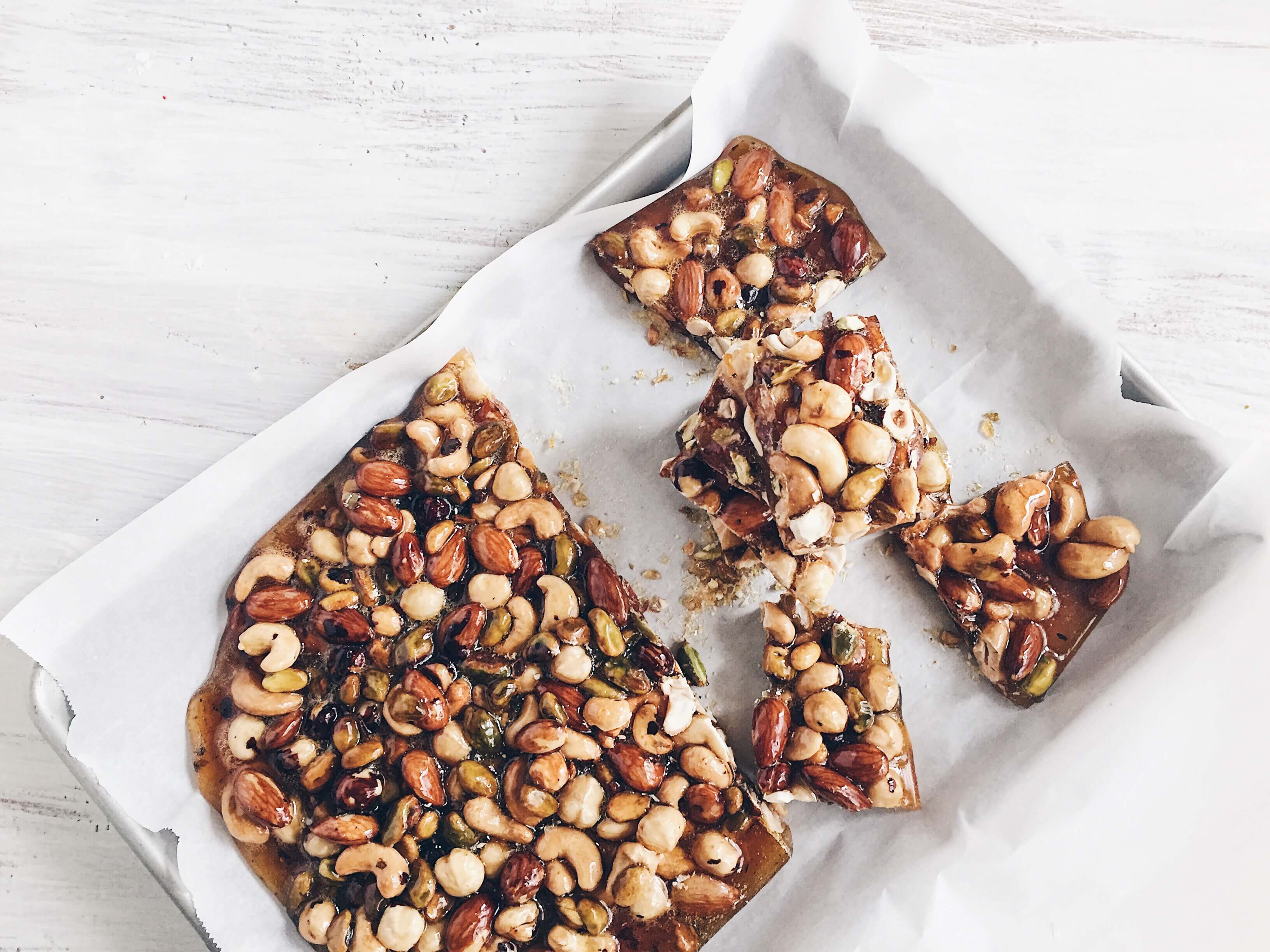 Burnt Caramel Nut Brittle
Author:
Charmian Christie
Prep / inactive time:
Cook / active time:
Total time:
Using roasted, salted nuts will save you a bit of time. If you don't have roasted nuts on hand, then toast them in a 350°F oven for 7 to 10 minutes or until fragrant, and then add a generous pinch of fine sea salt to the brittle when you add the nuts.
Ingredients
2 cups granulated sugar
¾ cup water
3 to 4 cups roasted, salted mixed nuts (almonds, hazelnuts, cashews, pecans, pepitas, etc.)
Instructions
Line a rimmed baking pan with parchment and set aside.
Place a large saucepan on the stovetop over medium heat. Add the sugar and water, being careful not to splash the sides. Heat gently to dissolve the sugar. You can stir the sugar gently now and again but don't splash. DO NOT bring to a boil yet.
Once the sugar has dissolved, increase the heat to medium-high and bring the sugar to a boil. If needed, brush the sides with a wet pastry brush to prevent burning.
The sugar will change colour from pale gold to an amber or reddish brown. You will be able to smell the sugar caramelize. It will have a hint of bitterness but should not smell scorched. (Note: It is important to cook the sugar until it begins to smell likes it's about to burn, otherwise it will not set and just be very sticky.) The second the sugar is ready, remove the pan from the heat and quickly stir in the nuts.
Spread the hot nut mixture over the prepared parchment. Let the sugar cool completely. Break the brittle into pieces with a rolling pin. Large pieces can be used for snacking, or you can crush the brittle into tiny pieces to sprinkle on top of ice cream.
Store in an airtight container. Keeps up to 2 months.