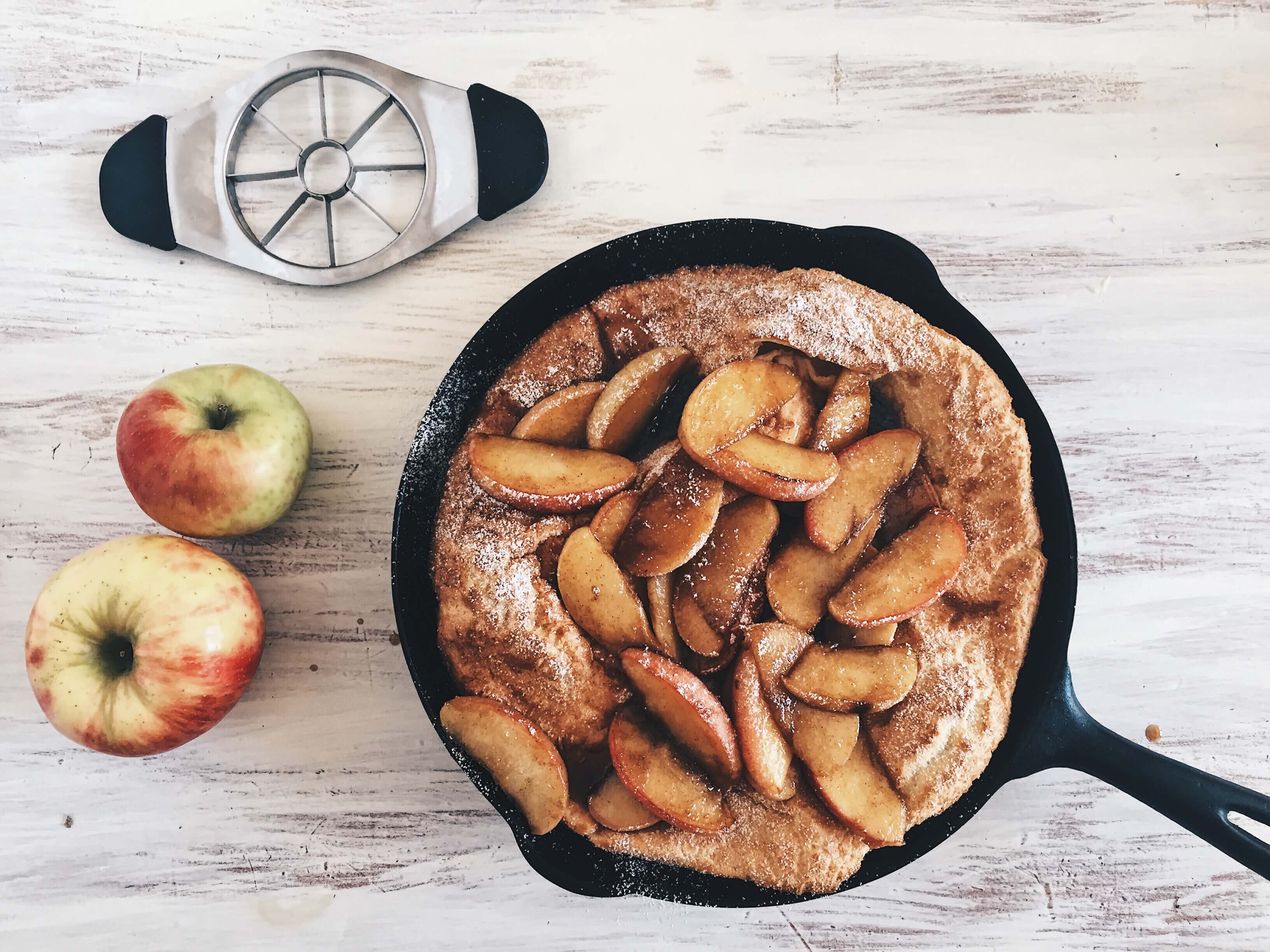 23 Mar

Caramelized Apple Dutch Baby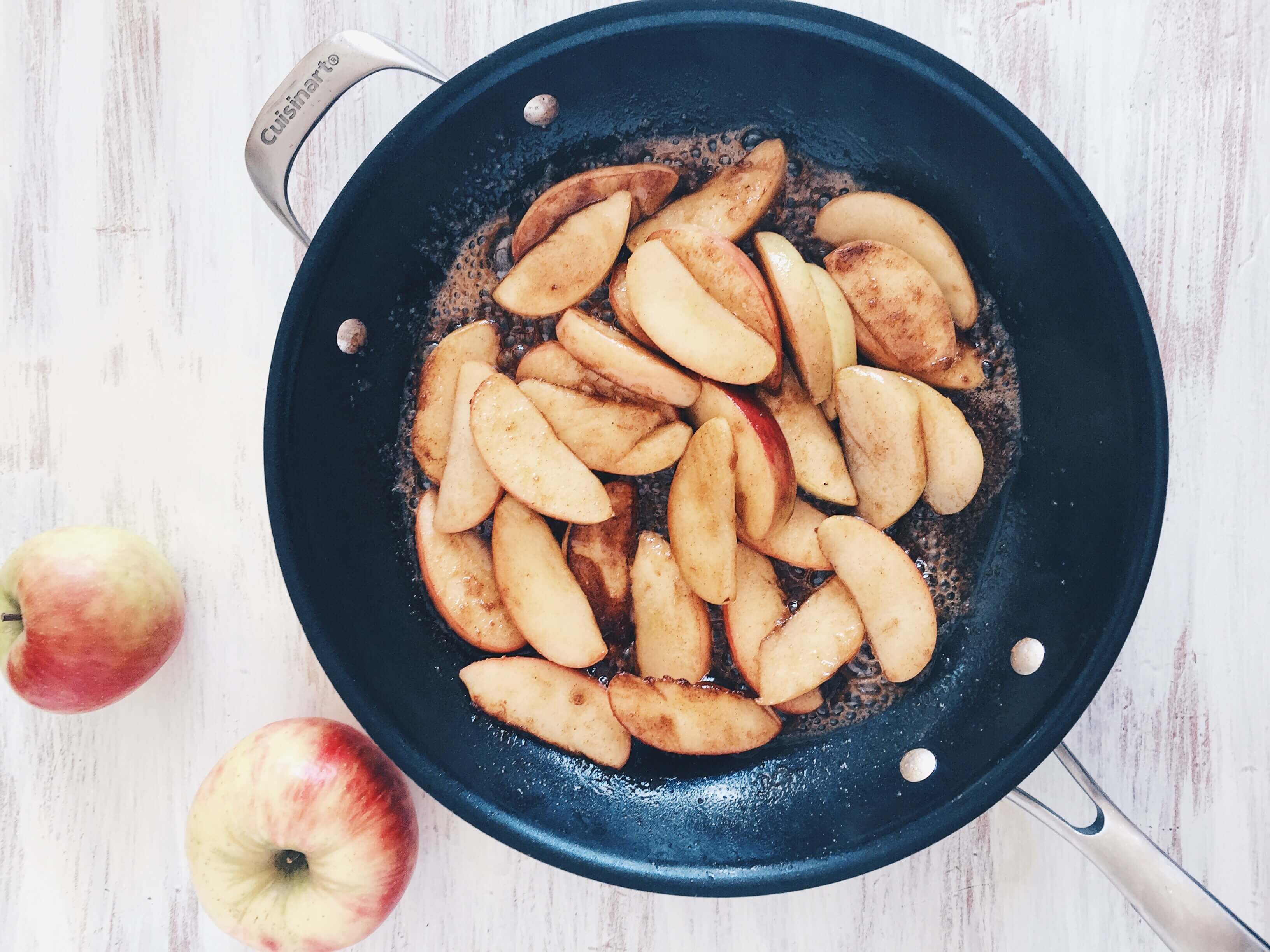 Spring arrived this week, slipping in quietly when we were distracted by the wind. Winter dragged its ungracious feet as it shuffled out the door.  As the last of the snow melted, a bland, brown, monochromatic world emerged outside my window. The lawn was brown. The dried leaves on the flower beds were brown. The leafless, twiggy shrubs were brown. Even my spirits felt brown. So, I headed to the kitchen. Ironically, a brown-on-brown Caramelized Apple Dutch Baby was the antidote to my mood.
In light of the visual banality outdoors, I refuse to perpetuate the brown-scaping (if that's even a word). In a blatant act of defiance and employing some serious thesaurus abuse, I will describe this Caramel Apple Dutch Baby in non-brown terms. The pancake batter enters the oven a light ecru and emerges fawn with flecks of chestnut. The apples turn tawny as they sauté. The brown sugar and butter dissolve into a mahogany — no, sepia — sauce.
Too much? Agreed. But desperate times call for desperate measures. I apologize to the Canadian Oxford Dictionary for my assault on the English language, but I stand by this recipe. With a fork in hand.
I make this dish in culinary classes, and it never fails to impress — even without the fancy $5 descriptions. It's embarrassingly simple to make and always draws oohs and ahhs from the class. Below is the recipe and answers to the most frequently asked questions about this elegant and easy dish.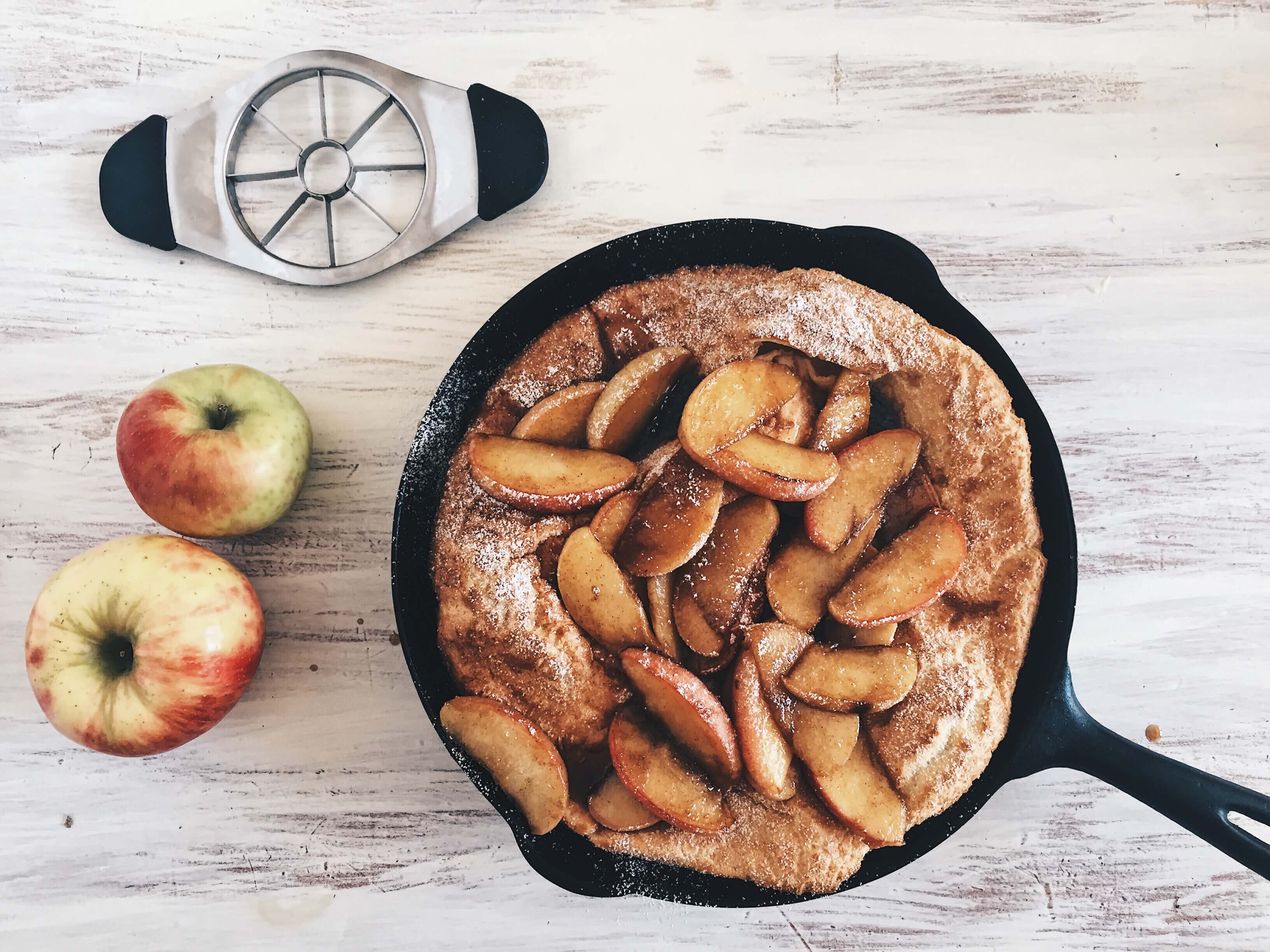 Caramelized Apple Dutch Baby FAQ
Can I make this gluten-free?
Yes, you can! A Dutch Baby is just a glorified pancake, and most pancakes are perfect for gluten-free baking. Just replace the all-purpose flour in the recipe with a gluten-free all-purpose flour (make sure it's an all-purpose blend and not a single-source gluten-free flour like coconut or almond). Bob's Red Mill and President's Choice make good gluten-free all-purpose flours that are designed to be substituted cup-for-cup in regular baking recipes. They're available at the grocery store so you don't have to go hunting.
I don't have a cast-iron frying pan. Can I use something else?
Cast-iron works best, but any oven-safe skillet or baking dish will do. Just make sure it's big enough and is heated really well before hand. A really hot dish makes the pancake puff.
Do I have to use a blender?
No, you can whisk the batter by hand, or use a food processor. I recommend a blender because it's just as easy to clean as a bowl and whisk, plus it guarantees your batter is lump-free.
Why do some recipes tell you to rest the batter?
Resting is often called for with crepes, pancakes and waffles because it produces a more tender result. This recipe is convenient since the batter can rest while the skillet heats. However, this isn't always the case. If a recipe call for resting the batter and you don't have time to wait, make the batter the night before, refrigerate it, then let it come to room temperature on the counter while you make coffee or prep other parts of the meal.
What sort of apples should I use?
Any sort you like, but I prefer a firm apple like Honeycrisp so the slices retain their shape. If you use a tender apple like McIntosh, just don't cook it as long. Or cook it really long and call it caramelized apple butter.
Why didn't you peel the apple?
I like the contrast of the red skin with the white fruit. The skin also provides more fibre and helps the slices hold their shape (should I get distracted and overcook the topping a bit.) Also, I'm lazy. As long as you wash the apples first, there's no need to peel them for this recipe. However, feel free to peel them if you prefer.
I like maple syrup on my pancakes. Can I use that instead of icing sugar?
Of course. The icing sugar looks nice and adds only a hint of extra sweetness, but you can swap maple syrup for the icing sugar — or pour more on once you serve.

Caramelized Apple Dutch Baby
Author:
Charmian Christie
Prep / inactive time:
Cook / active time:
Total time:
Caramel Apple Dutch Baby If a popover and a pancake got together for a romantic tryst, the result would be a bouncing Dutch baby. Like a popover, it emerges from the oven puffed and light, but quickly reverts to its pancake heritage once the topping arrives.
Ingredients
Batter
3 large eggs
1 cup whole or 2% milk
2 tablespoons melted butter, plus 1 tablespoon for the hot skillet
¾ cup all-purpose flour
¼ cup cornstarch
½ teaspoon sea salt
Caramel Apples
3 tablespoons butter
2 firm, sweet apples such Honeycrisp, cored, and cut into 16 slices each
3 tablespoons brown sugar
¼ teaspoon ground cinnamon
pinch fine sea salt
icing sugar for dusting
1 lemon, cut into wedges, one per serving
Instructions
Centre a rack in the oven. Place a heavy 10-inch ovenproof skillet on the rack to heat. Preheat oven to 425°F and heat the pan for at least 30 minutes.
As the oven heats, put the eggs, milk, and butter in a blender and puree at high speed until smooth. Add the flour, cornstarch, and salt. Blend until smooth. Set aside.
While the skillet heats cook the apples. Melt the butter in a sauté pan over medium-high heat. Add the apples and sauté until they start to soften, about 5 minutes. Add the brown sugar, cinnamon, and a pinch of salt, and sauté until fully tender and glazed, about 2 minutes more. Set aside.
After 30 minutes, remove the hot skillet from the oven. Working quickly, drop 1 tablespoon butter in the pan, and tilt to coat. Pour the batter into the pan and return the skillet to the oven. Bake for 20 minutes or until puffed and golden brown. About 5 minutes before the Dutch baby is done, rewarm the apples if needed.
Remove skillet from oven, top with apples, scraping out all glaze. Dust generously with icing sugar. Slice and serve immediately with lime wedges.