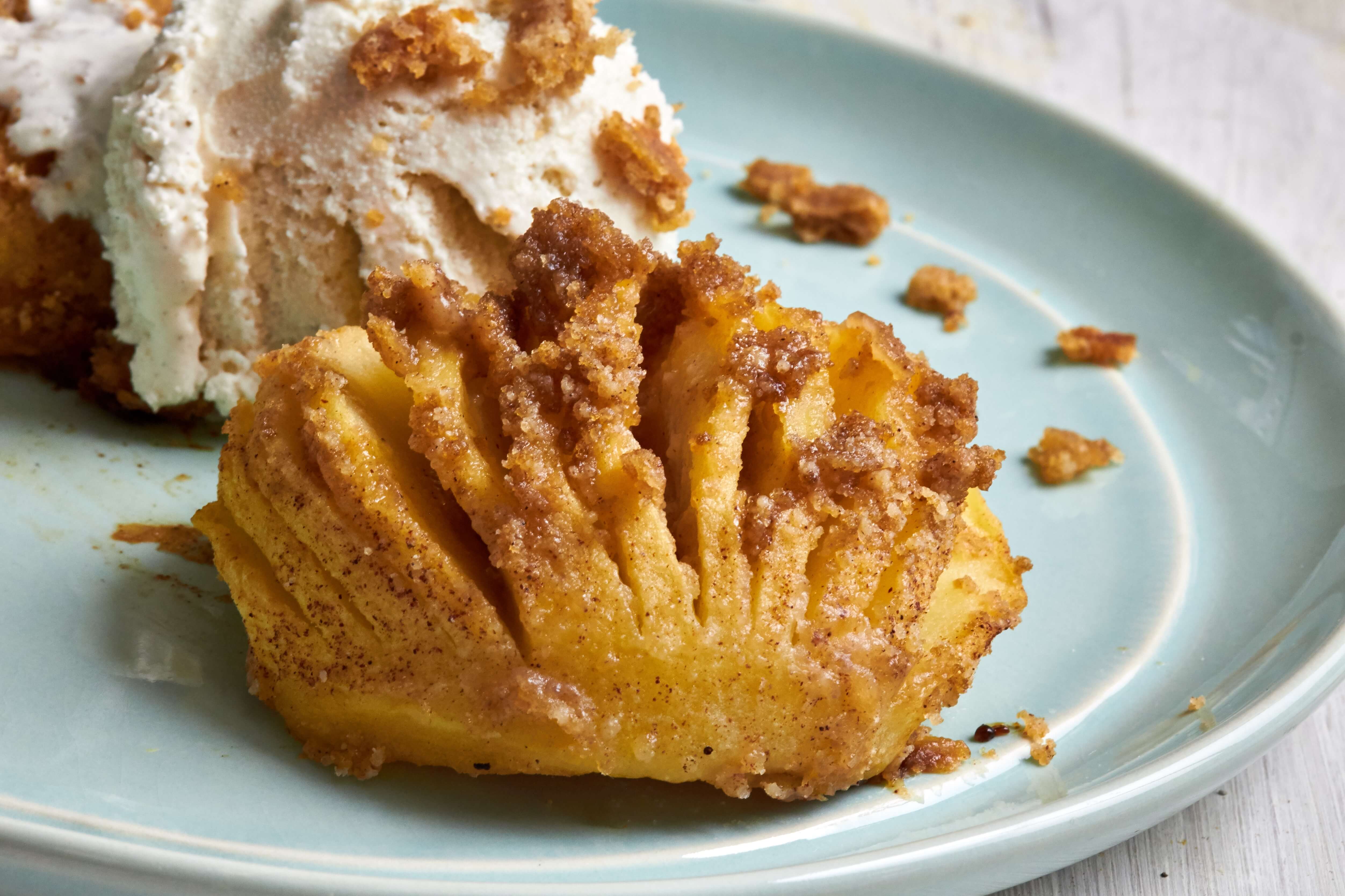 24 Feb

Streusel-Topped Hasselback Apples

I tend to complicate things. I add frangipane to galettes, grate cheddar into pastry dough, and drizzle chocolate whenever I can justify it. Today? I'm simplifying things with Hasselback Apples. Okay, Streusel-Topped Hasselback Apples to be precise, but they're a darned site less complicated than the Cheddar-Crusted Dutch Apple Pie with Gingery Streusel Top I'd been mulling over.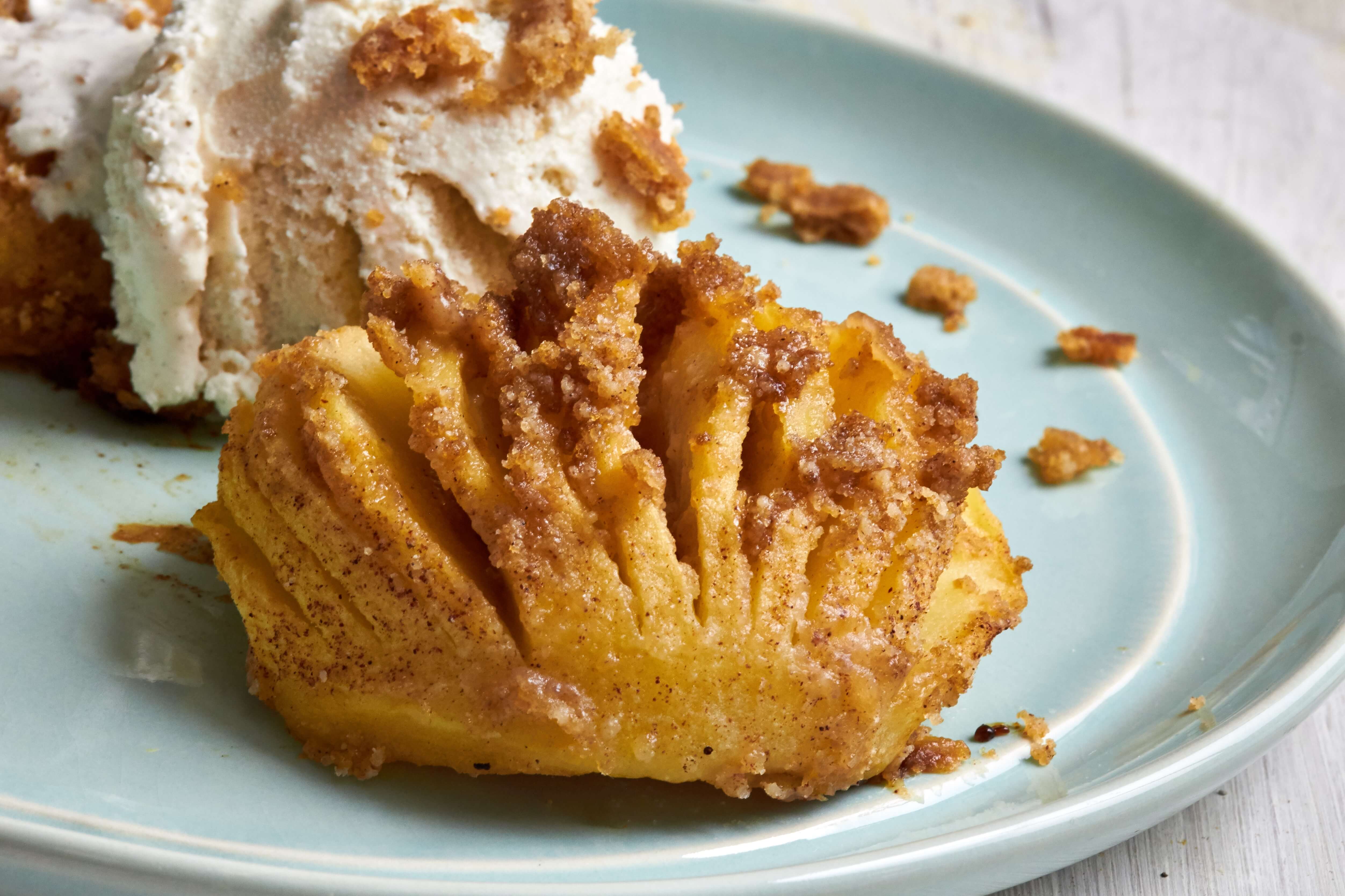 There isn't much of a trick to these but leave it to me to find ways to mess things up. So, be warned, when it comes to Hasselback Apples, bigger is better and firm is a must. If you attempt this recipe with tender apples, like a McIntosh or Gala, you will end up with Hasselback Mush. Tasty but not as visually appealing. Larger apples are best since they're easier to slice and won't overcook quickly. I chose Honeycrisp for their size, firm texture, and sweetness. Golden Delicious or Crispin will work well, too.
Sure, you could hasselback a tart yet firm Russet, Idared, or Northern Spy, but there's little sugar to counteract the tang. Then again, I'm adding a scoop of ice cream, so let your palate be your guide.
Next time I make these — and I will given how they disappeared once I gave my family the green light to nibble — I might top them with cinnamon ice cream or ginger ice cream or… Hmmm. Seems even when I make a concerted effort to simplify things I find a way to complicate them again.
Minimalists can skip the ice cream. And give their scoop to me.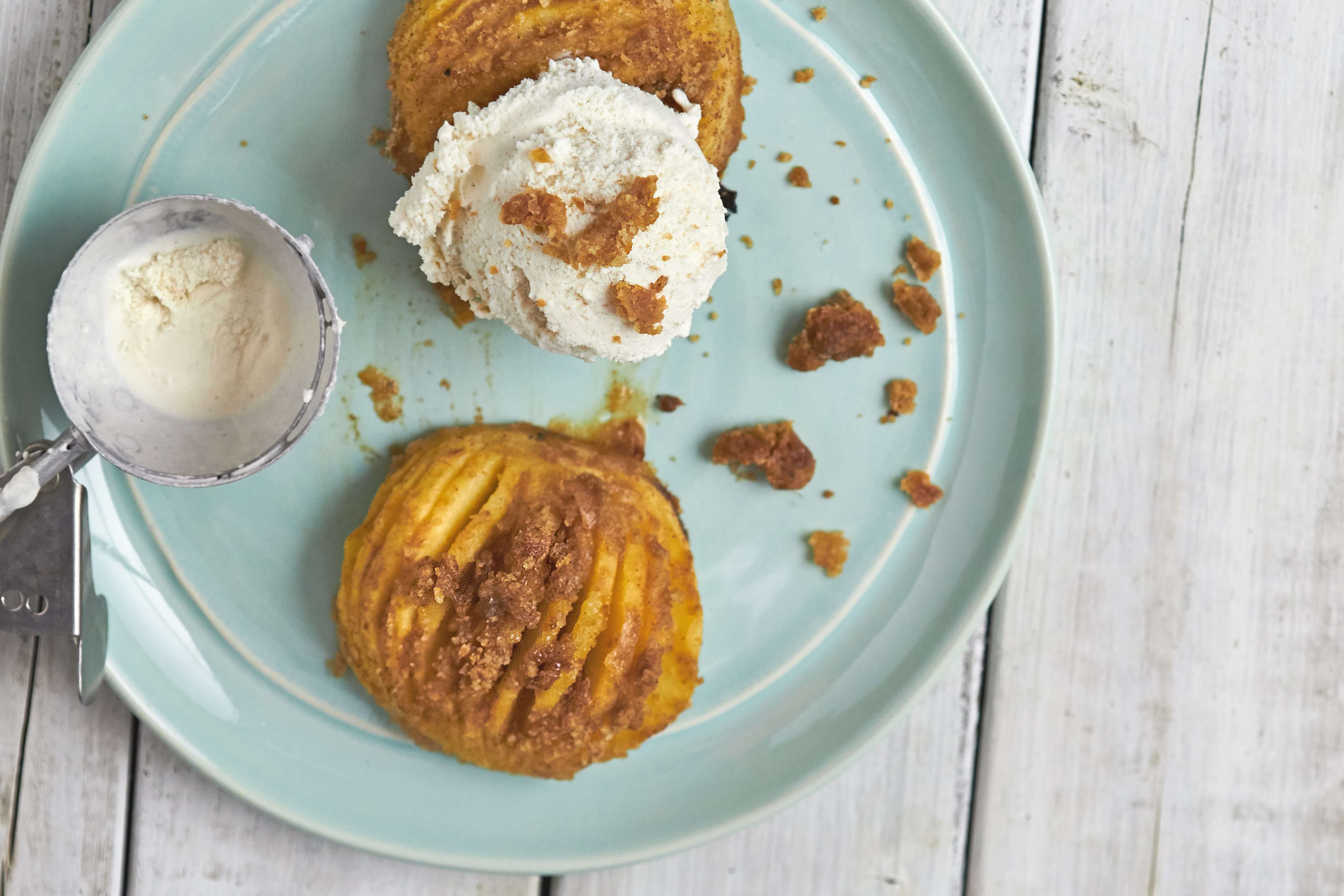 Streusel-Topped Hasselback Apples
Author:
Charmian Christie
Prep / inactive time:
Cook / active time:
Total time:
Streusel-Topped Hasselback Apples These are like personal-sized Dutch apple pies, only without the fuss of making a crust. Revel in the mess. After all, any spills can be scooped up and sprinkled on top for extra crunch.
Ingredients
Hasselback Apples
2 tablespoons melted butter
2 tablespoons brown sugar
½ teaspoon cinnamon
4 large Honeycrisp apples
Streusel Topping
½ cup firmly packed brown sugar
½ cup all-purpose flour
½ teaspoon cinnamon
¼ cup butter, room temperature, in cubes
generous pinch fine sea salt
4 scoops vanilla ice cream, optional
Instructions
Preheat oven to 400°F. Line a rimmed baking sheet with parchment.
Hasselback Apples
In a small bowl, melt the butter and sugar together in the microwave. Alternatively, melt them in a small saucepan over medium heat. Mix until the sugar is melted. Stir in the cinnamon. Set aside.
Peel the apples, then cut in half from stem to bottom. Using a spoon or melon baller, remove the core, leaving as much of the apple as possible.
Place the apple half cut side down on a cutting board and cut ⅛-inch slices being careful you do not cut all the way through the bottom. You want the slices to be like the pages of a bound book held together by a sturdy spine.
Place the apples on the prepared baking sheet. Brush with melted cinnamon butter. Cover the pan with aluminum foil and bake for 20 minutes.
Streusel Topping
In a small bowl, mix the brown sugar, flour, and cinnamon to combine. Toss in the butter cubes and using a fork, cut the butter into the flour until crumbly.
Remove the apples from the oven. Increase oven to 425°F and remove the foil from the apples. Using the fork, top each apple with a good tablespoon of the streusel, using the tines to press the topping between the slices. Repeat until all the topping is used up. Don't worry if some topping falls into the pan. You can gather this up later for extra crunch.
Return apples, uncovered, to the oven, and bake another 10 to 15 minutes. The apples should be tender but not falling apart. The streusel should be crisp.
Let cool a few minutes. Top with vanilla ice cream, if desired. Scoop up and break apart any fallen streusel to sprinkle on top.
Serves 4.
Disclosure
: From time to time I work with companies that are a good fit for my brand. This post is sponsored by the
Ontario Apple Growers
. I have been compensated for creating a recipe of my own choosing. I chose this potentially simple recipe, then tarted it up because I just can't help myself.