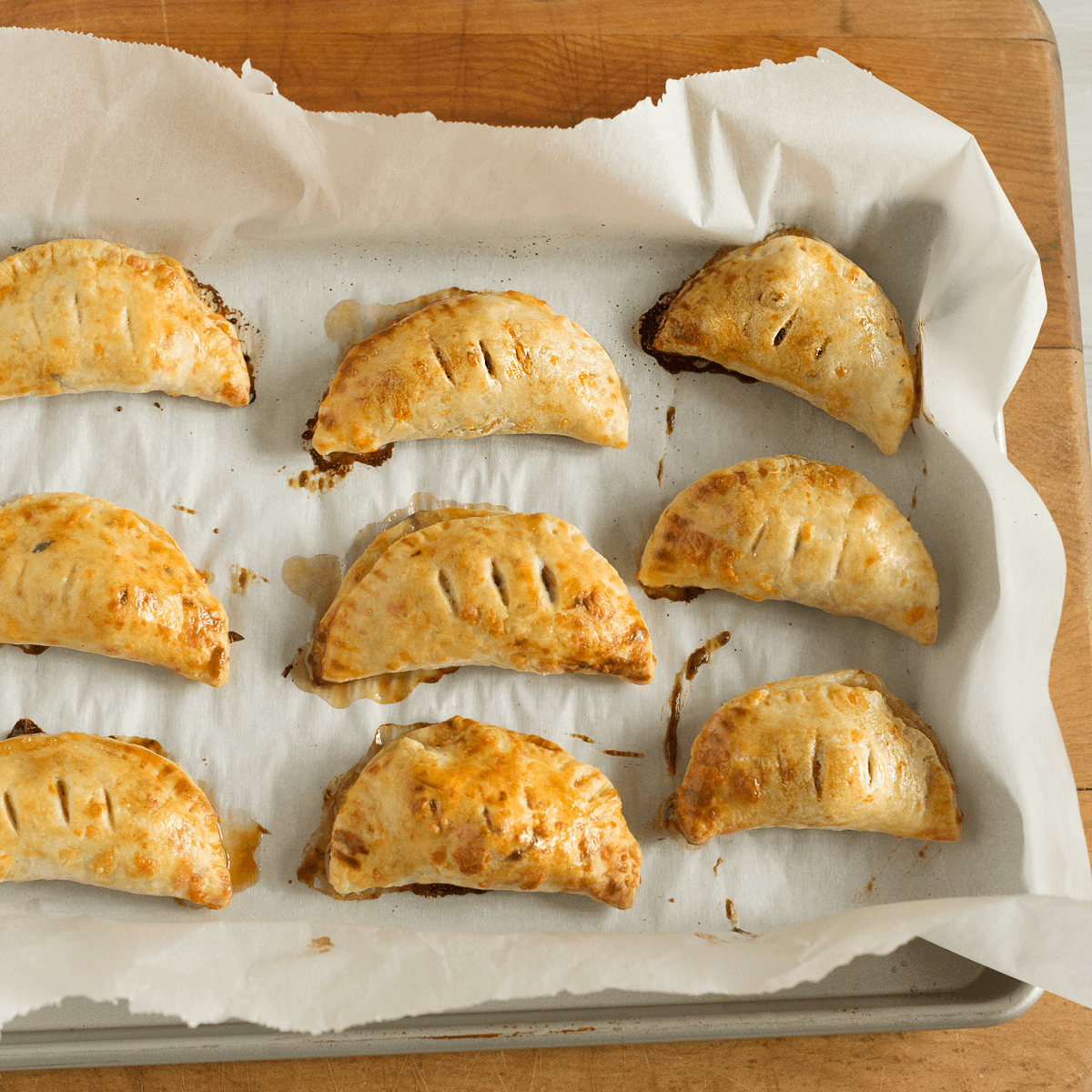 17 Nov

Canadian Clanger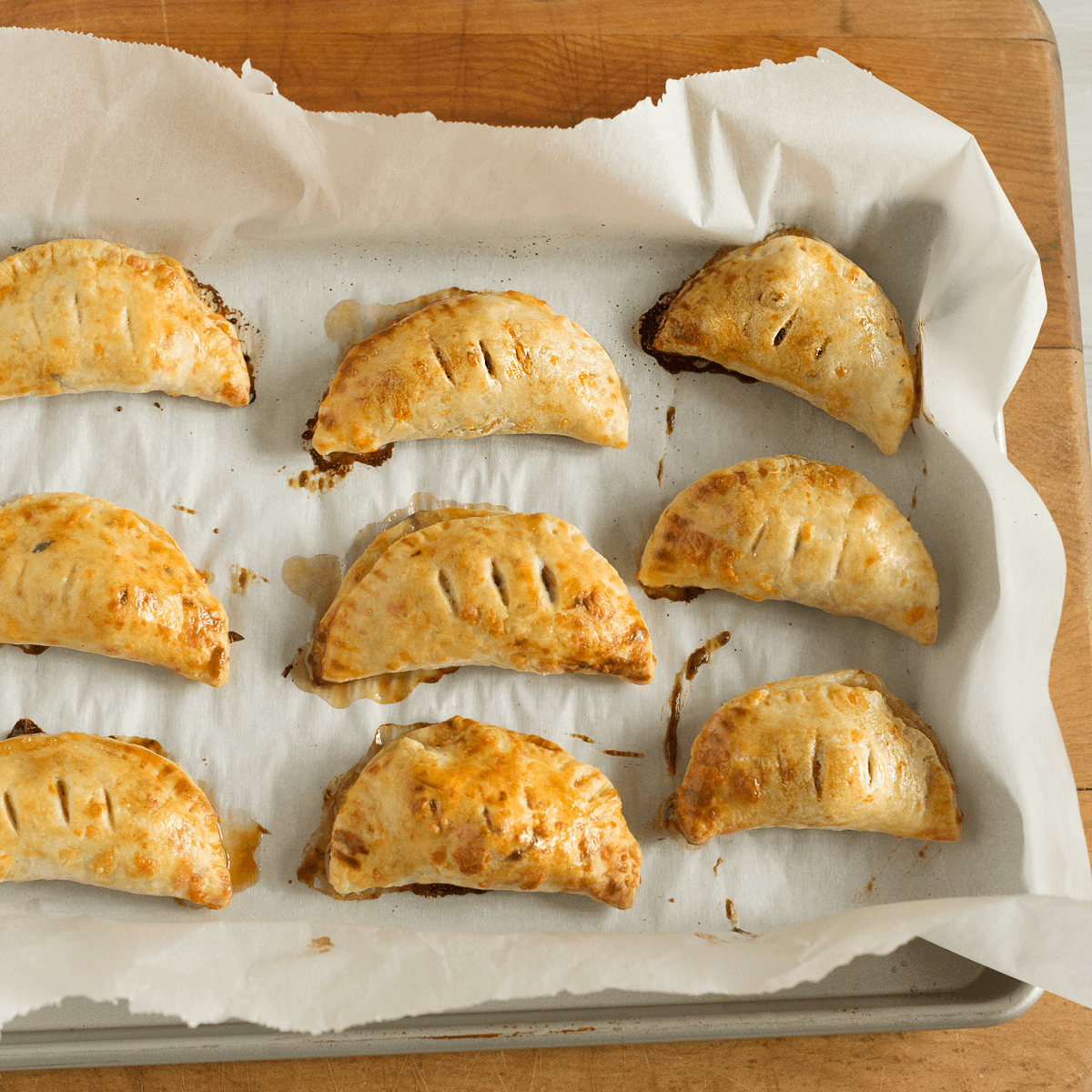 Ignore the standard dictionary. It will tell you a clanger is a blunder, a mistake, and a conspicuous one at that. This pastry is anything but a dud. It's a riff on an old-fashioned Bedfordshire Clanger, a long hand pie stuffed with spiced meat on one end and jam or sweet fruit on the other. It was a practical lunch for field workers as it wrapped dinner and dessert into one portable pastry. The concept intrigued me and I created a Canadian Clanger featuring one of my favourite combinations — apple and cheddar.
The original clanger fuelled hard toiling agricultural workers. My family gardens, but on a hobbyist scale, so I changed the elongated, meal-worthy clanger into a two-bite pastry. The classic Befordshire Clanger's suet crust was not always intended to be consumed, but instead acted as a barrier between the worker's dirty hands and the meal inside. Living with a bunch of pie fans, I knew the crust would be gobbled. So I added old cheddar to my favourite butter pastry. I chose orange cheddar for visual impact. That said, the oldest, sharpest cheddars are white. If you want to use a 2-, 4-, or even 5-year-old, go ahead. The egg wash will give the crust ample colour.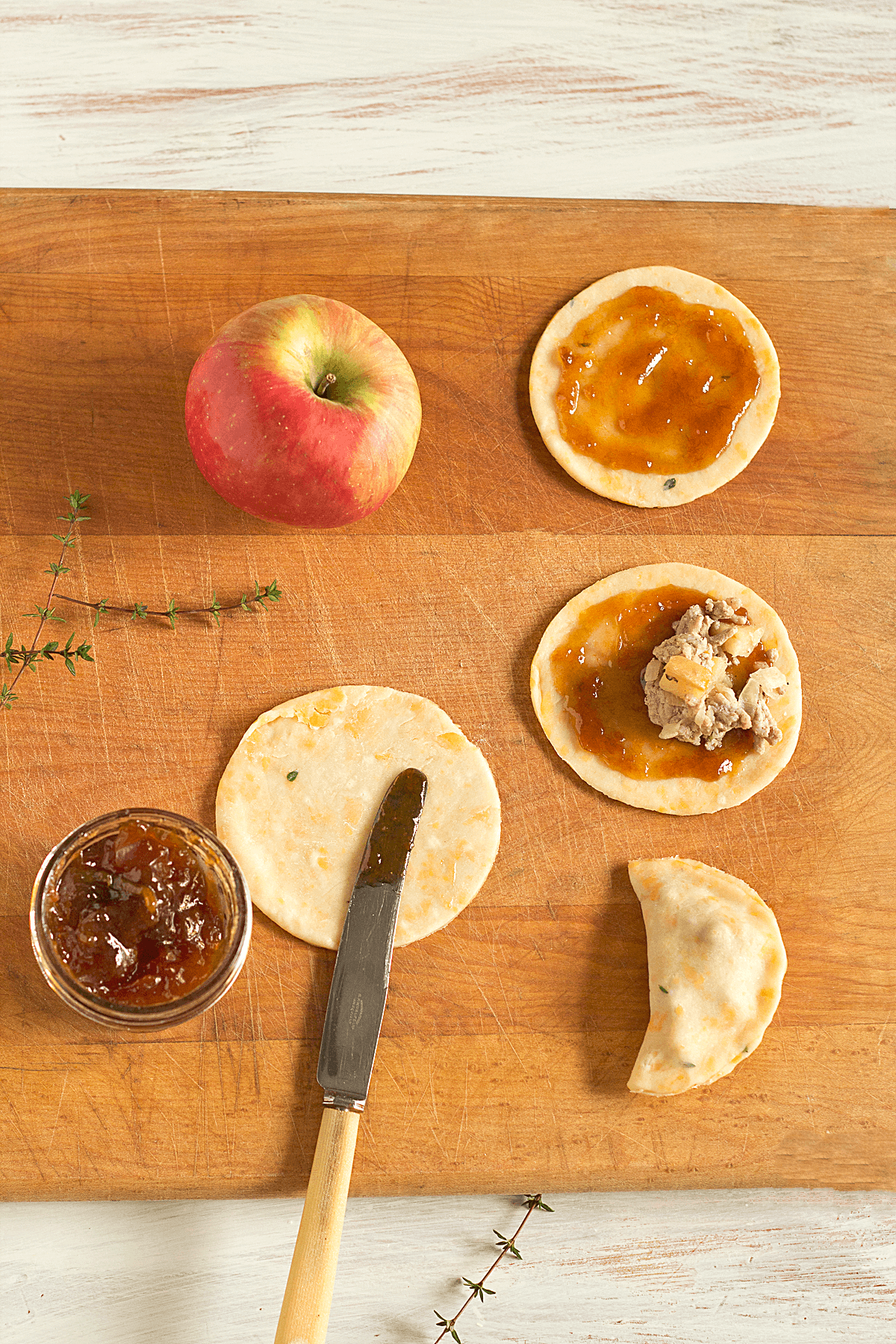 Because of the reduced size, forming a clanger with one side jam and one side meat would be futile. Instead, I sandwiched the filling between a thin layer of jam. Unlike the classic Bedfordshire, with its clear divisions, my version ensures each bite has both sweet and savory. The savory comes from the bacon, pork, onion, and garlic. Apples and a smear of jam provide the sweet. I used my homemade Apricot & Honey Jam, but any store bought apricot jam will do. Just make sure it is a firm jam and not a fruit spread, otherwise your clanger will weep.
I chose Honeycrisp apples because they're firm and sweet. Empire, Jonagold and Fuji are equally good substitutes. If you prefer your apples tart, Spartan, Northern Spy and Idared will work well. Regardless of which apple you choose, just wash, core and chop. No need to remove the skin. If you prefer to peel your apples, go ahead. It won't affect the final results.
The only caution is to make sure you don't over-fill the clanger. For the 4-inch round, I kept the filling consistent by using a 1-tablespoon cookie scoop. If cutting circles is too much work, use a pizza cutter and create rectangles. They can be any size you choose. Cut, fill, fold, and bake. Your filling amount and cooking time might vary, but the results will still be delicious.
Reading this over, I realize I've strayed far from the original Bedfordshire pastry through a series of tiny, well-intentioned steps. Cheddar crust. Small size. Fruit mixed with meat. A coating of jam. To the traditional Bedfordshire fan, my version might well be a clanger — in the dictionary sense. To my Canadian taste testers? They are "mighty tasty". I'll go with that.

Canadian Clanger
Author:
Charmian Christie
Prep / inactive time:
Cook / active time:
Total time:
This pastry is a riff on the British workman's lunch called the Bedfordshire Clanger, which was a hand pie stuffed with spiced meat on one side and jam on the other. This version is reminiscent of apple roasted pork, wrapped in a cheddar crust, with a smear of jam as a nod to the pastry that inspired it.
Ingredients
Cheddar Crust
2½ cups all-purpose flour
1 tablespoon fresh thyme (optional)
1 teaspoon fine sea salt
1 cup COLD unsalted butter (if using salted butter, omit sea salt)
4 ounces old cheddar (about 1 cup grated)
6 tablespoons ice water
1 tablespoon white vinegar
1 egg yolk
Filling
2 strips bacon
1 onion, finely chopped
1 clove garlic, finely chopped
1 pound ground pork
1½ cups apples pieces, skin on, cut into ¼-inch cubes
1 cup grated fennel
Fresh ground pepper
Salt to taste
1 cup apricot jam
Egg Wash
1 egg yolk
1 tablespoon milk
Instructions
Crust
In a large bowl, whisk the flour, thyme and salt until blended. Using the large holes of a box grater, grate the butter over the flour. Toss to coat butter. Add grated cheddar and toss to combine evenly.
In a small bowl or measuring cup, whisk together the ice water, vinegar and yolk. Pour the egg mixture over the flour, mixing in with a fork. When the dough becomes too heavy for the fork, work with your hands until it forms a ball. Divide the dough in two, forming each piece into a disk. Wrap in plastic wrap and refrigerate at least a half hour.
Filling
In a large skillet, over medium-high, cook bacon until crisp. Remove bacon and set aside to cool, leaving drippings in the pan. Reduce heat to medium, add onions and cook until they soften. Add garlic, cook another minute. Add pork and cook, stirring often, until pork is no longer pink, about 5 to 8 minutes. Transfer pork mixture to a large bowl. Crumble bacon and stir it into the pork.
Return the skillet to the heat without wiping it out. Cook the apple pieces over medium until they are just becoming soft but are still firm, about 5 minutes. Add the grated fennel and cook 1 minute to soften. Add the apple-fennel mixture to the pork, stir to combine well. Add a good grinding of black pepper and salt to taste. If your bacon is very salty, you might not need to add any extra salt.
Assembly
Preheat oven to 400F. Line a rimmed baking pan with parchment.
While the dough softens on the counter for a few minutes make the egg wash by whisking the yolk and milk until smooth with a fork.
Place one disk of dough on a lightly floured work surface and roll to ⅛-inch thick. Cut 4-inch rounds. Spread jam on each round, leaving a ½-inch around the edge. Place 1 tablespoon filling in the centre. Wet half the edge of the dough with a finger dipped in water. Fold the dough over the filling to form a half moon. Pinch the edges then crimp with a fork. Brush the top with egg wash and cut three small slits to allow steam to escape. Repeat with second disk of dough.
Bake 15 to 18 minutes or until the crust is golden and the filling is hot and bubbly.
Note: Any leftover filling can be frozen or used to fill an omelet.
Disclosure: From time to time I work with companies that are a good fit for my brand. This post is sponsored by the Ontario Apple Growers. I have been compensated for creating a recipe of my own choosing. This truly original Canadian Clanger is the result.