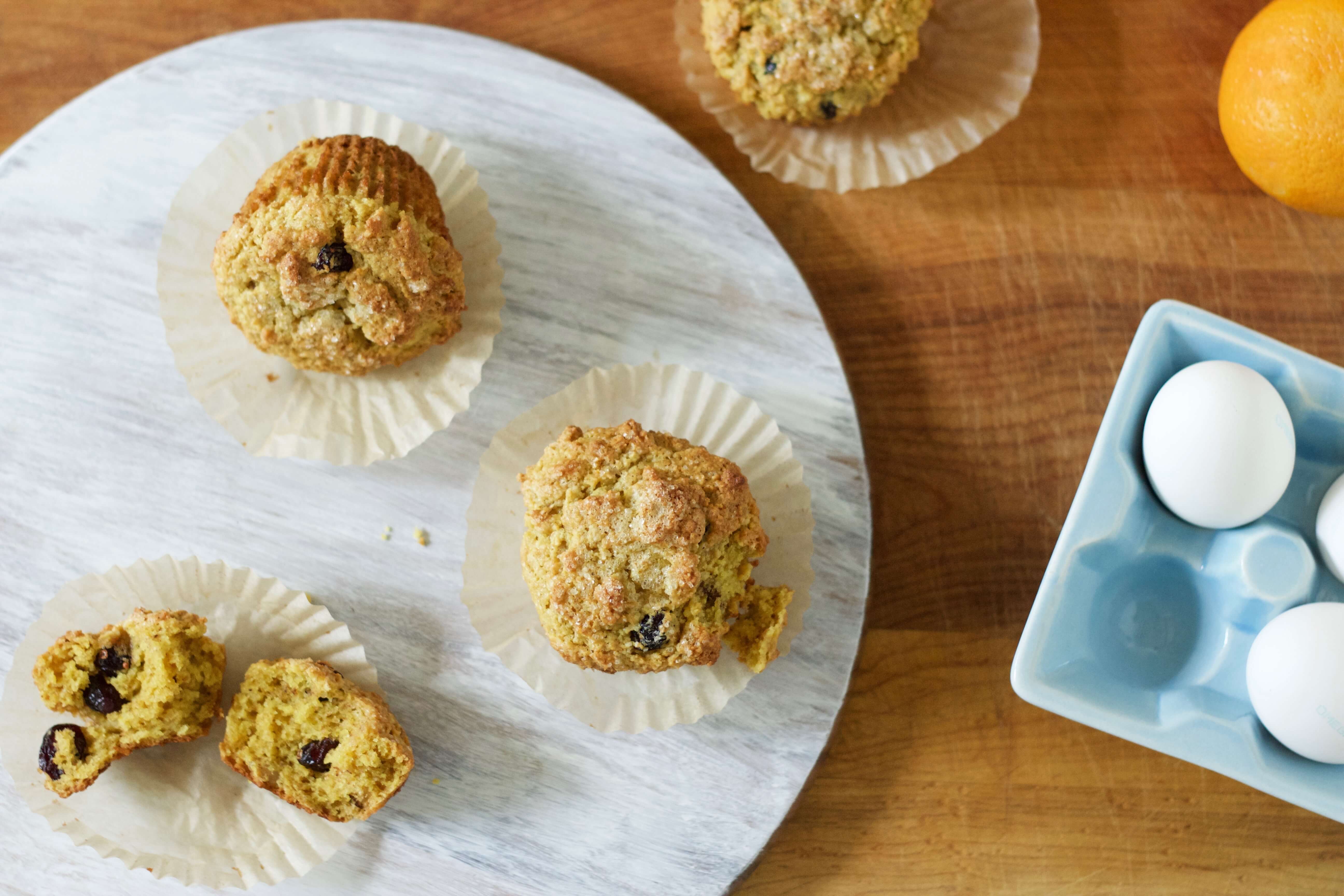 24 Sep

Cranberry Orange Muffins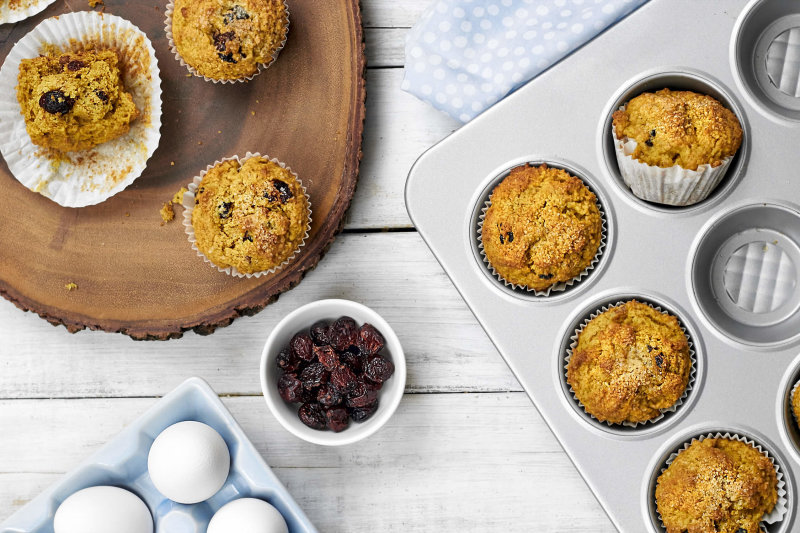 Growing up, there were always muffins in the kitchen. They were usually buttermilk bran dotted with golden raisins. They needed a smear of butter and a cup of tea, but my dad loved them, so they made appearances again and again. And again.
At some point, Canadian Living published an article on muffins, and for one glorious baking streak we were treated to an array of non-bran muffins —  ginger muffins, cinnamon apple muffins, and an unusual orange and date muffin that required you grind an orange up in the blender. Whole, no less.
The ginger and apple muffins were pleasant but my sister and I loved the orange ones. Mom used raisins instead of dates, but otherwise followed the recipe. And for a while these intense muffins made regular appearances at our table. They didn't need butter, or tea, or anything but a bit of self-restraint. I could eat two or three at a time if no one was looking. But people were always looking.
For some reason, the orange blender muffins disappeared from the rotation. Bran returned to its place as King of the Afternoon Snack, and the zesty orange recipe was forgotten.
Earlier this month, I was at a friend's house. Her mother had made muffins. One bite in, I stopped chewing. "I know these muffins!" I said, spitting crumbs in my excitement. "My mom used to make these!"
Like my mom, Jennifer's didn't use the dates. But instead of raisins, her muffins were studded with dried cranberries. Brilliant! Why had we never thought of that?
She also added chopped pecans, substituted whole wheat flour for half the all-purpose, and cut back on the sugar, butter and salt. Despite those changes, the intense orange was unmistakable. I was right back in high school having a snack. I ate three muffins for old time's sake. And I don't regret a bite.
This is my updated version of the muffin I used to enjoy 30+ years ago and rediscovered at a friend's. I added vanilla to smooth things out, used walnuts because I love their bite, and fiddled with the sugar, butter, salt. But that orange still goes into a blender whole.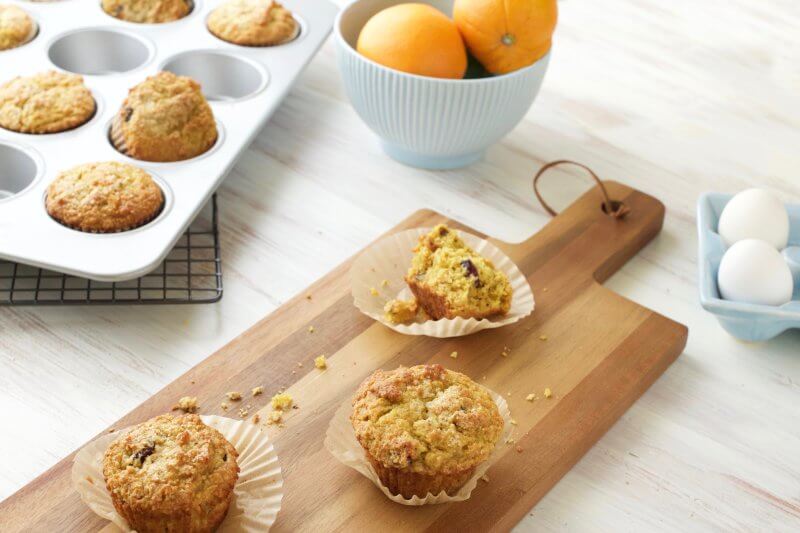 I made these Cranberry Orange Muffins in my Vitamix using the Smoothie program, and the orange purée was smooth as silk. Make sure your butter and egg are at room temperature, otherwise you might need to run the cycle a second time. Otherwise, they're a cinch to make. See the video proof…
Cranberry Orange Muffins Video
Want to win a Vitamix? Visit my Cranberry Ice Cream post for details. I'm joining six other bloggers for a Virtual Friendsgiving celebration and we've all created a special dish for the event. The ice cream is my contribution, but drop by the post to see what other mouth-watering dishes are in store. There's soup, salads, appetizers and even dessert. Contest closes October 7, 2016.

Cranberry Orange Muffins
Author:
Charmian Christie
Prep / inactive time:
Cook / active time:
Total time:
Normally, you desperately want to avoid an orange's bitter white pitch. But in this recipe, you grind up the entire orange — pith and all. Despite this unusual step, the resulting muffin is anything but bitter. The only trick is to ensure your butter and egg are at room temperature in order to get the smooth purée that makes this recipe so special. Oh, yes. And don't overmix.
Ingredients
1 medium-large orange, washed
½ cup orange juice
1 large egg, room temperature
½ cup butter, room temperature, cut in cubes
1 teaspoon vanilla extract
¾ cup all-purpose flour
¾ cup whole wheat flour
¾ cup white sugar
1 teaspoon baking powder
1 teaspoon baking soda
½ teaspoon fine sea salt
½ cup dried cranberries
½ cup chopped walnuts
Turbinado sugar, for sprinkling (optional)
Instructions
Preheat oven to 375F. Line a standard 12-cup muffin pan with paper liners.
Chop the orange into chunks. Discard the stem and any seeds.
Place the orange juice, orange pieces, egg, butter, and vanilla in the Vitamix container.
Secure the lid, set to Smoothie and run the program. The resulting orange mixture should be very smooth. If your butter is too cold you might have to run the program a second time.
In a large bowl, whisk together the flours, sugar, baking power, baking soda, and salt until well combined. Add the cranberries and walnuts. Toss to distribute evenly.
Pour the orange purée over the flour mixture, and fold until blended, being careful not to overmix.
Spoon the batter evenly into the muffin cups. Sprinkle lightly with turbinado sugar, if using. Bake 15 to 20 minutes.
Let cool before serving. Enjoy warm or at room temperature.
Disclosure
: From time to time I work with companies I feel are a good fit for my brand. Two years ago, I bought myself a Vitamix, and feel I can promote them without reservation. I received compensation for creating the recipes for this giveaway. I also received a Vitamix to help create the recipes. Yes, I now own two. And no. You can't have my spare.