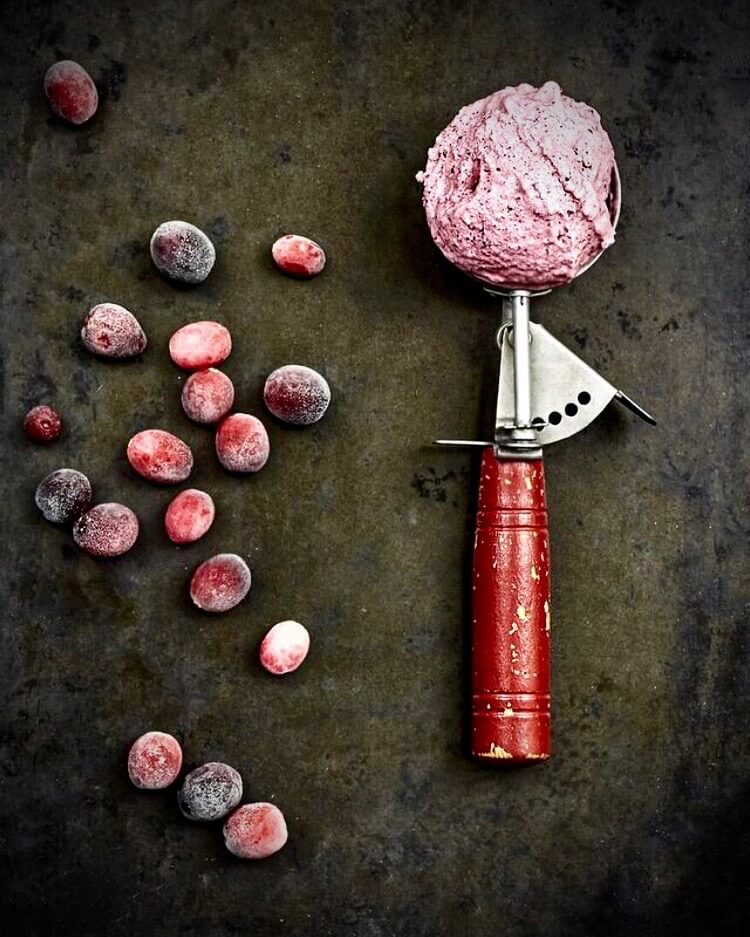 22 Sep

No-Churn Cranberry Ice Cream + Vitamix Giveaway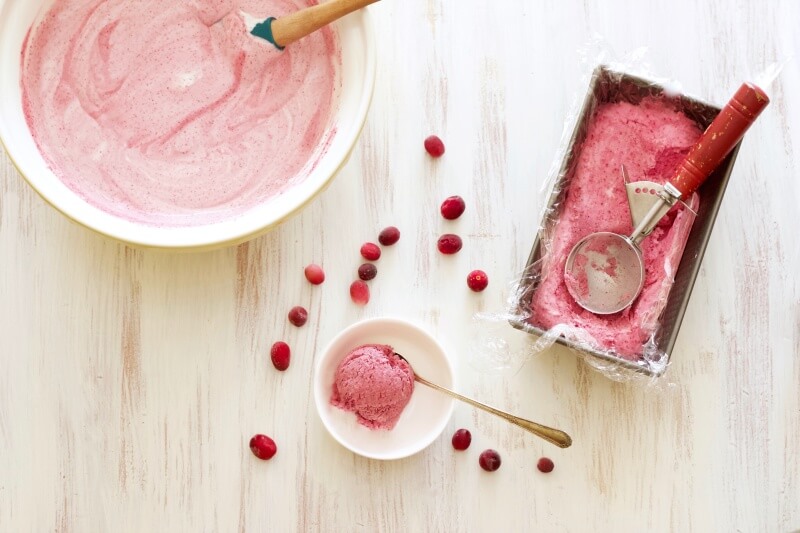 No-churn cranberry ice cream. Try saying that three times fast. Or four. Because that's how often I've made this in the past couple of weeks. I'd have gained weight had it not been for my selfless family and friends who came to my waistline's rescue by grabbing spoons and bowls, and even spare Tupperware for the cause. They came, they gobbled, they approved.
Despite the enthusiastic response, I'm a bit miffed at myself that it took me so long to get the recipe right. A couple of years ago, I bought myself a Vitamix "for smoothies." It's been my go-to blender ever since. I know what it can do. This ain't my first Vitamix rodeo. But when I was asked to create something for the Friendsgiving giveaway, I got an ice cream brain-freeze. I created a very traditional  recipe involving no less than seven (7!) steps  — steeping aromatics in cream, tempering egg yolks, cooking a custard, cooling the base in an ice bath, chilling, churning, and then chilling again. All the Vitamix did was mash up the cooked cranberries, and frankly, I could have done that with an immersion blender. This was supposed to be a recipe you'd bring to a potluck with friends, not a visit with the Queen.
And then it hit me. It's a Vitamix. Let it do the heavy lifting. So, I created a cranberry twist on the basic no-churn method. Because this recipe is so simplified, almost every ingredient plays a key role. Condensed milk has had most of the water evaporated away. As a result it's very thick and produces a smooth texture. It also provides the sweetness to balance the tart berries.  The alcohol prevents ice crystals, which is the whole purpose of a granita, but the bane of good ice cream. Whipped cream adds aeration, which is missing since we aren't churning the base. Using frozen cranberries speeds up the chilling time, but in a pinch, you can use fresh. Cooked berries not only take more time, they release their liquid, which counteracts the evaporated milk. They would turn this smooth ice cream into crystal-cursed soup. The vanilla and salt aren't crucial to the texture, but they round out the cranberries' hard edges.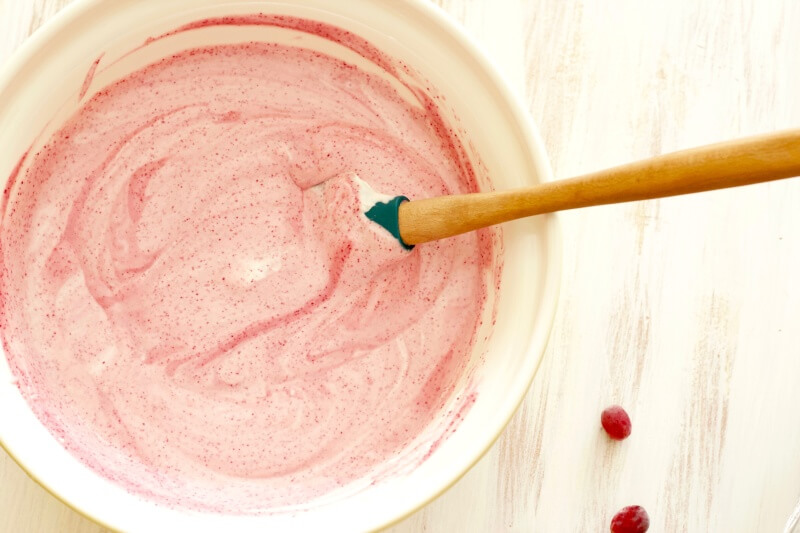 You'd expect something this candy-pink to taste like maraschino cherries, but it's got a tang that makes it refreshing, and enough bite to stand up to a sweet, cinnamony slice of hot apple pie.
This tangy, no-churn cranberry ice cream is my contribution to a virtual Friendsgiving. I'm joining with six other bloggers to celebrate good food and good friends over the holidays. (See links to their recipes below mine). I hear Friendsgiving is a relatively new thing, but we've always done a variation on it. Each year, Mom asks us who we'd like to join us for Thanksgiving. She provides the roast beast and stuffing, the rest of the guests bring a dish. I'm usually assigned dessert. And while I'm not sure what baked good I'll bring, it will definitely have a cranberry topping.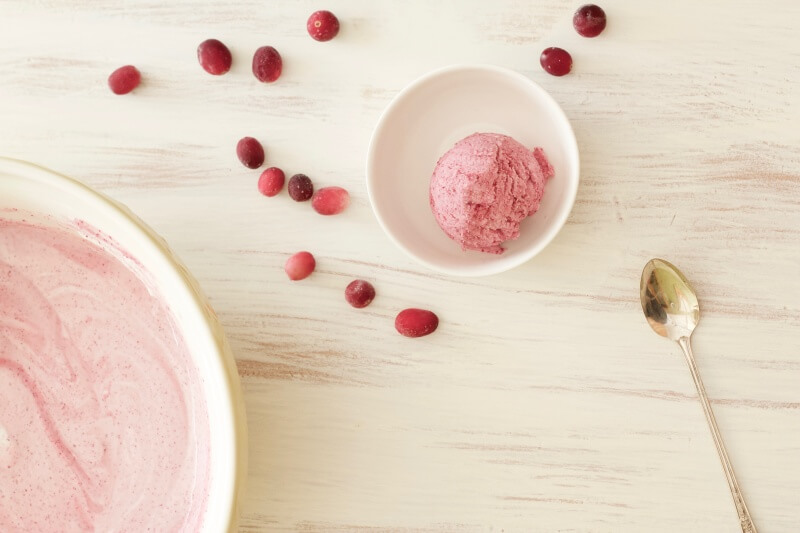 See how easy it is to make?
And now onto the recipe.

No-Churn Cranberry Ice Cream
Author:
Charmian Christie
Recipe type:
Ice Cream & Frozen Treats
Prep / inactive time:
Total time:
Who says cranberries are just for sauce for the turkey? This tart and tangy ice cream earns a place at the Thanksgiving table. It's delicious on its own or atop a slice of apple pie. With frozen cranberries available year-round, you can enjoy this whenever the mood strikes.
Ingredients
2 cups whipping cream, cold
1 can (300 mL) sweetened condensed milk
2 tbsp orange liqueur (or vodka)*
1 teaspoon vanilla extract
Pinch fine sea salt
4 cups frozen cranberries
Instructions
Pour cold cream into the Vitamix and secure lid. Turn the machine to 1 and slowly increase to 10 until cream is whipped. This takes about 30 to 45 seconds. Transfer the whipped cream to a large bowl.
In the same Vitamix container, add the condensed milk, liqueur, vanilla and salt. Secure the lid, remove the plug and insert the tamper. Purée on the Smoothie setting, tamping the fruit down as needed. Let the cycle finish.
Pour the cranberry mixture into the whipped cream. Fold gently until fully incorporated, but try to keep as much air in the whipped cream as possible.
Pour the ice cream into a freezer-safe container or a baking tin lined with plastic wrap. Cover and freeze until solid, about 4 hours. Allow to soften at least 10 minutes before scooping, longer if frozen overnight.
Notes
* The alcohol is crucial to keeping this ice cream smooth. Because alcohol freezes at a much lower temperature than water, it prevents ice crystals from forming. You can omit this, if you like, but the texture will be more grainy.
What have the other participants bringing cooked up for our Friendsgiving virtual potluck? Grab a napkin and check out their offerings. Be sure to scroll to the end for contest rules and  Vitamix giveaway entry form.
Appetizers
Butternut Squash and White Bean Dip | Sweet and Savoury Pursuits
Mediterranean Style Roast Pumpkin Salad with Spicy Harissa Vinaigrette | Two Purple Figs
Roasted Fennel Soup with Herbed Crostini | Simply Fresh Dinners
Main
Brown Butter Butternut Squash Gnocchi with Sage | The Girl on Bloor
Vegan Mushroom Gravy | The Endless Meal
Desserts
Pumpkin Madeleines with Spiced Maple Glaze | Food Nouveau
Want to enter?
Just fill out the Rafflecopter entry form below.
Want more chances to win?
Drop by the six other Friendsgiving particpants and enter there.
How's the giveaway work?
The Giveaway consists of one prize – A Vitamix Blender – The Total Nutrition Centre valued at $579.00
The Giveaway is open to residents of all provinces, territories of Canada only. You must be 18 years of age and older to participate.
The winner must answer this skill testing question. 162 plus 42 divided by 2.
The contest closes at midnight, October 7th. The winner will be contacted October 8th.
Relatives of participating bloggers are ineligible to participate.
All seven bloggers participating in this Giveaway have received a Vitamix blender as compensation.
How does Rafflecopter work?
To enter the giveaway, login using either your email or Facebook. Once you login, you'll be given 15 chances to enter the contest by liking or following each bloggers' Facebook and Instagram accounts.
To get your Facebook entry, click the button for the Facebook page you want to like, like the Facebook page, then click "I visited." Easy!
To get your Instagram entry, click the Instagram account you want to follow, follow the account, then type the name of the account into the box and click "Enter. "
Good luck and Happy Friendsgiving!
a Rafflecopter giveaway
Disclosure: From time to time I work with companies I feel are a good fit for my brand. Two years ago, I bought myself a Vitamix, and feel I can promote them without reservation. I received compensation for creating the recipes for this giveaway. I also received a Vitamix to help create the recipes. Yes, I now own two. And no. You can't have my spare.