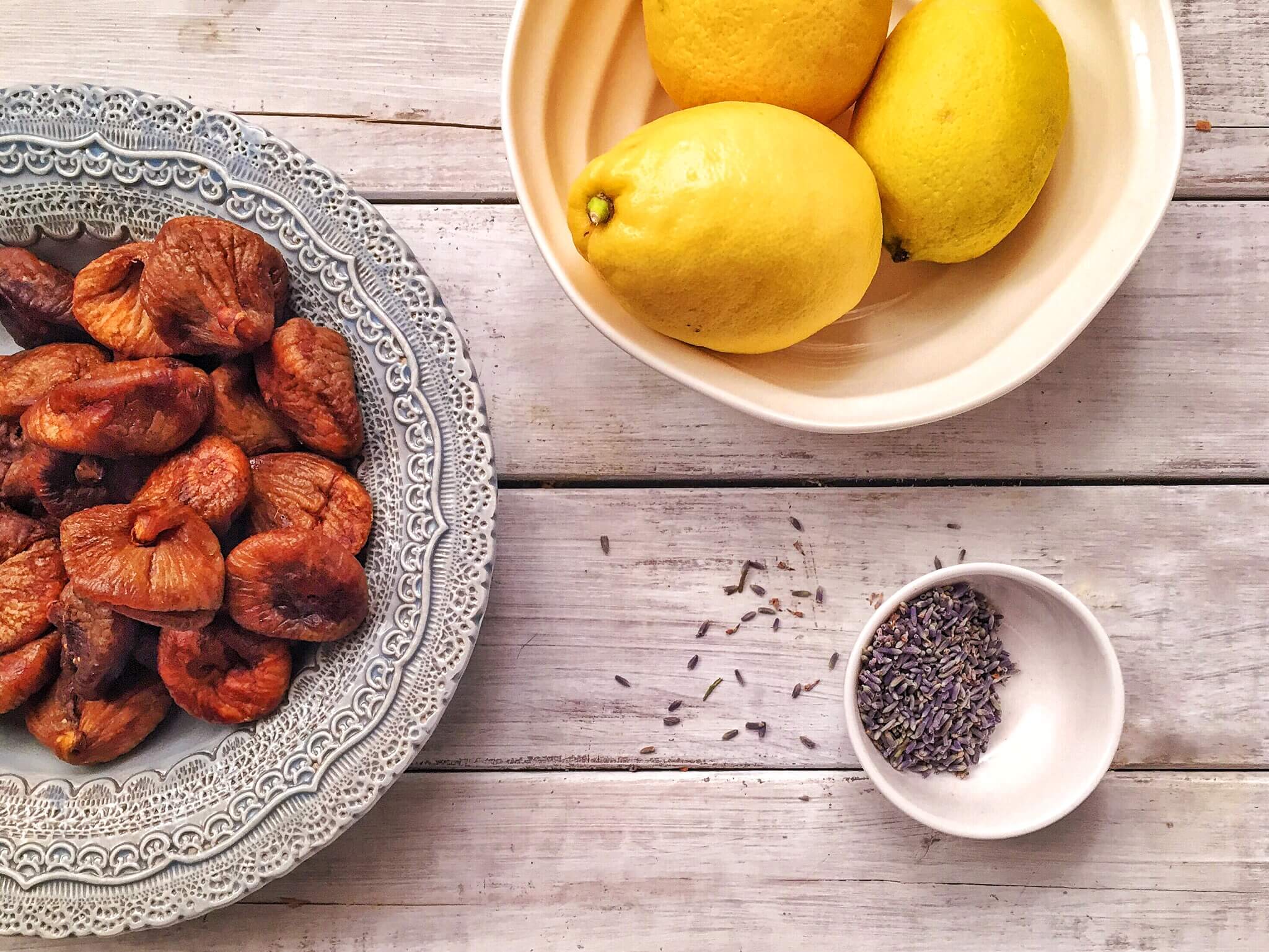 08 Jun

Lemon, Fig and Lavender Marmalade with Sarah B Hood

Last year my garden burst with lavender. This spring, only a few leggy plants survived. Too little snow. Too much thawing. Too  much freezing. Or maybe the plants sensed my neediness and fled. I need lavender this summer, and lots of it. For the esthetics, for baking, and most of all, for marmalade. Lemon, Fig and Lavender Marmalade to be exact.
I made a batch with Sarah B. Hood, author of We Sure Can (Arsenal Pulp Press ©2011), which is one of my favourite preserving books. The one that showed me you can preserve without added pectin. The one that persuaded me to buy a jelly bag and make my own from local apples. The one that had me making Baco Noir Wine Jelly so often friends and family suggested I try something else — black currant, perhaps?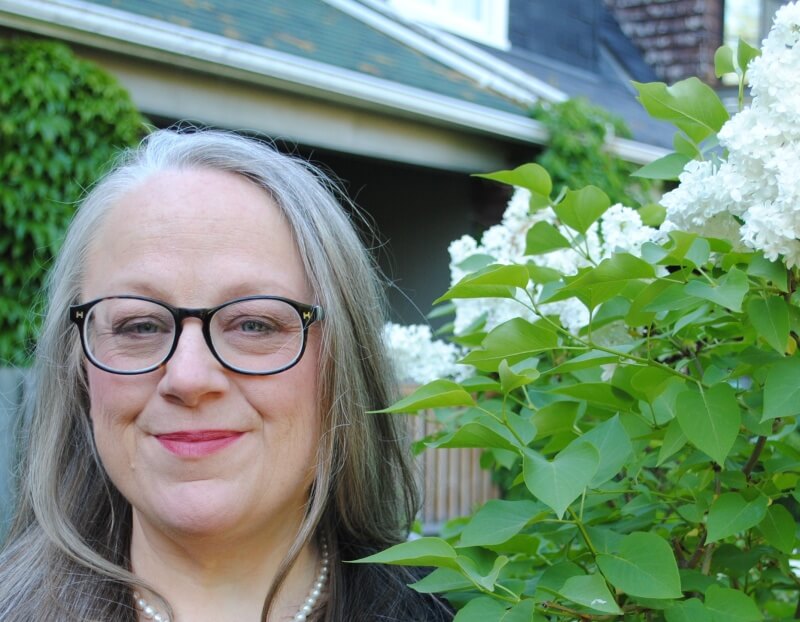 A while ago, Sarah kindly trekked all the way from Toronto to cook in my kitchen. We made Lemon, Fig and Lavender Marmalade, which was a huge success, and attempted kouign amann (pronounced queen aman), which was less so. But that's another story for another time. Perhaps once I've perfected the fussy pastry.
However, the marmalade was perfection.
We began with softened lemons, which I had boiled the night before. I knew this would make the lemons soft and pliable, but balked at the 5 (five!) tablespoons of dried lavender. As we slivered the lemon rind, Sarah assured me it marmalade would not taste soapy, as I feared. Skeptically, I added the required amount of lavender, secretly thinking of ways to balance the flavour when I used the finished preserves.
There was no need. The figs and lemons kept the lavender in check. Three flavours. One perfect blend. What more could you want? Other than a batch of hot scones.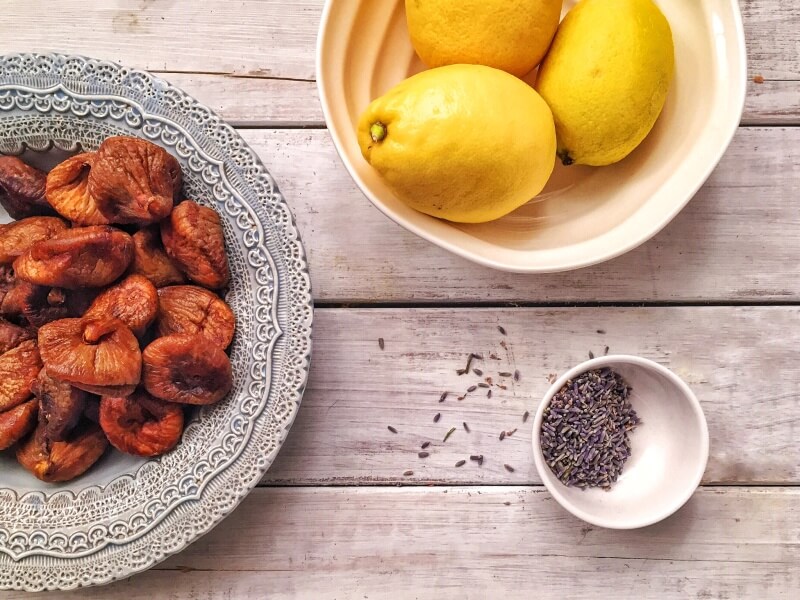 The marmalade process wasn't anywhere neat, and it certainly wasn't quick. But it definitely was worth the time, energy and clean up. Sarah snapped this photos as I tightened jar lids on the finished preserves.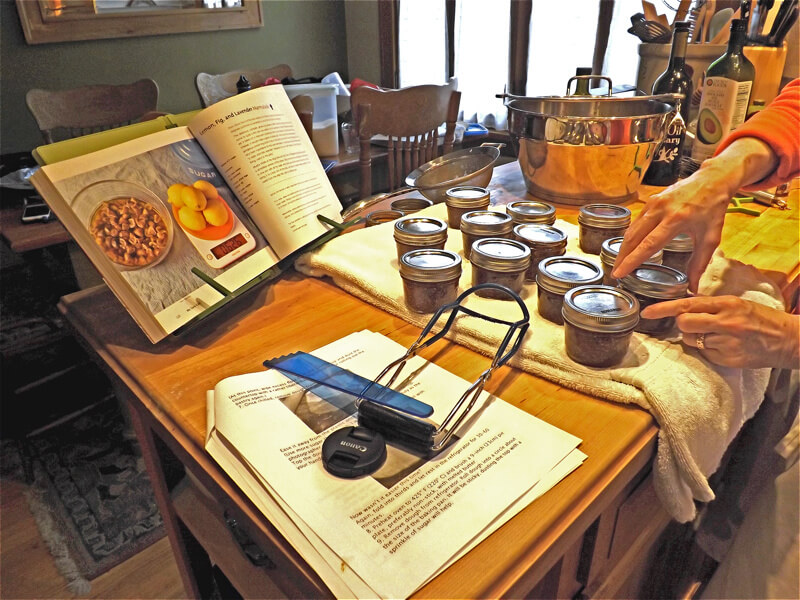 I originally intended to provide a long, detailed recounting of our day, but my hands were busy and my cryptic scribbled notes were useless. My candid photos were even worse. And to be honest, I think you had to be there. So, I'm dusting off my culinary version of the Proust Questionnaire. It's been too long. And Sarah is the perfect guest to jumpstart this tradition.
My Not-So-Proustian Quiz with Sarah B. Hood
What is your earliest kitchen memory?
Very vague recollections of an apartment kitchen in Hartford, Connecticut from before I was three. Toast strips may be involved somehow.
How did you learn to cook?
I'm still learning. But my mom let me play in the kitchen, and gave me good pointers and a cookbook I loved. My Home Ec class in high school taught me how to chop an onion (useful) and how to make a dessert with honeydew melon balls and whipped cream (not so much). Since then, I've learned from friends, from books, and from jobs like my summer stint in an army kitchen cooking three squares for 2,000 troops a day.
What was the first dish you ever made?
Bacon and eggs, I suppose. Also, I was nuts about make-at-home pizza kits for a while. They don't seem to have those any more. You added liquid to a mix to make up the dough, and topped it with their sauce and grated parmesan cheese, plus anything else you had at home. It was a lot of fun.
What's your must-have kitchen gadget?
I'm very fond of my cobalt-blue enamel colander.
Molecular gastronomy: The height of culinary fashion or unwearable haute couture?
I like the ice-cream party trick with the liquid nitrogen, but you can keep the enoki foam, thanks.
Favourite smell in the kitchen?
Oh, so many. Minced garlic hitting hot butter is pretty good. So is baking bread. But nothing beats Seville oranges bubbling away in the dead of winter.
Favourite sound in the kitchen?
Butter sizzling in a cast iron frying pan.
What was the best piece of culinary advice you ever received?
My mom gave me two: assemble all your ingredients before you start, and clean as you go.
Who is your culinary hero and why?
My sweetie Jonathan, who spent many years "cheffing out" in restaurants and hotels. He's taught me a lot, and always sharpens knives when I ask him to.
What dish, if any, haunts you and why?
Chalet BBQ chicken from Sherbrooke Street in Montreal. I will be shaken to my core if that place closes in my lifetime, because it seems eternal.
If you could ask anyone (dead or alive) to dinner, who would it be, and why?
I've always wanted to chat with Charles Dickens, so him.
Cilantro: Best herb on earth or tastes like unwashed socks?
Love it: yum!
What is your culinary motto?
Don't beat yourself up.
Do you listen to music while you cook? If so, what?
I would have said no, but I see that I have a playlist called "Cooking", which is a typically eclectic mix of international music, jazz, pop and Beatles.
Have you and your significant other's palates clashed? If so, how did you overcome the culinary conflict?
Jonathan doesn't like "sweet with his meat", so I'm on my own with the chutneys. Also, I pick the whole garlic cloves out of some of his dishes (like mashed potatoes).
How do you take your coffee/tea?
Coffee with lots and lots of milk, no sugar.
What's your weakness? Savory or sweet?
Both, I'm afraid.
Chocolate or vanilla?
Vanilla.
Have you ever used an Easy-Bake oven?
Oh yes; I loved mine. The little pans were delightful. Also, it was interesting to use a toy that could burn you so badly if you weren't careful.
Onto the recipe. Thanks to Sarah for sharing her expertise, her stories and her time. I'll conquer kouign amann again when I'm feeling up to the challenge. Or maybe I'll just settle for scones with Lemon, Fig and Lavender Marmalade.

Lemon, Fig and Lavender Marmalade
This delicious, complex, grown-up preserve has a strong, tangy lemon flavour and will set quite firm.
Ingredients
5 lemons
3½ cups water (for lemons)
2 cups dried figs, about 18
3½ cup water (for figs)
5 tablespoons dried lavender
5 cups sugar
Instructions
Scrub the lemons in warm, soapy water to remove any wax, pesticides or dirt. Rinse thoroughly.
In a wide, deep non-reactive pot with a thick bottom on medium heat, combine the lemons with 3½ cups water. Bring to a boil on the stovetop, then reduce heat to low, cover, and allow to simmer for 2½ to 3 hours. (Or put the covered pot in the oven at 200°F/ 95°C for 2½ to 3 hours.)
Meanwhile, remove stems from the figs, chopped them into small pieces (they will swell up as they reconstitute) and combine them, in a pot, with another 3½ cups water to soak.
Tie the lavender in the jelly bag and add it to the figs, then allow the mixture to steep until the lemons are ready.
About 15 minutes before the lemons are ready, sterilized jars and warm lids.
Carefully lift the soft poached lemons out of the water with a slotted spoon so they don't break apart, and put them into a sieve placed over a bowl to catch any drips. Add the remaining liquid from the lemons to the pot with the fig and lavender.
When the lemons are cool enough to handle, cut them in half. Scoop out the insides, strain out the juice and reserve. Put the remaining pith, pulp, membranes, and seeds in a jelly bag or 2 or 3 layers of cheesecloth or a wide-weave dishtowel. Reserve the peel.
Add the jelly bag with the lemon pith and seeds to the pot with the figs and lavender. Bring the pot to a boil, reduce the heat, and let simmer for 20 minutes.
Meanwhile, chop the preserved lemon peel very finely into strips.
Take the pot off the heat and remove the jelly bag with the lemon pith and seeds, but leave the lavender in the pot. Add the sugar, lemon juice, and lemon peel. Stir to make sure the sugar is completely dissolved.
Return the pot to the heat, bring to a full, rolling boil that cannot be stirred down, and boil, stirring frequently, until it reaches the setting point (about 10 to 20 minutes).
Remove the jelly bag containing the lavender and ladle the liquid into sterilized jars, leaving ¼ inch (6 mm) of headspace. Seal with warm lids and process for 10 minutes at a rolling boil (15 minutes for pint jars).
Remove the canner lid, turn off the heat, and allow the jars to sit in the hot water for another 5 minutes to cool down.
Notes
This recipe was originally published at Laundry Etc.co by Gloria Nichol. This version of the recipe appears in We Sure Can: How Jams and Pickles are Reviving the Lure and Lore of Local Food by Sarah B. Hood. Published by Arsenal Pulp Press ©2011.