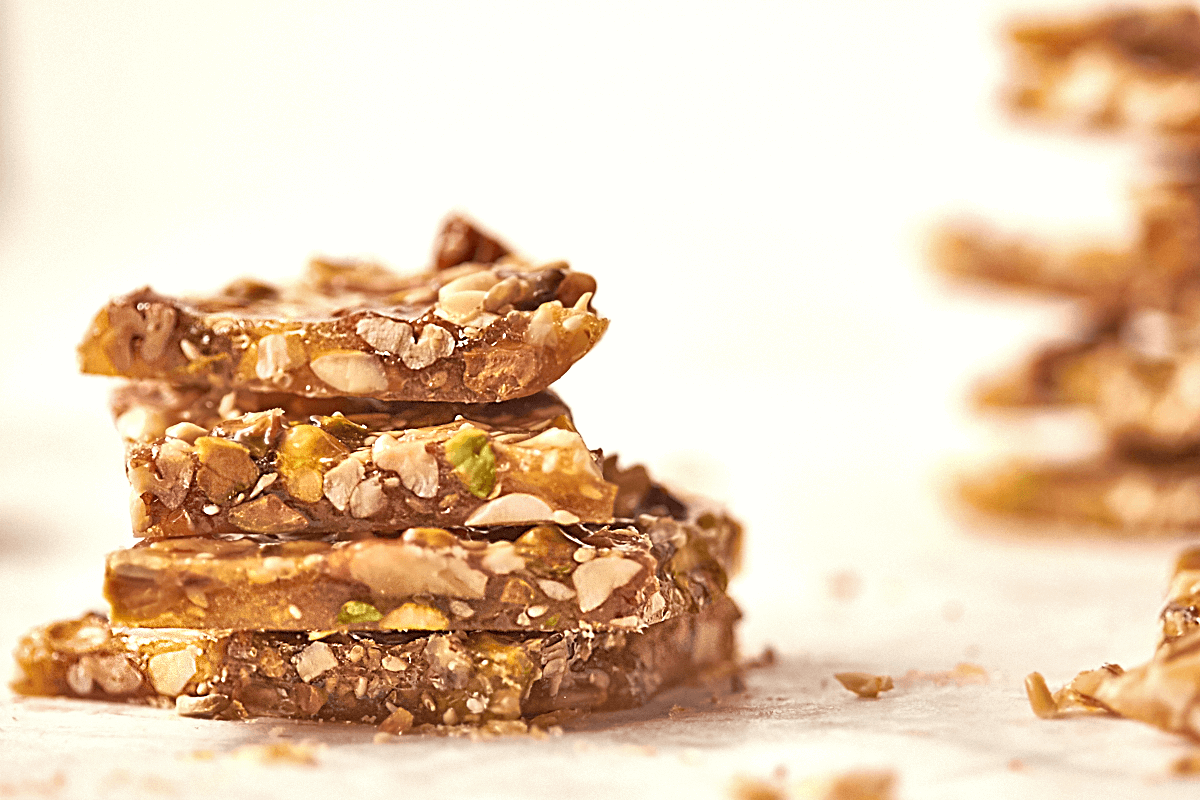 04 May

Nut & Seed Brittle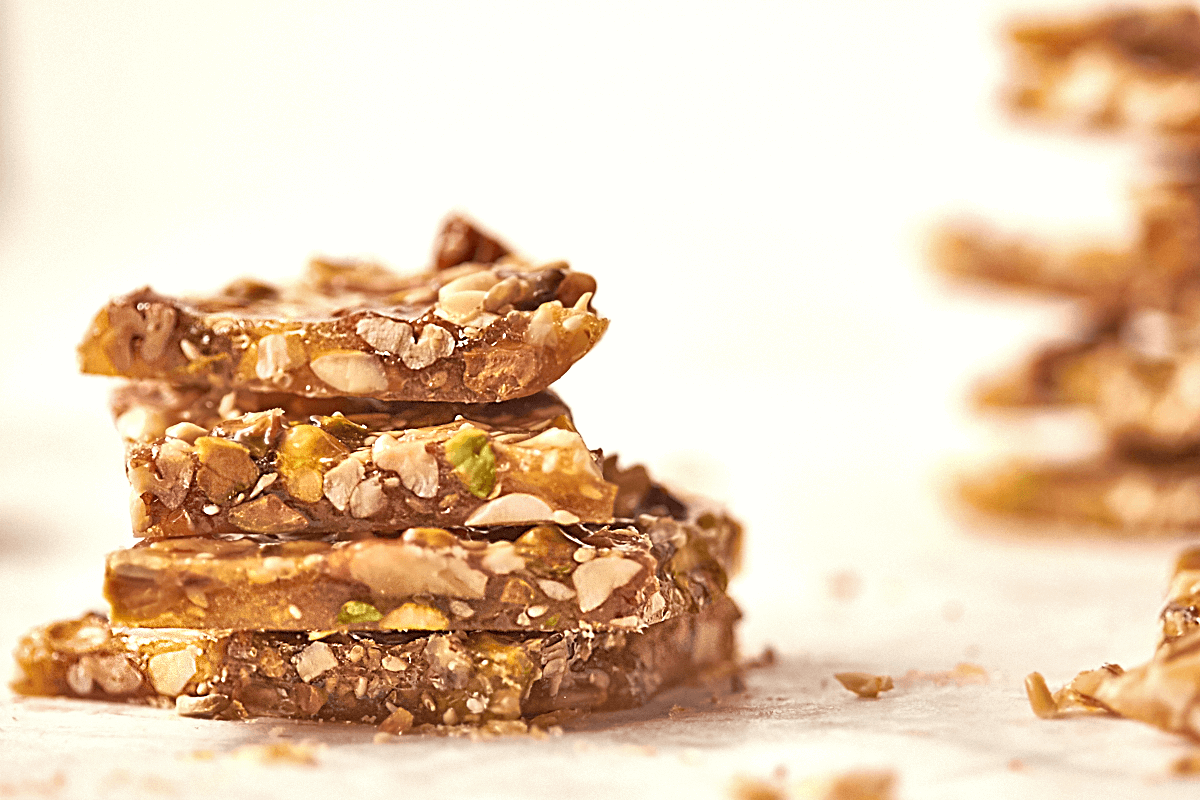 I feel this is cheating. Healthy nuts, good-for-you seeds, and a whack load of sugar. This nut and seed brittle recipe was vegetarian chef Nettie Cronish's compromise with her kids. Nettie is all about healthy eating. Kids? Not so much. I used to beg for store bought treats when Mom presented me with homebaked cookies, cakes, and squares. So hard done by. It's a miracle I survived.
Although my mom's sweet repertory was vast,  I don't recall her making brittle. Probably because my "help" would have resulted in a fire or three degree burns. Besides, I couldn't be trusted after The Incident with the sugar bowl.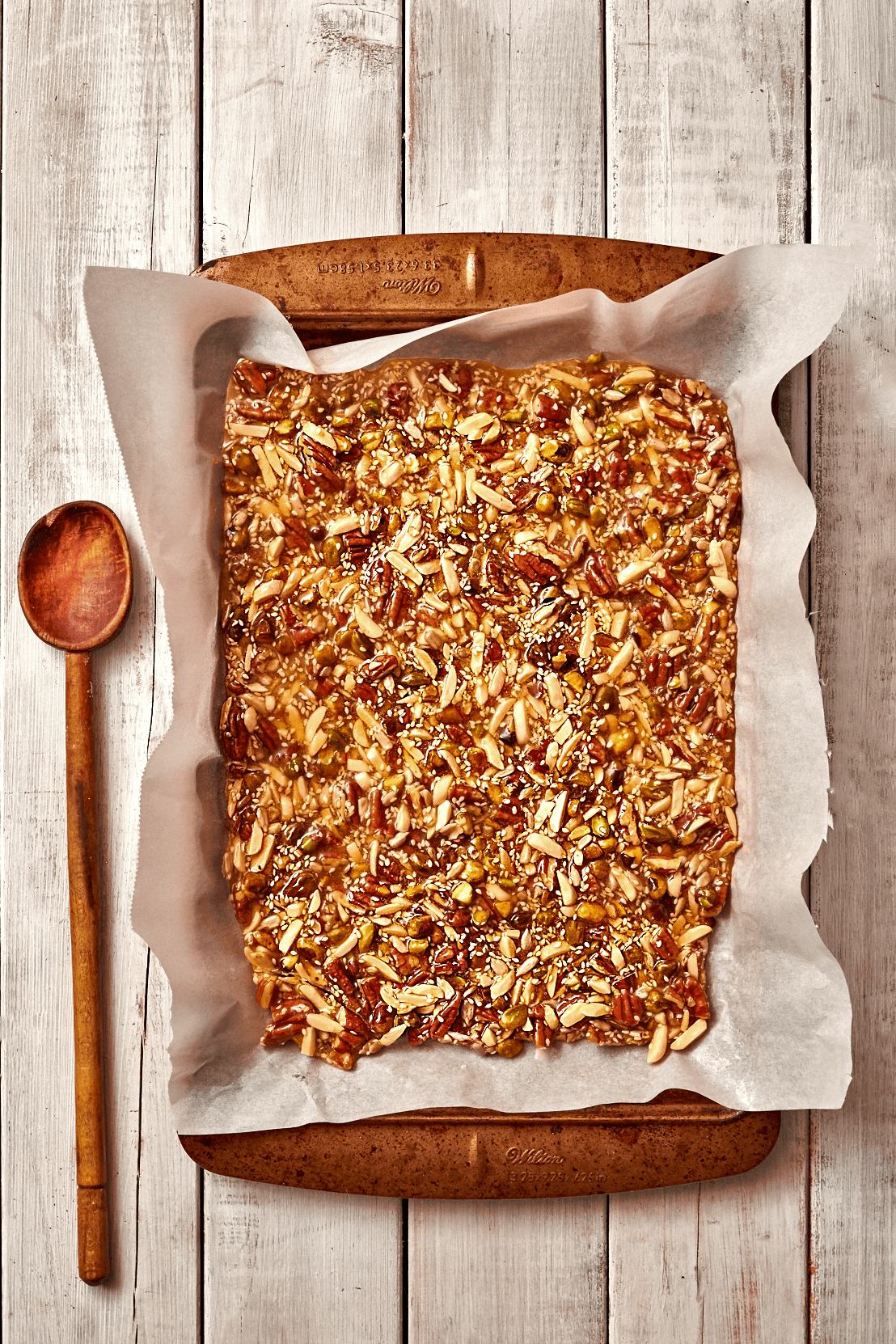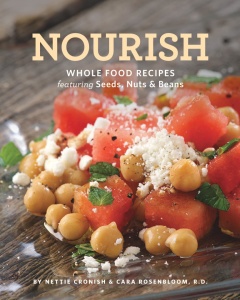 This recipe comes from Nourish: Whole Food Recipes Featuring Seeds, Nuts & Beans by Nettie Cronish & Cara Rosenbloom. Published by Whitecap ©2016. It contains enticing and health-focused recipes like Black Bean Breakfast Burritos, Cod & White Bean Chowder, Crisped Halloumi with Za'atar Quinoa, and On-the-Go Granola Bars.
It also has a few sweet surprises, like this brittle, Best-Ever Salted Chocolate Chunk Cookies and Maple-Chipotle Popcorn. How can this be? It's about balance, not guilt. Interspersed throughout the book, Nettie and Cara provide a few tips for staying healthy but sane. The easiest way to cut back on added sugar is by cutting out pop. Does this mean if you skip the soda you get an extra shard of brittle? Not necessarily. Other sugar wisdom includes:
Don't deny yourself desserts once in a while, but keep the portion sizes small.
Keep your intake of added sugars to no more than 12 teaspoons (50 g) a day.

Nettie's Nut & Seed Brittle Caramelization Tips
Nettie writes, "Sugar can be caramelized with or without water; using water helps to prevent sugar from burning, making it easier for home cooks like us. After adding the water, stir only once to combine, since stirring lowers the temperature and can delay caramelization."
My stovetop is uncooperative at the best of times. It goes from low to high with the tiniest nudge of the knob. Medium or medium-high, which the recipe calls for, is hard to achieve. Candy making often results in a scorch on one side of the pan. (The repair person says there's nothing wrong with my burners, but my pots beg to differ.) I was please to see the high ratio of water to sugar did, as predicted, prevent burning. Because of my stove's quirks, caramelization took longer than the estimated 17 minutes. However, I made up for the extra time by not having to scour my pot.

Nut & Seed Brittle
Prep / inactive time:
Cook / active time:
Total time:
"Why can't we eat the same treats as the other kids?" was a constant refrain in my home as my kids were growing up. As a long-time proponent of healthy eating, I wasn't a big fan of highly processed treats, but I tried my best. My biggest success at candy making was this recipe. Loaded with nuts and seeds, it never lasted past the day it was prepared, and my daughter Macko loved to eat the crumbs.
Ingredients
1 tablespoon unsalted butter, softened
2 cups granulated sugar
1 cup water
½ cup sliced almonds
½ cup pecans
½ cup coarsely chopped unsalted pistachios
2 tablespoons raw sesame seeds
2 tablespoons raw unsalted pumpkin seeds
2 tablespoons raw unsalted sunflower seeds
Instructions
Line a 10 x 15-inch baking sheet with parchment paper. Grease pan with butter. Set aside.
Put the sugar in a large saucepan and slowly add the water, taking care not to splash. Stir just to dissolve the sugar, then bring to a simmer over medium-high heat. Let the liquified sugar simmer until it turns an amber or reddish-brown. Watch it very closely to prevent burning. It should take about 17 minutes. Remove immediately from heat and stir in the remaining ingredients.
Pour the mixture into the prepared baking sheet. Let cool.
When brittle is cool, invert to remove from pan. Break into pieces and store in an airtight container.
Notes
This recipe was excerpted from Nourish: Whole Food Recipes Featuring Seeds, Nuts & Beans by Nettie Cronish & Cara Rosenbloom, RD. Published by Whitecap ©2016
Want to Nourish yourself? Whitecap is giving away a copy of this book via Rafflecopter. It's easy to enter, but you need to leave a comment. So…
Comment inducing question: What's your favourite nut or seed?
The fine print: This giveaway is open to all legal residents of Canada who have reached the age of majority at the time of the contest in the province or territory in which they reside.
No purchase necessary to enter. However, you need to leave a comment in order to open Rafflecopter. Yup, that's the cost of admission.
Giveaway will run from Wednesday, May 4, 2016 at 12:01am to end on Wednesday, May 11, 2016 at 11:59pm. Winner is chosen at random via Rafflecopter. Winner will be contacted via email and given 48 hours to respond. If not, a new winner will be chosen. Winner selected MUST correctly answer a skill-testing mathematical question. Winner's name will be displayed on Rafflecopter widget. Email address will never be given out to any third party or anyone for that matter.
Prize value is approximately $30CDN.
Want more recipes and more chances to win? Visiting the links below to the Canadian bloggers below. You can entering there for more chances to win, as well as pick up more ideas, recipes and reviews.
Kelly from Kelly Neil Photography
Tiffany from Eating Niagara
Regina from Leelalicious
Redawna from Nutmeg Disrupted
Gwen from Devour and Conquer
Hilary from Cocoa Bean, the Vegetable
Erin from How to Eat
Jo-Anna from A Pretty Life in the Suburbs
Stephanie from Kitchen Frolic
Caroline from Do it All Working Mom
Libby from Libby Roach
Katrina from Kitchen Trials
Laureen from Art and the Kitchen
Emily from Best of this Life
Lauren from Lauren Follet Nutrition
Zannat from Food for Happiness
Sarah from Kiwi and Bean
Heather from The Tasty Gardener
Okay, now get cooking!
Disclosure:  I've known Nettie for a number of years now. Then again, most cookbook authors and food writers in Canada do. I'd intended to attend the book launch, but life got in the way. Fortunately, I was able to celebrate the new book thanks to this blog hop. Whitecap sent me a copy of this book and permission to excerpt the recipe. It doesn't make up for missing out on Nettie's celebration, but the nut & seed brittle comes close.