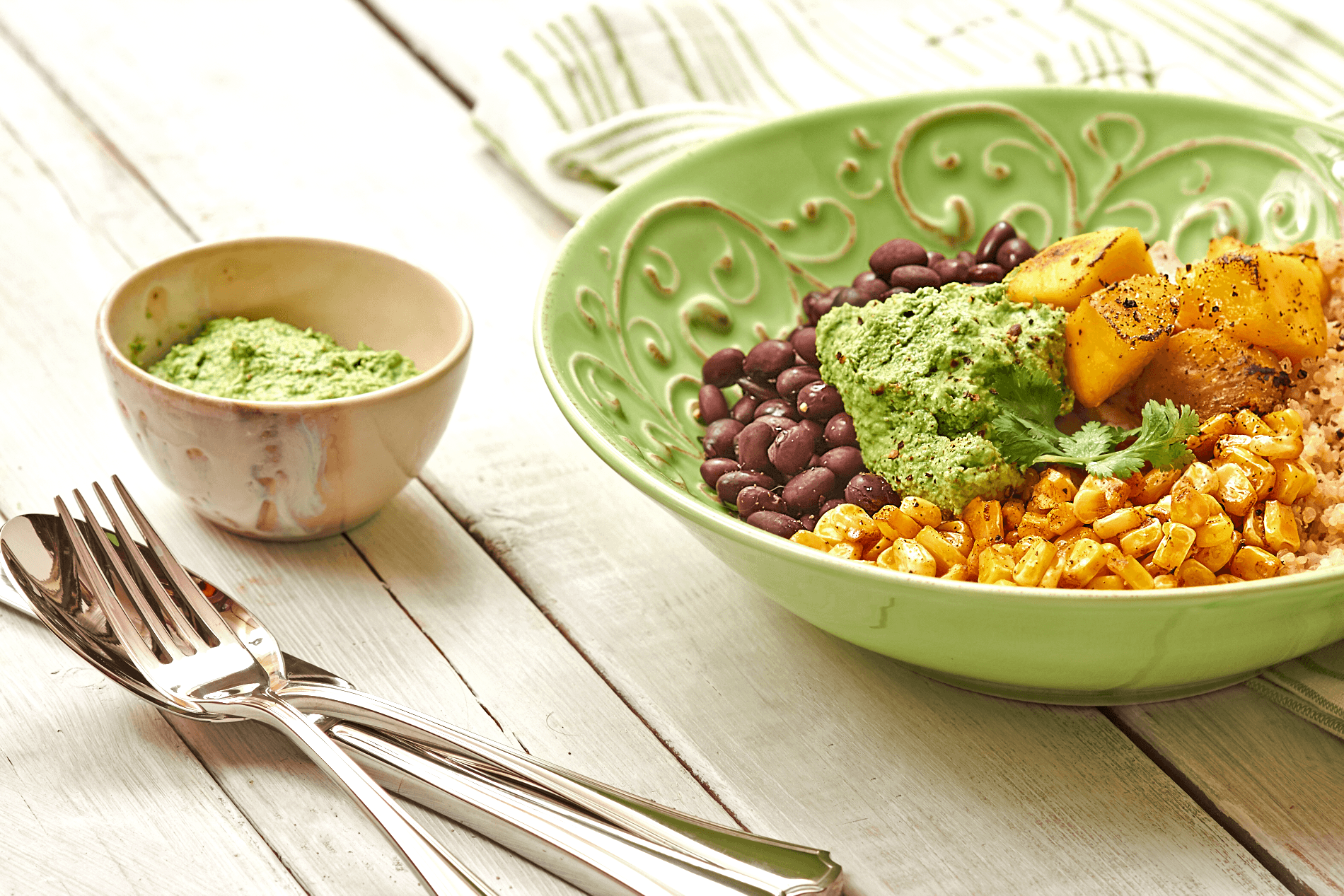 23 Apr

Whole Bowls with Smoky Corn, Black Bean and Cilantro Jalapeno Pesto

Don't judge a book by its cover. Judge it by how long it takes to pry from your friends' hands. Whole Bowls: Complete Gluten-Free and Vegetarian Meals to Power Your Day by Allison Day (Skyhorse Publishing ©2016)  was passed from guest to guest while I put the finishing touches on dinner. It was reluctantly returned to my smoked paprika-stained fingers only after I threatened to withhold the meal.

I was given a review copy of  Whole Bowls, and invited friends over to taste a couple of the dishes I was test driving for this blog hop. Usually reviewers are permitted to excerpt from a restricted list of recipes. Day gave us (see the list below) carte blanche to share any recipe that caught our fancy — adapted or verbatim. I took her at her word and made a version of her Smoky Corn and Grilled Peach Salad with Black Beans and Cilantro Jalapeño Pesto based on ingredients at hand and high protein needs.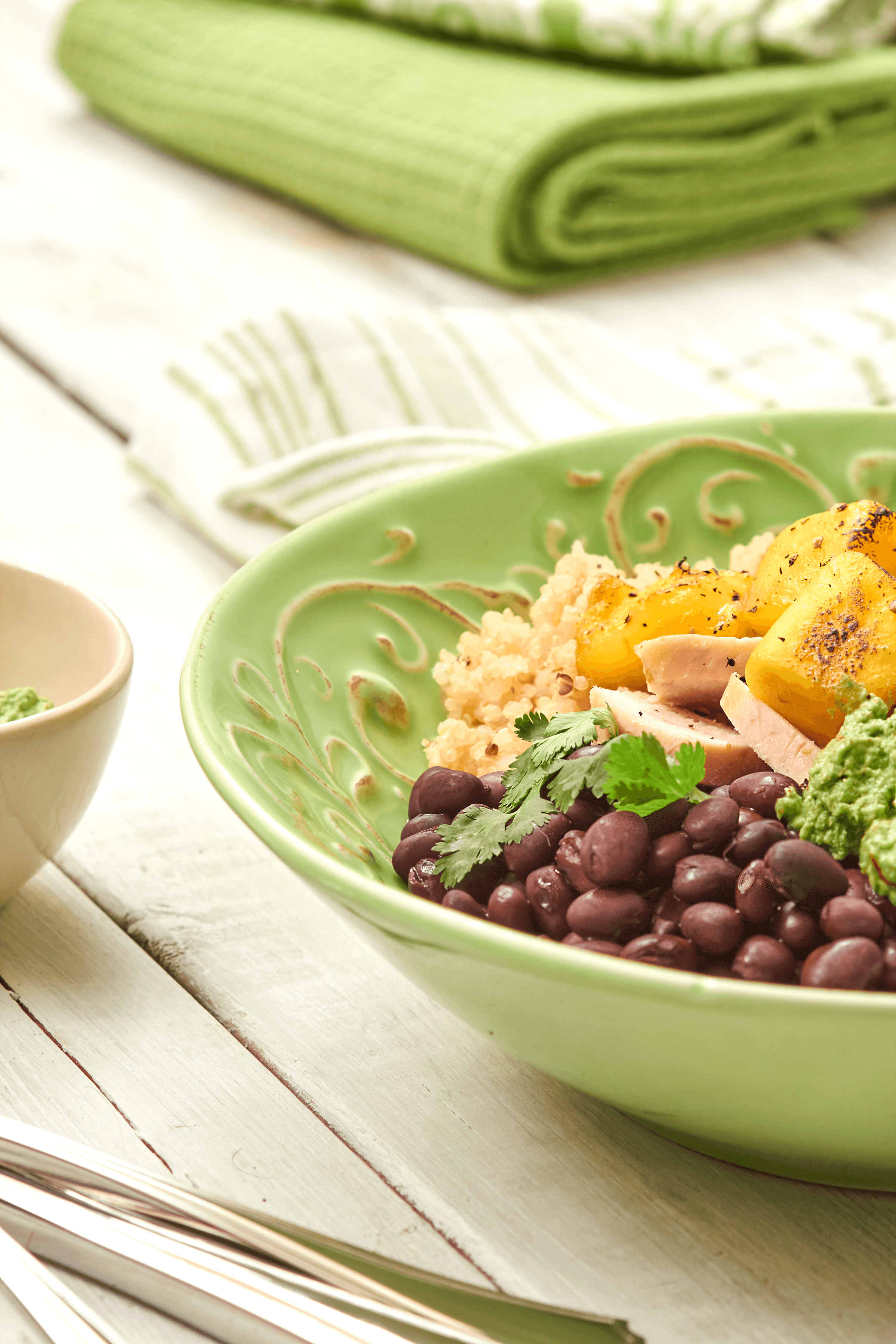 As the book made its way around the table, my friends made observations I might have missed. They either travel great distances to work each day or spend long hours teaching. Some do both. Working from a home office with a 10-foot commute to the stove skews your perception of "practical", so here are our collective impressions.
Our Thoughts on Whole Bowls
It's innovative: I had expected salads and mains, but was pleased to find breakfast and dessert bowls included. While you would have to set fire to my toes and threaten my family to get me to eat any sort of porridge, I'm more than game for Day's non-porridge breakfast recipes. How does Yogurt Bowls with Cherry Pest and Hazelnut Oil-Toasted Oats, or Sweet Potato Breakfast with Gingerbread Pecan Crisp sound? As for the dessert bowls? Just try to stop me from making Mint Chocolate Stracciatella Gelato or Mexican Chocolate Pudding.
It's flavourful: Day had me at Smoky Corn, Black Beans and Cilantro. Likewise, the Banquet Bowls with Cauliflower Hazelnut-Pilaf, Dhal and Scallion Cucumber Raita called to me. Mairlyn Smith grabbed that dish for her review, but I served it to my guests — who gobbled it all.
It's flexible: Day's "Whole Bowl Formula" is "simple, and best of all, versatile." All recipes draw on five or six components: Grains, protein, non-starchy vegetables, starchy vegetable and/or fruit, condiments, garnish, and cheese (optional). Day has designed the flavours to layer, so if cilantro (or grod) is not your thing, the dish doesn't fall apart. While Day's protein is either vegan or vegetarian, there's no reason carnivores can't add a bit of meat, poultry or seafood.  I tucked sliced, roasted chicken breast under the fruit to keep a certain husband happy.
It's practical: Mosts recipes have make-head suggestions so even the busiest cooks can enjoy from-scratch meals. Although the recipes don't give freezing suggestions, most of the components in the dishes I chose are freezer-friendly. You can make a big batch of quinoa, black beans, pilaf, dahl, or corn, and freeze pre-measured portions for portable lunches or quick dinners.
It's not afraid of carbs: Of course, I picked two dishes that featured both a grain and legumes with no green vegetables. That's on me. Many of Day's recipes come with a base of greens (or fruit). However, if like me, you gravitate towards carb-centric dishes, a simple green side salad will round things out.
Whole Bowls or No Bowls?
Many cookbooks push their theme past practical. Day managed to deliver a fresh take on healthy food without sending you on a wild goose chase for esoteric ingredients, or over the edge with impossible culinary demands. She says, "These recipes are meant to be unfussed, unhurried and rule-free." They're also a titch messy as you ladle and spoon components into your bowl. Perfect.
When I make this again (and it's a "when", not an "if") I'll likely replace the quinoa with arugula and saute a few ounces of chicken breast for added protein. If Ontario peaches are in season, I'll use them. If not, I'll improvise. I won't mess with the corn or the pesto — except to make more. I want leftovers to snack on.
Before I get to the recipe, I'd like to thank Allison Day for sending me a copy of her book. I'd also like to thank Jan for organizing this venture. Check out the links below for more recipes and whole bowl inspirations.
Jan (Family Bites)
Mardi (eat.live.travel.write)
Aimée (Simple Bites)
Jenny (The Brunette Baker)
Heather (The Tasty Gardener)
Louisa (Living Lou)
Kelly (kellyneil.com)
And now. Grab a bowl and a spoon — or a fork. And dig in.

Whole Bowls with Smoky Corn, Black Bean and Cilantro Jalapeno Pesto
Author:
Charmian Christie
I adapted this from Allison Day's Whole Bowls. I used lime juice instead of white wine vinegar, frozen mango instead of out-of-season peaches, and slipped a few slices of roasted chicken breast into the mix. If you skip the chicken, this dish is vegan. Don't let the long list of ingredients put you off. This dish uses common ingredients and is easy to make, especially if you plan ahead.
Ingredients
For the Cilantro Jalapeño Pesto
1 clove garlic
1 jalapeño, seeds removed and roughly chopped
¼ cup raw or roasted almonds
½ bunch fresh cilantro, stems included
¼ cup extra-virgin olive oil
2 tablespoons fresh lime juice
zest of a fresh lime, finely grated
1 teaspoon sea salt
For the Smoky Corn
1 tablespoon refined avocado oil or extra-virgin olive oil
2 cups fresh or frozen (defrosted) corn kernels
½ teaspoon smoked paprika
½ teaspoon sea salt
ground black pepper, to taste
For the Bowls
1 cup mango chunks (or 2 peaches, halved and pitted)
refined avocado oil or extra-virgin olive oil
2 cups cooked black beans
2 cups cooked quinoa
2 pre-cooked chicken breasts, sliced (omit for vegan/vegetarian version)
Instructions
Make the Cilantro Jalapeño Pesto
In a food processor, pulse garlic and jalapeño until minced, add almonds and cilantro, and pulse again until minced. Add oil, lime juice (or vinegar), and salt. Blend until desired thickness.
Make the Smoky Corn
Heat the oil in a large sauté pan over medium. Add corn, paprika, salt and pepper. Sauté for 5 to 8 minutes.
Grill the fruit
Preheat a heavy pan. Add a bit of oil and toss the mangoes into the hot pan. Cook until lightly coloured. (For peach halves, heat a grill pan or grill. Rub a little oil on the peach flesh. Place flesh-side down on the grill pan or grill. Cook for 5 to 8 minutes or until grill marks appear.)
To Serve
In a medium bowl, toss black beans with ⅓ of the pesto. To serving bowls, add corn, beans, and quinoa. Top with grilled fruit, chicken slices, and remaining pesto. Serve.
Notes
MAKE AHEAD NOTES

Smoky corn: 2 days
Grilled fruit: 2 days
Cilantro Jalapeño Pesto: 4 days