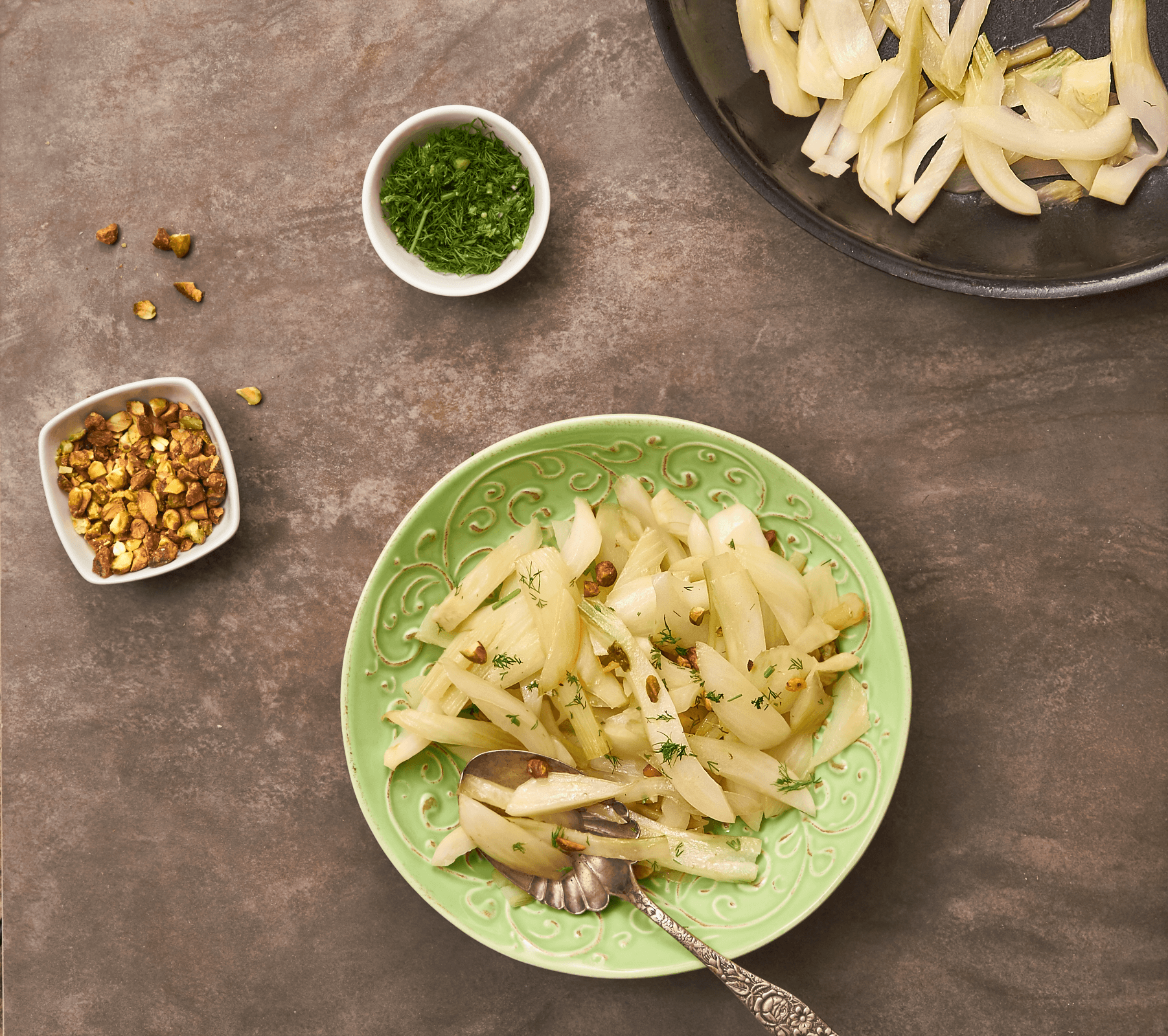 22 Jan

Easy Pan-Roasted Fennel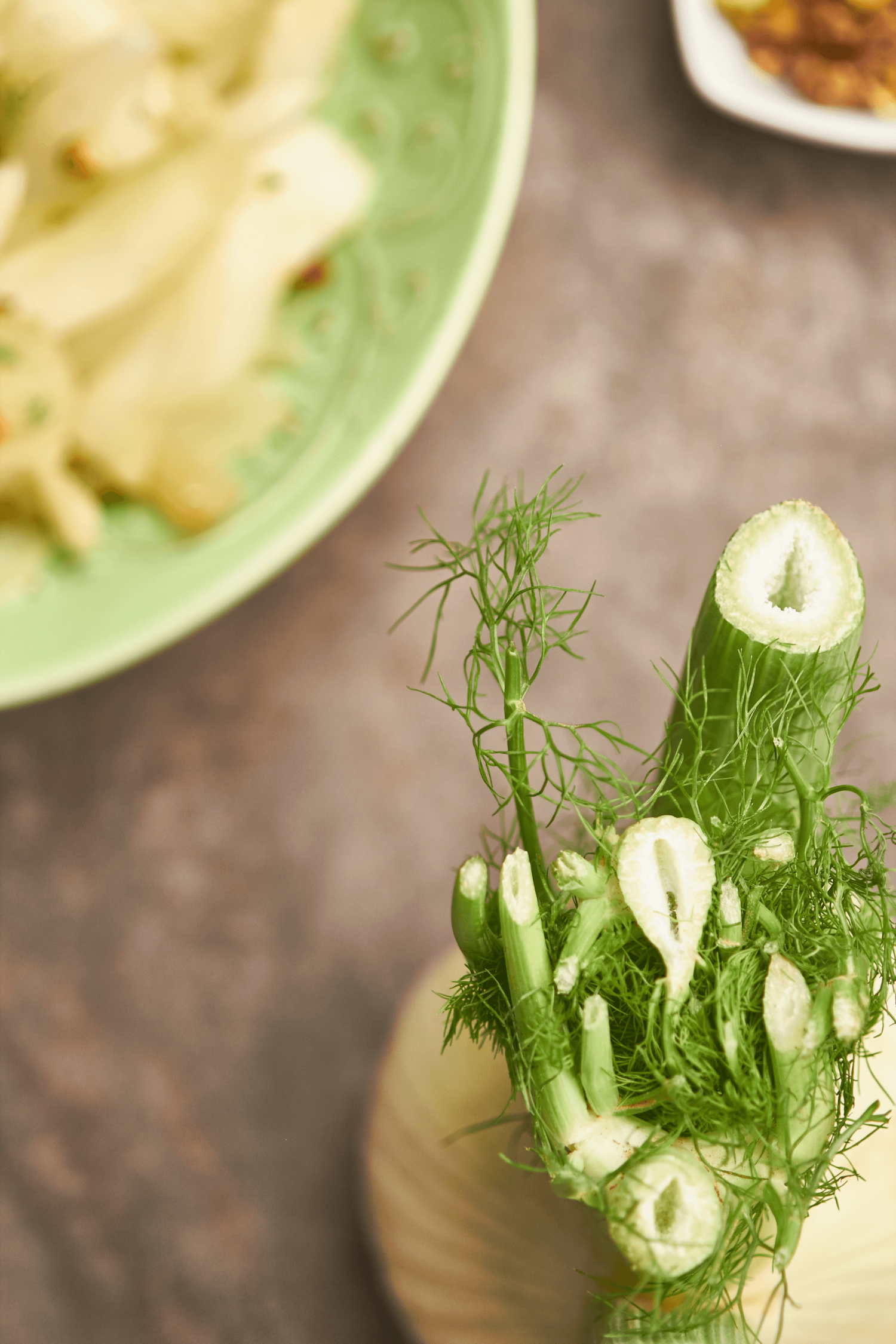 When given the choice between vegetables or dessert, I usually go for dessert. After all, chocolate will cure what ails you. Unless you're two weeks into a nasty cold that's claiming squatters rights to your head. I'm at Day 14.
During this time, not only have I consumed 22 bowls of homemade chicken soup, I've used up all the sympathy allotted me for 2016. So veggies it is. Let's make them light and bright and easy.
The inspiration for this dish comes from Ricardo. When asked if I'd give one of his recipes a test drive, I was this close to baking chocolate bundt. But clearer heads prevailed (that would be my husband). I opted for Pan-Roasted Fennel with Honey and Pistachio. Why? It has honey and pistachios. It's easy. And… did I mention it has honey and pistachios?
It also uses a vegetable I've only ever used raw. Fennel.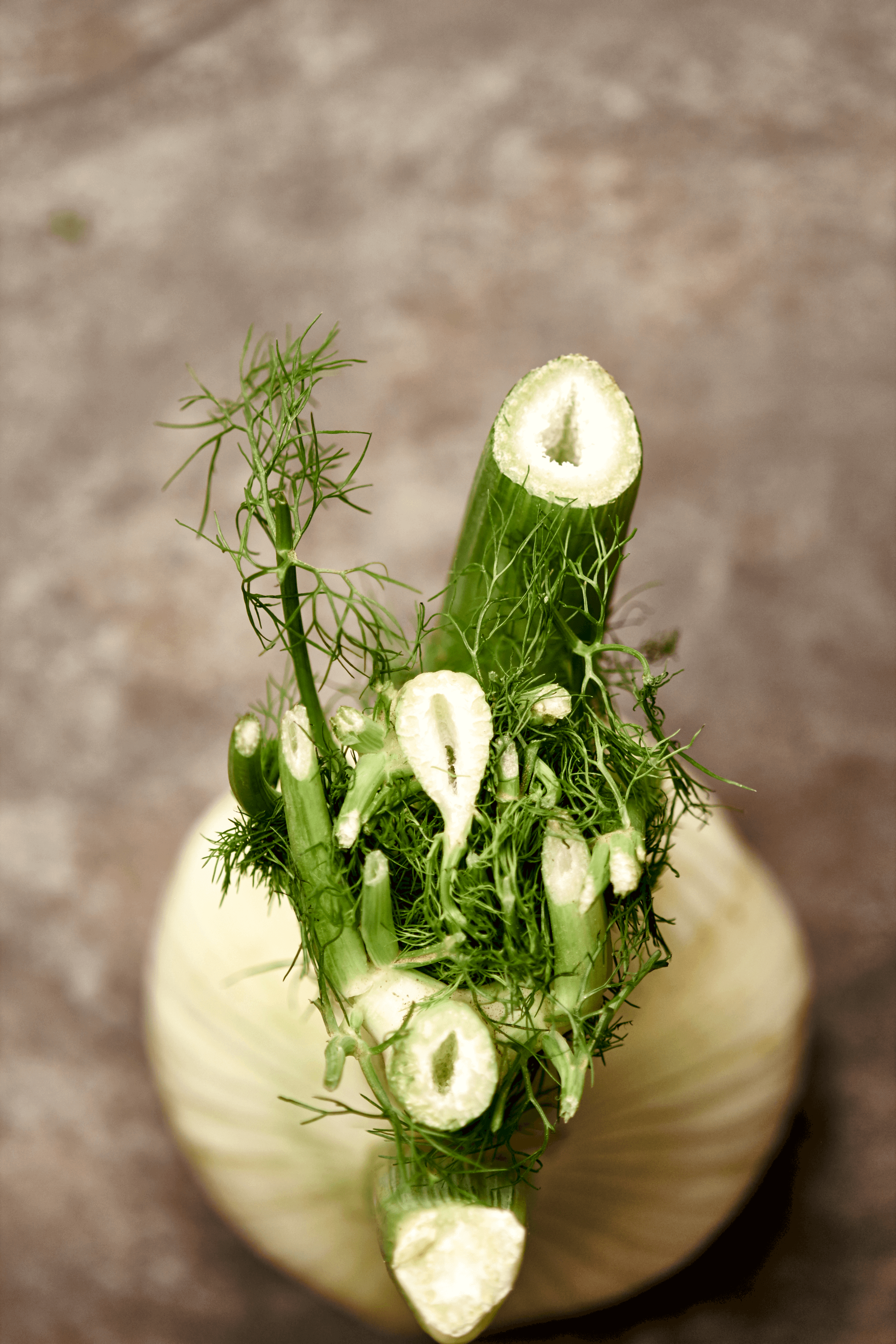 Pan-Roasted Fennel – Easy on your time and budget
Sometimes labelled as anise, fennel is available year round in the grocery stores. Never seen it? Look again. It's likely sitting next to the herbs, half covered by flashy kale leaves. But look for it. It's got a delicate liquorice flavour and a lovely tender crunch.
Not convinced? You'll love the price. When I shopped yesterday, a small head of cauliflower cost $5, broccoli was more, and frozen beans had jumped by a good 25%. Fennel was a mere $2 a bulb. I was so pleased I bought two. I'll see what I can come up with later.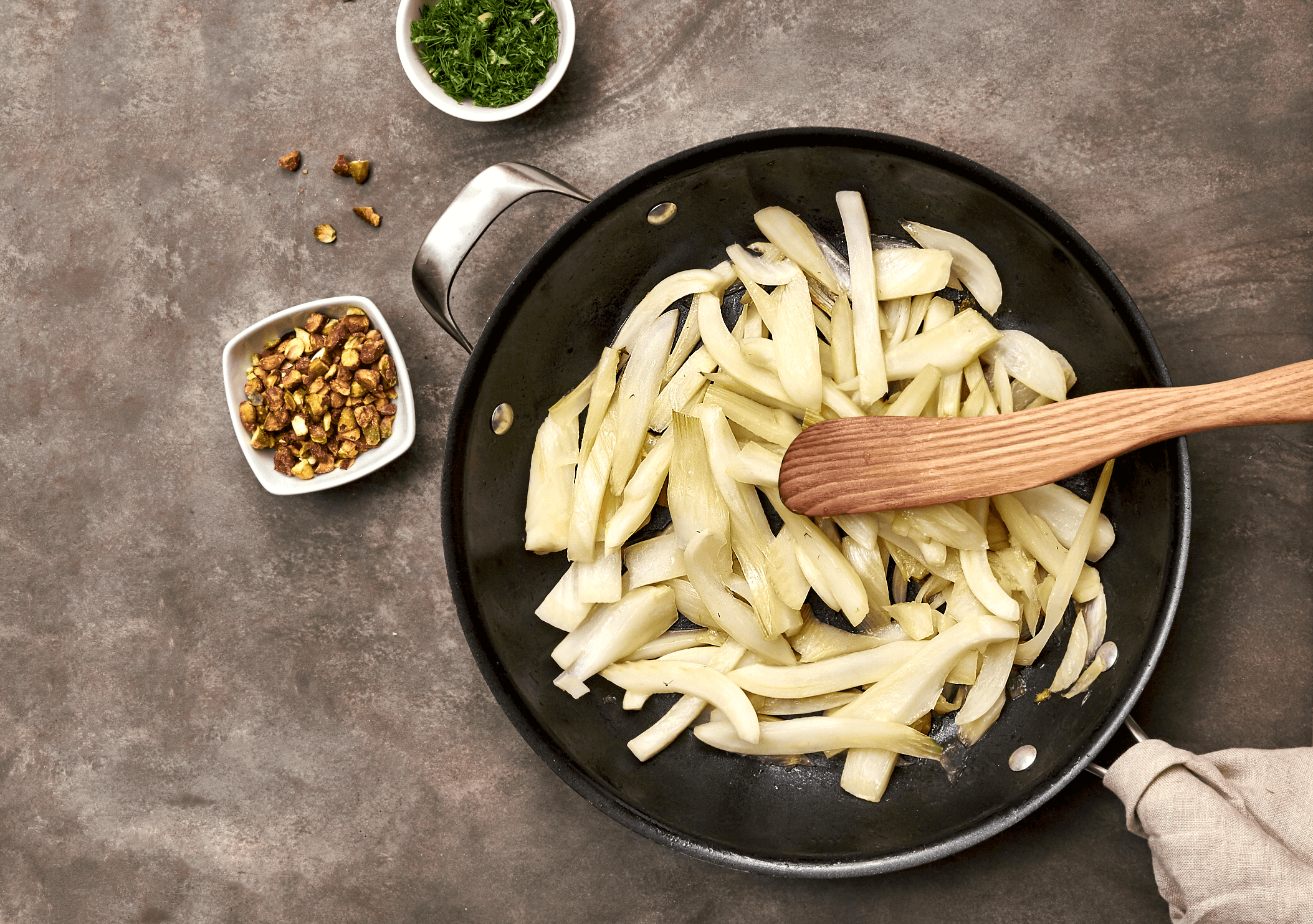 While I love the budget-friendly price, I'm equally happy with the ease of pulling this dish together. It took about 5 minutes to sliver the fennel. There was peeling, no coring, no fiddly prep. I didn't need to weep over onions or mince garlic (although they play nicely with fennel). I had all the accompanying ingredients on hand, and they were chopped long before the fennel came off the stove — which was about 10 minutes.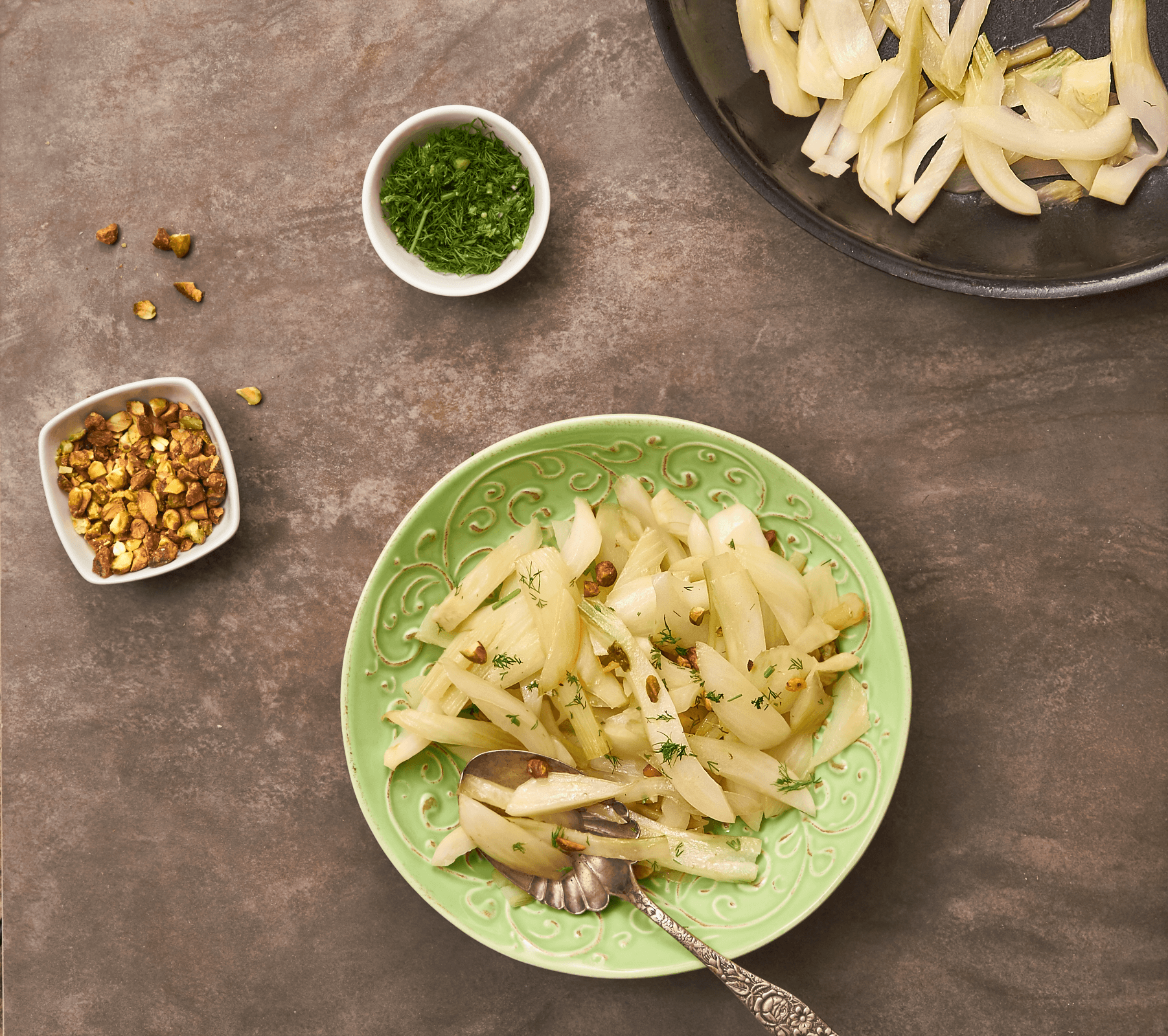 I was worried the pan-roasted fennel would be bland without the allium family, but the honey, vinegar and pistachios were enough. Of course, I added a bit of citrus because I'm still me.
For those looking to ramp things up, fennel pairs well with lemon, orange and rosemary. If someone gave you flavoured olive oils for Christmas, now's a perfect time to use them. Or haul out the fancy vinegars. Raspberry, champagne and pear would do nicely. No pistachios? Try almonds, pecans or walnuts.
If your fennel doesn't have any fronds, don't worry. Swap in some chopped dill and no none will know.
Fennel makes a lovely side dish for fish (especially salmon), pork, seafood and chicken. I think the question should be, what doesn't it go with?

Pan-Roasted Fennel
Author:
Charmian Christie
Prep / inactive time:
Cook / active time:
Total time:
This dish is easy to prep and make. Even if the oven's full, you get depth of flavour from cooking on the stove top in a bit of oil. The sugars in fennel caramelize beautifully and add a hint of sweetness balanced by the vinegar.
Ingredients
1 bulb fennel
1 tablespoon blood orange olive oil (or lemon olive oil or plain olive oil)
1 tablespoon honey
1 tablespoon apple cider vinegar (or champagne, raspberry, or pear vinegar)
2 tablespoons chopped pistachios (or roasted almonds, pecans or walnuts)
1 tablespoon chopped fennel fronds (or fresh dill)
salt and pepper
Instructions
Wash the fennel before cutting into slivers about ½ inch wide. (You can sliver it more thinly if desired, but reduce the cooking time.) There's no need to remove the core. If the outer skin looks scarred or banged up, remove the damage with a vegetable peeler. Set the fronds aside.
Heat the oil a large, non-stick skillet over medium-high heat. Add the fennel and cook until it begins to soften but still has a bit of crunch, about 5 minutes.
Stir in the honey and vinegar. Continue cooking, stirring occasionally, until the liquid has evaporated, about 3 minutes.
Transfer to serving bowl. Sprinkles with pistachios and fennel fronds. Season with salt and pepper. Serve warm, or allow to cool.
Notes
This recipe is adapted from
Ricardo
's website.
Disclaimer
: This is a sponsored post. From time to time I work with brands I think are in alignment with my palate, food philosophy and brand. I was given carte blanche to test drive any recipe I wanted to try and report my experience. The only pressure on me came from the head cold and my husband, who insisted I select something besides dessert.