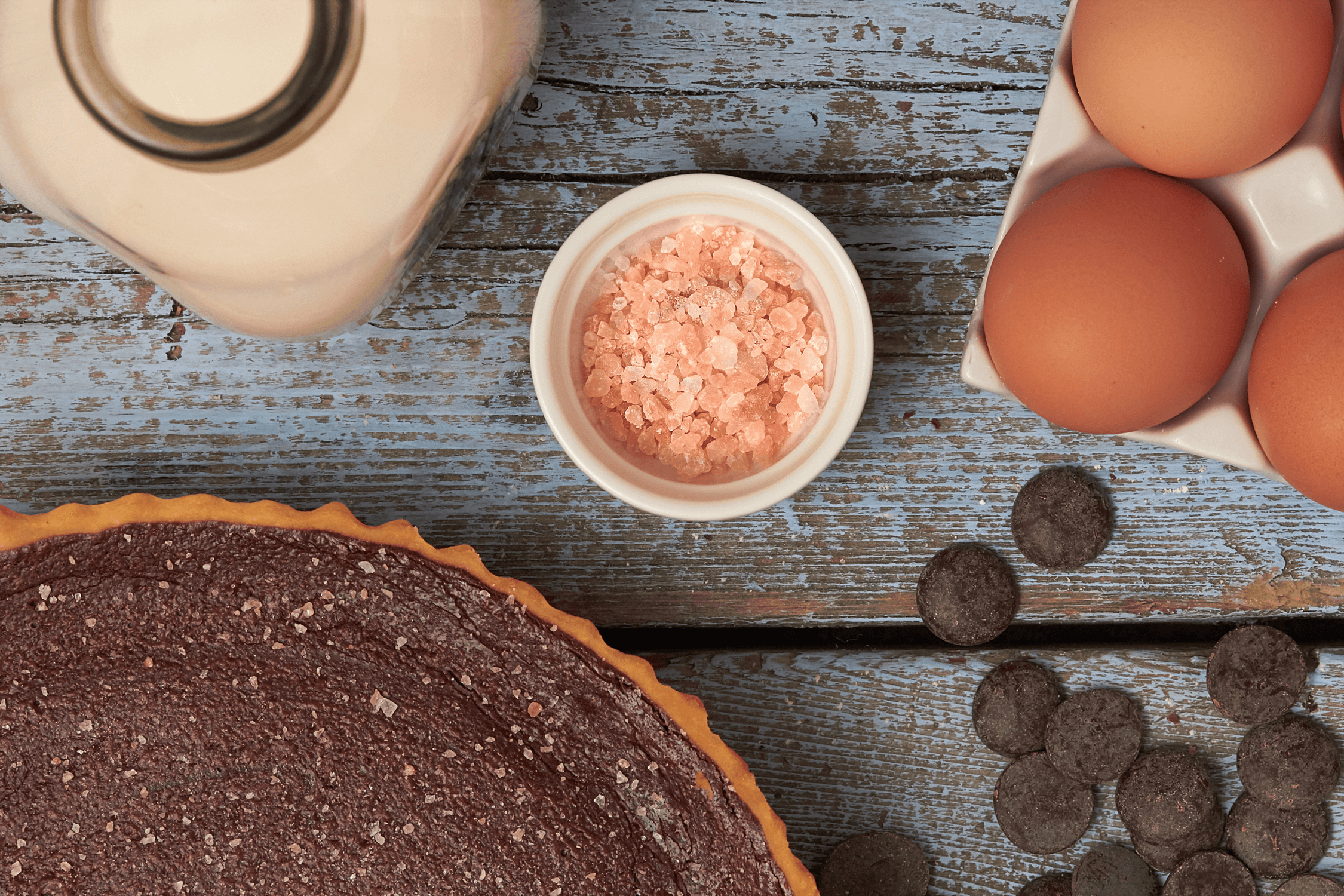 11 Dec

Salted Chocolate Humble Pie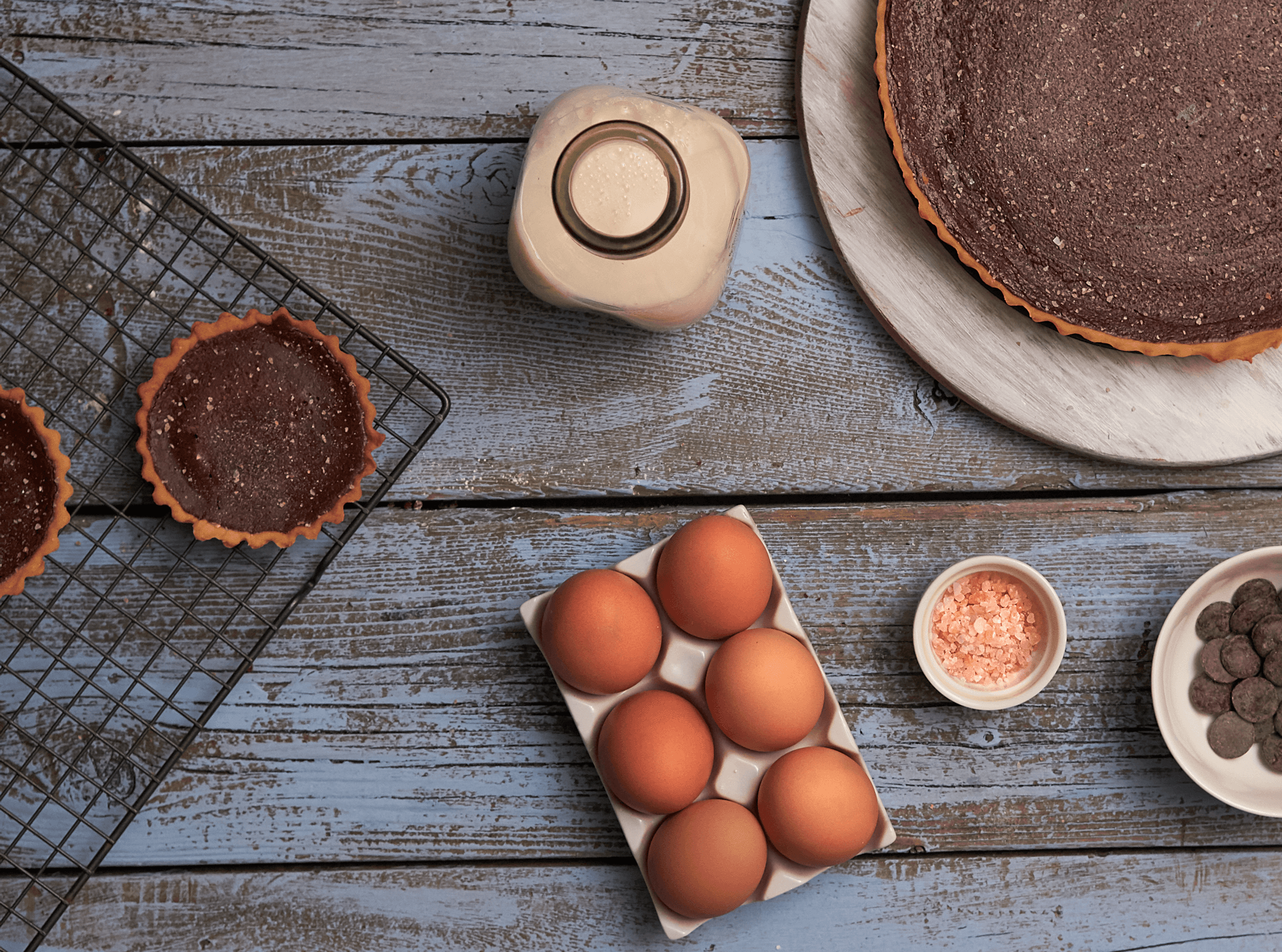 Many children sport t-shirts that say, "Mother's Little Darling." Mine should have read, "Ruining Christmas Parties Since 1965." I made a case for myself when I was 2 and disappeared at a Christmas open house. I sent everyone into a panic, only to be found sound asleep in the hosts' closet surrounded by a dozen or so empty wine bottles. In my defence, they went into the closet nearly empty. I merely downed the last few drops. Admittedly, that adds up when you weigh less than the Christmas turkey. But I survived to spoil another day.
By the time I was five, I'd earned the t-shirt. The target this time was a Christmas afternoon tea Mom held for the women from the PTA. She'd made little cookies and finger sandwiches delicately stacked on a three-tiered tray, and served her best English breakfast tea. The food disappeared but no one asked for a beverage refill. In fact, most of cups were left half-full. This was puzzling given my mother's ability to brew a fine cup. She was such a stickler we could steep a pot by the time she trusted us near a kettle of boiling water. Younger children were initiated with being tasked with minding the timer.
But that afternoon the tea sat cold in Mom's best china cups. Once the guests had left, she tried a cup herself. Stronky — a word she reserved for any exceptionally objectionable taste or smell.
When Dad came home they made another pot of tea. Stronky. Perhaps it was the tea?
Dad went to the store and bought a fresh pack. The second pot was no better.
It must be the teapot. Mom never washed it, only rinsed it out with boiling water. Clearly some sort of mold had set in. So Dad went out and bought a new Brown Betty. The third pot of tea tasted just as bad.
He repeated the trek in search of fresh milk. Pot four was equally stronky.
By this time, my older sister, who had a very wise 10 years under her belt, suggested that perhaps sugar was the culprit.
"Sugar doesn't go bad," Mom said, dismissing the suggestion. "It's a preservative." Undaunted, my sister stuck her finger in the sugar bowl.
"It tastes weird," she said in a tone that quivered between pride and disgust. Mom dipped her finger in the sugar bowl. Dad licked sugar from a spoon. My sister was right. The sugar was off. All eyes turned to me.
"Charmian, did you put salt in the sugar bowl?"
There was no point in blaming the baby. She couldn't walk let alone climb the table.
"Why on earth would you do that?!" Mom was more dumbfounded than angry.
"I got bored."
The night before, I had been confined to the kitchen table after dinner. I had refused to eat my peas and was left alone to finish them or face them for breakfast the next morning. I'd been given 10 long minutes to decide. The tea timer ticked the countdown. Knowing that adults often forgot their threats, I gambled. The peas weren't going anywhere, and I had time to kill. I saw the clear glass salt shaker sitting next to the sugar bowl. Salt looked a lot like sugar. What would happen if I mixed them together? Would I be able to tell them apart? I shook salt liberally into the sugar bowl and stirred. The salt vanished without a trace. Cool!
The timer rang. I jumped down from the table. My little experiment bounced from my mind the moment my feet hit the floor. However, no one who drank a cup of Mom's Christmas afternoon tea forgot.
Salted Chocolate Humble Pie
When Egg Farmers of Canada asked me to take part in their #ScrambledPlan campaign, I decided I'd use the challenge to undo some karmic damage. This is my edible apology for the tea party I ruined so many years ago.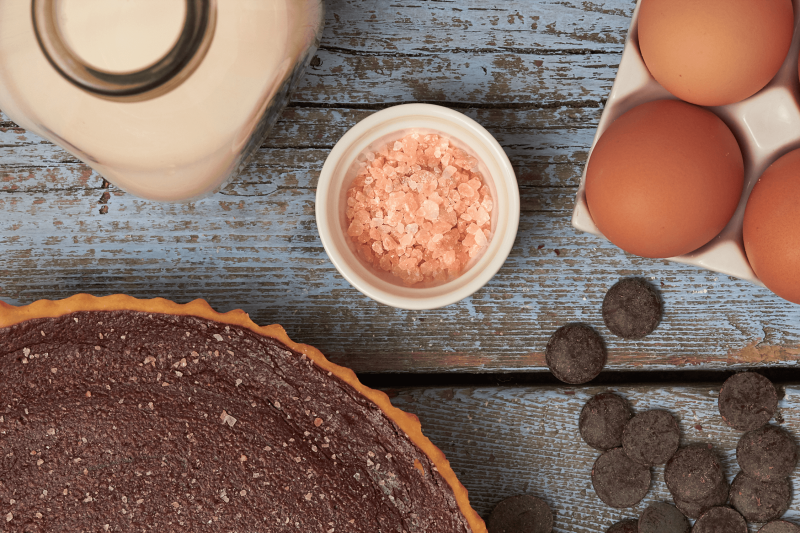 The chocolate base is my bitter cold-peas-induced resentment, which started it all. The crust is a sweet pastry with lots of sugar. It's finished off with a deliberate dusting of undisguised salt. This time, the guests will want to finish it all. Maybe even ask for seconds. Tea is optional.
DISCLAIMER: I can ruin a party but I can't tell a lie. This is a sponsored post. While I have been compensated to create this recipe, nothing can make up for The Incident. Sorry, Mom. You get an extra slice.

Salted Chocolate Humble Pie
Author:
Charmian Christie
Cook / active time:
Total time:
Yolks make this chocolate pie silky smooth but with more body than a ganache. If the thought of orphaning half a dozen egg whites makes you cringe, fear not. Frozen egg whites keep well and defrost beautifully.
Ingredients
Pastry
1 cup all-purpose flour
½ cup salted butter, cubed
½ cup icing sugar
1 large egg
Filling
2 cups whipping cream
6 ounces good quality dark chocolate (65 to 70% cocoa), chopped
1 teaspoon pure vanilla extract
6 egg yolks*
1 tablespoon cocoa
2 tablespoons sugar
Finishing salt (Maldon is good. I used pink Himalayan.)
Instructions
Pastry
Place the flour on the counter. Make a well in the centre and add the butter, and icing sugar. Using your fingertips, work the ingredients together until the flour feels grainy. Make a well in the centre again and add the egg. Using your fingertips, work the egg into the flour. When the dough begins to hold together, knead it until it's smooth and pliable.
Form into a disk. Cover in plastic wrap and chill for at least 30 minutes. You can make the pastry up to 3 days before. Allow to warm a few minutes before rolling out.
On a lightly floured surface, roll the dough into a circle no more than ⅛-inch thick. Thinner is better. Aim for 1/16th inch if you can. Gently transfer the pastry in a non-stick 10-inch fluted tart pan with a removable base. Prick the bottom with a fork. Chill while the oven preheats.
Preheat the oven to 350°. Line the pasty with parchment and fill with dried beans or pie weights. Bake 10 minutes. Remove the parchment and weights and bake another 10 minutes. The pastry should be golden on the edges.
Reduce the oven to 300°F and make the filling.
Filling
In a small saucepan, over medium, heat the cream until it just reaches the boil. Remove from heat, add the chocolate and vanilla, and stir until smooth. Set aside.
In a medium bowl, whisk the yolks until smooth. Sift the cocoa and sugar into the yolks and mix until the sugar has dissolved and no longer feels grainy. Slowly, pour the chocolate cream into the yolks, stirring gently. You don't want to create any bubbles.
Gently pour the filling into the pastry shell. Bake for 15 to 20 minutes or until the edges are set but the centre has a tiny bit of wiggle. *
Cool thoroughly. Remove from pan and sprinkle lightly with finishing salt. Slice and serve.
Notes
*To make 8 4-inch tarts follow the recipe with the following changes.
- Double all pastry ingredients except the flour. Only increase flour to 1¾ cups.
- Line 4-inch fluted tart shells with removable bottoms with the pastry.
- Blind bake as you would the pie, reducing the baking time once the weights are removed.
- Once filled bake 10 minutes.
* Don't waste the whites. If you can't use them right away, freeze them in a lidded container.
Really.